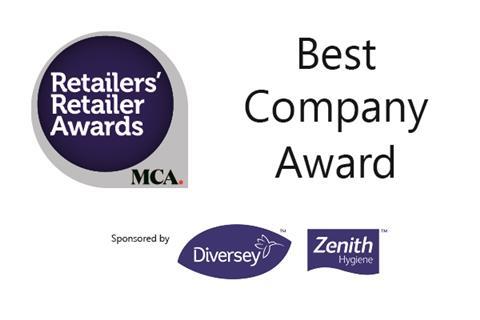 Dishoom
Indian restaurant concept Dishoom did not let the extraordinary events of 2020 hamper its ambitions. In the year of its tenth anniversary, the business completed a major redesign and expansion of its original Covent Garden site, launched an all-new restaurant in Birmingham, and confounded popular expectations (as well as its own) with a delivery service roll-out with Deliveroo Editions. Since its conception, Dishoom's carefully curated expansion strategy, dedication to design and strong staff culture has seen it emerge as an undisputed industry darling. Awarded Best Concept for the second time in 2019, this year the group has earned its place on the Best Company shortlist.
Hawksmoor
Will Beckett and Huw Gott launched premium steak concept Hawksmoor in 2006, and over the last 14 years have grown the group in size and status, now boasting eight UK sites, with a debut US site planned for New York next year. Hawksmoor's excellence has not gone unnoticed at the Retailers' Retailer awards, its Covent Garden restaurant winning Best Venue in 2011 and Beckett and Gott receiving recognition in the Rising Star award in 2013. In 2014, Hawksmoor was awarded Best Company for the first time, and this year Hawksmoor's ability to adapt in the face of the crisis, whilst maintaining a core focus on its people, has seen it shortlisted once again.
Oakman Inns and Restaurants
Despite the unprecedented trading conditions of 2020, Oakman Inns and Restaurants saw its highest ever sales quarter in history this year, upping sales on summer 2019 by 40.6%. Whilst many of its competitors were exiting sites, Oakman announced plans to double its estate over the next five years, and opened up the sale of shares to its customer base for the first time. More recently, the group pledged to forego its latest lockdown grant, and offered its venues to be used as vaccination centres in return. For its efforts in utilising its own success to further industry recovery, Oakman is up for this year's Best Company award.
Loungers
The resilience of Loungers' community-based proposition has never been more apparent than during the coronavirus crisis. Holding on to profit through a nationwide lockdown, Loungers' all-day, flexible offer and focus on secondary high street locations proved valuable as city-workers returned to the suburbs seven days a week. While operators up and down the country accrued eyewatering rental debt, Loungers was able to resume its roll-out strategy in the latter half of last year, opening new sites under its Cosy Club and Lounge brands. Outperforming the market and standing steady in the most of uncertain of times, Loungers has been shortlisted for the Best Company award.
McDonalds
Through each stage of the crisis, McDonald's has continued to meet demand through its drive-thru, takeaway and delivery services. The business implemented sweeping changes to its operations in order to remain open in the second lockdown, expanded its home delivery to a further 500 sites last year and has since launched a new curbside pickup model to reduce waiting times at its drive-thru restaurants. Meanwhile, it made strides towards a more sustainable future, launching its first McPlant burger and initiating a roll-out of electric car charging points across 924 drive-thru locations. Up for Best Company, the fast-food giant's approach to outreach and adaptation through the course of last year saw it enter 2021 stronger and more sustainable.
Nando's
Nando's constant innovation and almost unparalleled expansion has been recognised time and again, as a Best Concept and Best Company multi-award winner, and this year is no different. Over the course of 2020, the business turned to tech. In a rapid acceleration of its digital strategy, Nando's launched an all-new cashless order and pay app, click and collect service, and first of its kind 'brought to you by Deliveroo' option. At the same time as making sweeping changes to its supply chain, moving to digital and launching its first plant-based offer, Nando's showed a determination to serve its customers through any and every restriction, and so has been shortlisted once again for this year's Best Company award.