Delivery has boomed during the pandemic, with the key players adapting their offerings to meet the occasion. With customer engagement more important than ever, could Deliveroo's new Signature feature be the sweet spot operators have been looking for?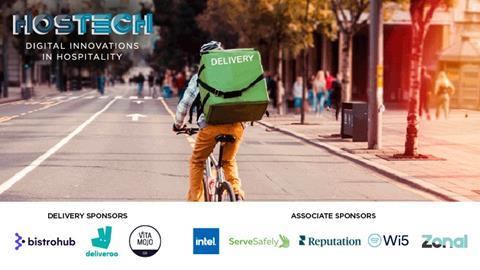 Prior to coronavirus, uptake of technologies in restaurants was still relatively limited.
Just 8% of consumers had used a self-ordering tablet, and only 10% had used a QR code, according to research comissioned for Hostech by Lumina Intelligence.
But as many can now attest, both anecdotally and through their own restaurant operations, this usage has shot up in the past year, in the case of QR codes usage jumping by more than 250%.
Relatively speaking, delivery and click & collect was already one of the more well adopted hospitality technologies.
The number of consumers who used apps to order in or order ahead grew modestly from 18.6% pre-March 2020 to 19.9% post March 2020, according to the Lumina research.
Yet looking at the more granular detail in Lumina's Eating Out Panel tells a more detailed story.
With many other channels closed, delivery and click & collect purchases accounted for 43% of all foodservice occasions, in the 12 weeks to 24 January.
Delivery purchases peaked in January, ranging from 29.7% to 31.7% of all participants in the eating and drinking out sector.
Click and collect purchases also increased – up to 20.1% of all foodservice purchases at its highest point in the week commencing 18 January, with food ordered on site subsequently falling as a result.
For those consumers making on-site purchases, the most popular destinations for this were coffee and sandwich shops, while QSRs were the most popular choice for click and collect and delivery orders at around 50% of total participants.
For Steve Braude, director at AlixPartners, while operators might have initially hesitated about fully leaning into delivery, this position changed as the pandemic dragged out.
"At the start, you've had operators taking a wait and see approach, and planning for reopening again," Braude says.
"As this has gone on, restaurants and operators have seen this as a more permanent platform for them to use.
"You've had consumers moving from a of once a week takeaway to ordering far more often, it's become part of their eating routine now. You've also seen Deliveroo and other players evolved their offerings."
Meanwhile, assumptions about demographics and adoption have been turned on their head, Braude says.
"There's always been this talk about the digital adoption in millennial and gen-Z, and if you look at the classic adoption curve, older people are typically late adopters of technology.
"What we've seen here, as covid has dragged on, is everybody has had to adopt to adopt technology,
"We joke that by the time we were all allowed to leave our houses again, we won't actually need to leave them for anything.
"Delivery has become one of those, where everybody has needed to use it if they want to get food from their favourite restaurants."
Delivery players
Three key players dominate the delivery space, Just Eat, Deliveroo and Uber Eats.
Just Eat started life as a marketplace platform, and is better known for its independent, more traditional takeaway food offerings, though it has in recent years expanded into doing its own delivery and attracting bigger brands.
Its technology might be seen as less nimble than its younger rivals. But in terms of penetration and scale it is the market leader, its merger with Dutch delivery giant Takeaway.com strengthening this position. Lumina research puts Just Eat in poll position in the UK, with a third of all orders made on the platform in the third week of January.
Just Eat reported a 27% order uplift to £123.4m for the year-to-date in October 2020, and increased its restaurant partners by almost 40%.
Shedding its reputation as the solely a place for local takeaway, several big names joined the platform to broaden its reach during lockdown, Greggs, McDonald's, Pret and Greene King partnering with the listed company for first time last year, alongside existing brand such as Burger King, KFC and Tim Hortons.
Meanwhile Uber Eats reported a 150% jump in UK deliveries year-on-year in the three months to September. The group's service now covers 75% of the UK population, up from 50% at the start of the year.
Estimated to be the second biggest platform in terms of coverage, 21.25% of delivery orders were made in the third week of January, according to Lumina.
As of August, Uber Eats had almost doubled its new restaurants in the last four months, to a total of 17,000.
Part of Uber Technologies' EMEA division, its parent company's Q4 2020 accounts show delivery grew 224% year-on-year.
While its delivery business still made an EBITDA loss of $145m, it is the fastest growing part of the technology group, and was a 69% improvement on the division's $460m loss in 2019. In EMEA, Uber grew its delivery gross bookings by 144% year on year.
The third player, Deliveroo, is a home-grown proposition that has established itself as the most talked about plater in the market without the backing of a major US tech company like Uber.
Accounting for 17.02% of delivery orders during the same week in January, Deliveroo has rapidly grown through initiatives such as its virtual kitchen model Editions, with operations more concentrated in urban hubs,
Initially struggling with the loss of branded restaurants from its platform during the early stages of lockdown, Deliveroo warned it could collapse due to a "significant loss of revenues".
The company was able to shore up its business after the clearance of $575m funding from Amazon, after the Competition and Markets Authority (CMA) heeded its warnings and allowed the equity injection, as well as the return of big-name restaurants to the platform.
Also diversifying into on-demand grocery delivery, CEO and founder Will Shu told staff in December that Deliveroo was profitable at an operating level for six months, and had grown its UK & Ireland business by 100% during the pandemic.
He said the coronavirus pandemic had accelerated consumer adoption of food delivery services by two to three years, and said Deliveroo was still "very much at the beginning of its journey".
With a planned IPO next month, which could see it gain a market value of up to £7.5bn, Deliveroo has also invested in click and collect, marketplace, order at table, virtual brands, and food procurement.
Signature
One of the most intriguing new features from Deliveroo is its Signature service, which for the first time addresses a complaint brands have, that third-party delivery disconnects them from their customers.
Described as a white label solution, Signature allows operators to benefit from Deliveroo's technology and logistics, while keeping customers on their own branded online ecosystems.
Stephen Goldstein, EVP of restaurants at Deliveroo, explains that as the pandemic made delivery more and more important, operators told the delivery company they wanted to stay connected with customers.
"When I look at the delivery business, this was a business until recently that was, I don't want to say marginal, but it was not the main focus for restaurants 12, 18 months ago," he tells Hostech.
"Restaurants had direct contact with their most loyal and important customers, they saw them, they knew what they were doing.
"As delivery has become a much more relevant part of people's businesses, in some cases 100% of total turnover, restaurants need more direct connectivity with their customers.
"They came to us and asked us if there were ways that we could facilitate those direct customer relationships, with a channel that was their own, that looked and felt like the brands they built."
The solution gives restaurants the opportunity to reward customers with loyalty in ways Deliveroo's core app doesn't.
"It was definitely something operators were really keen on, even before the pandemic, to figure out ways that they could connect directly and have that special relationship with their most loyal customers," Goldstein says.
"It was about making sure that the loyalists who go to the restaurant 10, 20, 30 times a year, that they had a way to talk to those same customers in the delivery channel that they would in their core dine in business.
"We built a product with that in mind, which is highly customised, but it's all an automated process that our teams run to allow the restaurants to build those relationships with their branding."
Recognising that most restaurant groups don't have large tech engineering teams on staff, it takes input from partners, while Deliveroo creates the interface, and updates it automatically with deliveries, so there's no tech work required.
Nando's was one of the first brands to go live on the platform. "Not only did they dive into the deep end with us on this new product, they've also pushed us to develop the product and make it better, with increased functionality, Goldstein adds. "They continually push us every day to make sure that this is more for them."
The future
With such major growth in the market, and the three key players vying for a share of that, analysts believe there could be consolidation or an exit of one of the aggregators.
"Our view has been for a long time that most markets can probably support two major players," Steve Braude adds.
"We saw Uber CEO Dara Khosrowshahi say around this time last year that Uber Eats will likely divest in any market where they can't be the number one or number two player.
"What we're seeing is real financial strength. What's great is delivery isn't just a fad, it's here to stay.
"When Deliveroo floats, you will have three strong listed companies that aren't going anywhere soon, so I think that should give the sector confidence to start playing in this market, and they will become more experienced as well.
"I think we have started to see operators become more sophisticated, in the same way retailers have over the years, about how they differentiate the in-store versus the delivery offering, in a way that lets them optimise revenue and costs, and be able to offer something to both types of customers without having to compromise on either."
This article is part of MCA and BigHospitality's Hostech series
REGISTER TO RECEIVE A WEEKLY ROUNDUP OF CONTENT, INCLUDING FREE WEEKLY TECH GUIDES AND ARTICLES
REGISTER FOR OUR TWO FREE WEBINARS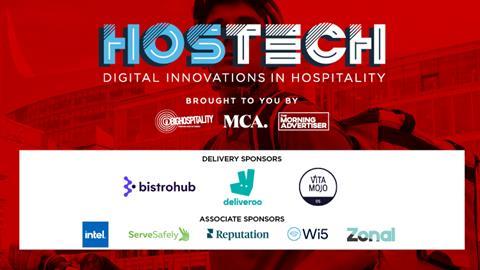 Precis
HOSTECH

The unstoppable growth of delivery
Delivery has boomed during the pandemic, with the key players adapting and pitvoting to meet the occasion. As consumers turn to the digital services more frequently than ever, operators are seeking new ways to stay connected with their most loyal customers. Amid a frenzy of investment and a mooted IPO, could Deliveroo's new Signature feature be the sweet spot brands have been looking for?