Canadian fast-casual chain Freshii launched in the UK earlier this year with ambitious plans to capitalise on the appetite for healthy eating. The expansion on these shores is being headed up by POD co-founder, Kate Skerritt, who spoke to MCA's sister title Food Spark about where she sees the future of food.
Looking to nab some good-for-you grub on the high street? As established chains tap into the healthy-eating trend, including the vegan and flexitarian movements, new players in town are aiming to freshen things up.
One of these is health-focused grab-and-go concept Alfs Super Naturals, which will debut in London later this summer, as MCA reported earlier this month. Backed by the chairman of the Azzurri Group, Alfs will place healthy and delicious food at its core, with everything produced on site daily. The offer will feature salads, frittatas, protein boxes, soups and desserts, alongside foods such as moussaka and a vegetarian Thai red curry.
But arguably more disruptive is Canadian Freshii, which landed in London at the start of 2018 and has aggressive growth plans: it hopes to reach 200 stores in the next five years.
Following its first UK location in London's Chancery Lane, opened in February, a second store is set to arrive in Bow Lane next month (the first franchised store is launching in Greater London around the same time).
This expansion is being spearheaded by some hefty credentials: POD co-founder, Kate Skerritt, who also helped to set up Pret a Manger's US operations.
Skerritt sat down with Food Spark to share her thoughts on the difference she thinks Freshii is bringing to the healthy food-to-go game and where she sees the future of food.
Bread, breakfast and mayonnaise
While the food on offer at Freshii doesn't look that different from other chains – salads, wraps, bowl food, soups, burritos and a breakfast offering – Skerritt says it is the approach to preparation and ingredients that makes it stand out.
There is a keen focus on vegan and vegetarian meals on the menu, but targeting the flexitarian lifestyle is key. Protein is king, while there isn't much room for simple carbs.
"If we do carbs, especially bread ones, it will be something which will tick boxes that are good for people. So for example our wrap is vegan and made with spinach; it's thin and it's more like a vessel for what's inside, rather than the other way around," says Skerritt.
"When you are looking now at what's happening on the high street, because of the costs, everyone is putting a lot of bread or dough and very little fillings. I want us to be led by proteins."
London's Freshii is the first to introduce breakfast into the global chain, which also has sites in Sweden and Austria. This includes a water-based porridge with seasonal fruit, picked up daily from the market to ensure it is fresh, according to Skerritt, who is laying the gauntlet down when it comes to food prepared on site.
"We are doing scrambled eggs and again we are scrambling here to order. A lot of companies, the way they are doing it is buying it in bulk already scrambled and holding them. And I think if you can't do it properly, then don't do it – that's my motto," she says.
"We don't offer any toast with it. However, the feedback is that people would like something, so I'm looking for something unusual and we will probably introduce it."
When it comes to flexitarians, Freshii is open to experimenting with meats, but understands the power of the plant. Many of the salads are vegan and vegetarian friendly, with pots of protein like chicken kept separately for customers to purchase and add to their bowls.
"You have a few brands now which are following the vegetarian/vegan trend but I find very few of them are innovative. If it's a chain on the high street, it's packed with mayonnaise – which you really shouldn't eat – and they are all the same. A little bit different in colour, but they all taste the same; they are all watery, they are all mayonnaise based," criticises Skerritt.
"By Chloe, who just came from the US, I think they are trying to do different things. It will be interesting to see how they do here. I know they have ambitious plans."
Following the theme that food is medicine, Skerritt also wants the chain to concentrate on a different health issue each month. This month it's brain awareness and mental health, while in the future it could be heart health, immune boosting, allergies and skin protection.
Spices, sweet potatoes and sea plants
So where does Skerritt see the future food focus for Freshii?
First up are Moroccan spices. Everyone went crazy about the tagine, she says, but there are so many other interesting Middle Eastern spices that the chain is trying to introduce.
The Canadian operation released a bowl this month with quinoa, spinach, chickpeas, cucumbers, carrots, walnuts and feta cheese topped with house-made spicy harissa tahini dressing. Other combinations are under development.
Vegan protein box with beetroot and horseradish hummus, avocado, sweetcorn salsa and edamame beans
The chain has also started doing beetroot hummus, which it makes in-house, adding horseradish for a kick.
"We introduced hot roasted sweet potatoes, and some chains deep-fry them, but ours our baked here fresh to order. We are just using rosemary, thyme and basil, and it all helps to influence the taste and experience," Skerritt says.
"I think sweet potatoes definitely have a long way to go. I think beetroots are still in the business but are boring – there are so many more things you can do with them. I think the radish family – like the daikon – no one is using and I think it's brilliant and there are so many things to do with it."
Seaweed is also tipped by Skerritt to do bigger things in food – some of Freshii's salad already include the ingredient.
"And any kind of sea plants. There are so many plants that aren't developed yet, or are too expensive, or aren't in the main chains yet of suppliers," she adds.
Opening up the Atlas
When it comes to cuisines, Skerritt believes Asian could be explored through much smaller cultures like Indonesian and Filipino, while also expressing interest in how South America works with its root vegetables. Caribbean cuisine, meanwhile, has potential but is yet to take off.
One of the salads on Freshii's menu (called Pangoa) even has South Pacific influences and includes brown rice, avocado, aged cheddar, cherry tomatoes, black beans, corn, cilantro, lime wedge and fiery BBQ sauce.
Skerritt has also taken note of how the industry is moving more towards powder foodstuffs.
"You can buy beetroot powder or black sesame powder or matcha powder, and you can really do a lot of interesting things with that," she says. "Add it to drinks and desserts."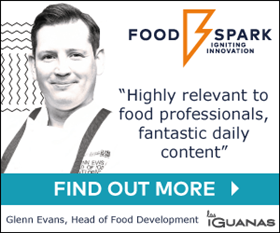 Article originally published on foodspark.com, a digital subscription service designed to inspire and inform innovation across the food industry.
For anyone needing to stay ahead of the culinary curve, Food Spark will offer immediate access to the emerging trends, ingredients, personalities and headwinds defining the future of food. Explore more content by visiting Food Spark or by requesting a demo: joinus@foodspark.com or 01293 610371.