When Nando's head of platform Kate Boyle thinks about the future, she sees a business able to deliver its offer to customers wherever and whenever they want it.
Speaking at MCA and Big Hospitality's Hostech conference earlier this week, Boyle said the crisis, and the changing consumer habits it has prompted, has forced the entirety of the restaurant sector to "fundamentally change," and to do so quickly.
At the onset of the first lockdown, Nando's partnership with tech solutions firm Vita Mojo enabled it to implement an order and table app in just six weeks, and it has since rolled out click and collect and delivery across its estate.
"Those of us that thought we were predominantly an eat-in brand with a bit of collection and delivery, have had to face a very different world with our restaurants shut," Boyle said.
"We are all multichannel businesses these days and we need to think in much more of a multichannel way. We're not a single offer organisation that bolts on additional services, that's not the world anymore."
And according to head of technology Reg Meyer, the brand's strides over the last 12 months are "just the start."
Following its multi-channel push, the business has started introducing real-time feedback mechanisms to gauge performance across all its channels, he revealed, and is working on an all-encompassing integration strategy.
"Before we had face to face feedback, and now we have to make sure we have other mechanisms to get all the feedback all the time," he said. "Additional channels become a lot easier now for us to venture into, and we've had plans and thoughts about where to go to next.
"We're going to try and integrate our entire customer experience, so people only ever see one Nando's, rather than a Nando's delivery service or takeaway service."
And this single user interface will benefit Nando's staff too, added Boyle.
With menus stored once and appearing identical across its website, app, or physically in a restaurant, consumers will have a single source for accessing information including ingredients and nutritional values, and staff will work from an interface with "one way of doing things," she said.
"It means that we will avoid our processes becoming really difficult and cumbersome for our staff," she said. "The multiple ways that we want to enable customers to interact with Nando's need to be single and they need to be specific."
In embracing technology in this way Nando's has become one of many operators to benefit from an ability to shift and adapt its operation, Vita Mojo chief executive Nick Popovici, also at the event, said.
"There are a lot of curveballs ahead; the saga hasn't finished," he told attendees. "But one thing that's for sure is that the operators that have been embracing technology to leverage the customer experience and their operations tend to thrive and outperform.
"In the second half of this year the most agile organisations, the ones that have embraced technology and can support omni-channel ordering, will find themselves in a better position than those who are more conservative and stuck in the 'old normal' mentality."
This interview is an excerpt from our Hostech webinar which ran on 16 February. You can see the whole event here, which also features interviews with senior IT and transformation execs at Pret, Pizza Express, insight from Lumina Intelligence and sponsor partners.
REGISTER TO RECEIVE A WEEKLY ROUNDUP OF CONTENT, INCLUDING FREE WEEKLY TECH GUIDES AND ARTICLES
REGISTER FOR OUR TWO FREE WEBINARS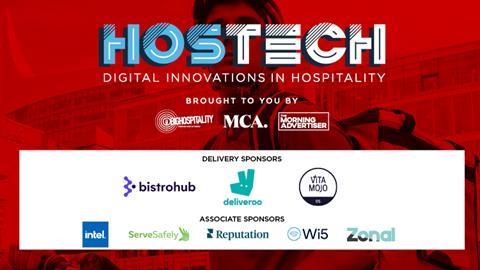 Precis
HOSTECH

Nando's: 'We've seen our business fundamentally change'
When Nando's head of platform Kate Boyle thinks about the future, she sees a business that is able to deliver its offer to its customers wherever and whenever they want it. Speaking at MCA and Big Hopsitality's Hostech webinar, Boyle said the crisis, and the changing consumer habits it has prompted, has forced the entire restaurant sector to "fundamentally change," and to do so quickly. She said: "We are all multichannel businesses these days and we need to think in a much more of a multichannel way. We're not a single offer organisation that bolts on additional services, that's not the world anymore."