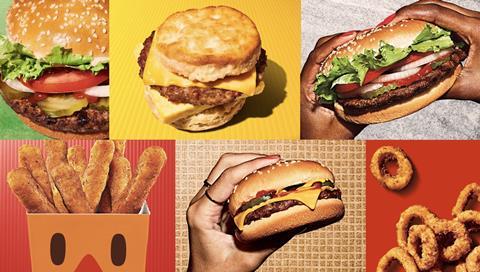 Burger King UK (BKUK) has made no bones about the fact it is keen to grow the business, with the news that it had secured new financing to the tune of £110m and acquired its second largest franchise partner, "quite a statement of intent", chief executive Alasdair Murdoch tells MCA.
Announced earlier this month, the deal sees a further 74 restaurants added to its company owned and operated estate, giving it "critical mass" and a strategically important move for the business, whose parent company Bridgepoint owns the master franchise agreement in the UK.
It now has direct ownership of 266 restaurants of the 553 Burger Kings in the UK.
The new stores comprise 36 drive-thru units, nine in-line, 27 shopping centre locations and two leisure restaurants, "in a part of the UK where we are not overexposed".
Opportunities for sales growth will come from the investment in those sites, as part of its wider remodelling programme, which aims to enhance the customer experience through the installation of digital kiosks and digital menu screens, as well as a new visual identity.
The business currently remodels around 25-30 restaurants each year, with these investments generating "quite strong returns". Key to any changes is the end goal of improving the guest experience. "A lot of our investment over the last few years has been designed to do that – it will allow us in the future to talk to more of our customers in a better way, Murdoch explains.
On the whole, the businesses that it has acquired have been well run, as is the case with Karali, but the learnings BKUK has gained from its own sites, and the addition of more technology, should help to drive sales and profitability, and prove beneficial for the development of its new loyalty programme, he says.
Karali's units will also boost BKUK's estate in the North West, particularly in Liverpool and Manchester where it previously had fewer company-operated locations. "It gives us two of the big cities to grow in […] so geographically it is really opportunitistic for us."
In addition to enabling the acquisition, the financing, secured from two existing lenders (NatWest and Rabobank), alongside new lender AIG, will help fuel the growth of the business for a number of years, Murdoch says.
Since the start of 2021 BKUK has added 70 owned restaurants to its estate, comprising 39 new openings and the acquisition of 31 sub-franchised, as it works towards its target of 700 owned or sub franchised sites by 2026.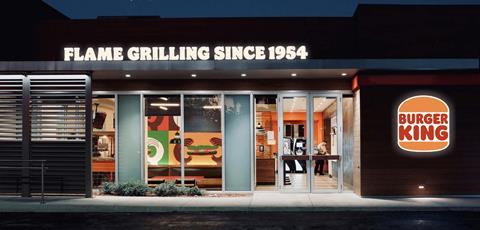 Comparative to its biggest competitors, McDonald's and KFC, Burger King has substantially less sites in the UK, but with a pipeline of more than 200 restaurants stretching across the next three to four years, Murdoch is positive about the opportunities to scale up.
"I don't think there will necessarily be many more large acquisitions, because there aren't that many more of them within the system," Murdoch explains. "A lot of our larger franchisees are the big corporates and are our channel partners – we want them to grow and for us to grow alongside them."
A location where the business has begun to extend its reach, and where he sees further scope, is in Greater London. Despite the challenges that a lot of suburban high streets have faced, Murdoch says he believes "there is an opportunity for us to go back onto the highstreets, maybe with smaller restaurants".
What internally BKUK describes as an 'urban box' style format, it is essentially a smaller unit with less seating, that still offers a full menu, and is in a reasonably high footfall area where access for delivery drivers is also straightforward.
A good example of its growth on suburban high streets is the opening of its new restaurant in Sutton earlier this month. "If we can go on to high streets like Sutton we will trade very well there. Why do we trade well? The advent of delivery and that digital focus means that these areas have become very viable for us and perhaps there is a bit less competition, so we think that is a real example of an area of opportunity for growth."
Nevertheless, Murdoch says he expects that two thirds of its openings will be drive-thru or drive-to restaurants over the coming years.
The addition of close to 40 drive-thru sites from Karali makes BKUK more dominate in that space – a channel that Murdoch sees as "a real opportunity". While it's difficult to grow at speed when you are driving drive-thrus – "it's not simply a case of getting out there and writing cheques, because the sites don't exist" – the business has put a lot of resource behind working with the various stakeholders involved in getting these sites to fruition.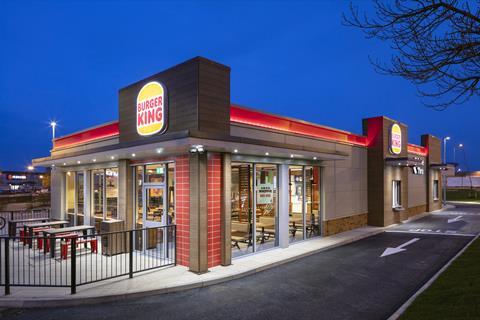 "If is fair to say the hottest part of the (property) market is drive-thrus, and the competition for those is very stiff. To a certain extent it is easier to find those high street opportunities, but we have got a long pipeline of drive-thru opportunities over the next two or three years, so we will just keep working away at that."
The business has also done a lot of work on operational drive-thru expertise, by implementing new technology and different types of training, and through that has reduced the time it takes car to go through one of its drive-thru lanes, he says.
"If we take some of those learnings and share them in those stores that we buy we will see some good numbers and growth out of that too," he says.
In addition to growing the business through its own new openings, and acquisitions, the third prong of BKUK's growth strategy is driving like-for-like (lfl) sales, which Murdoch says it has been pretty good at over the last four or five years, despite the obvious setbacks.
"If we look at our performance versus 2019, we are in good double-digit lfl growth, and that's something we want to continue," he adds. In terms of delivery, while consumer habits reversed coming out of lockdown, "our numbers are still pretty solid".
While inflation and the cost of energy is putting pressure on consumers, Murdoch says the brand has remained very resilient through recent economic turmoil.
"People are perhaps changing their habits a bit, and some operators are sadly having to put their foot on the brake, but we think there is an opportunity for growth during these times."
Protein inflation has been widely publicised, but Murdoch is hoping that the industry is nearing the peak in term of cost inputs. "Protein has been quite a challenge, and obviously dairy […] but we are beginning to get slightly longer contracts now," he explains.
"All our fries come from the UK and the harvest this year will be pretty short. Those prices are there and real, but we try not to moan about it at all because everyone faces those challenges."
The business has implemented some price rises on the menu but it trying to get away with as little as possible. "We might take some more price, we might not, but we haven't got any plans to do that at the moment," he says. "What's important for us is to keep our sales going and the positive momentum – if we have that happening and we have happy customers then I think we are in a better place when they (costs) do come off, and we can benefit from that."