Italian casual dining is still dangerously overexposed, but Franco Manca has bucked the trend of consolidation and CVAs with its razor-sharp focus on food, service and value. After posting a year of growth and promising a new expansion drive, MCA's Finn Scott-Delany speaks to Fulham Shore chairman David Page.
Eighteen months ago, Fulham Shore chairman David Page had no idea where the country was going politically or economically.
The sense of uncertainty – which was by no means unique to the Franco Manca operator – led Page and his board to "slam on the brakes" of expansion, and open a relatively modest four sites last year - half the previous year's tally.
While a Groundhog Day-like level of uncertainty remains, Page's willingness to allow it to delay progress does not, and this year Fulham Shore is back on the expansion trail, with plans for eight to 10 restaurants across the group.
"We still don't know where the country's going," he tells MCA. "But our trade is very good, so we might as well open some more sites - even if our political leaders are like chickens without heads.
"Our customers keep coming in, so we're going to have to open some more restaurants, because we have the demand for it."
It's a happy problem for Page, who was speaking after the AIM-quoted group reported revenue growth of 17% to £64.0m – up from £54.7m in 2018 - driven primarily by good trading in its existing restaurant estate.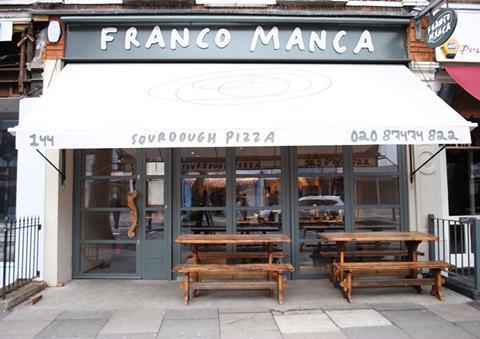 Operating profit at Fulham Shore, which also operates The Real Greek chain, was £1.8m - up from £0.1m in 2018 - during the period.
The new sites, which will be a mixture of the two brands, will be financed from profits from the estate, rather than bank borrowing, added Page.
Meanwhile it will continue its strategy of targeting smaller footprint, secondary locations, rather than fork out for prime high street locations.
"Not only are we going for smaller sites, so we can keep the rents down, but we would rather open two small sites than one really big one," he says. "If it's jammed to the rafters we're happy to open a second."
"Jamie's proved you can stagger on for a year or two – but if you're overpriced and not delivering service quality, you've got a problem."
Cannibalisation of restaurants did present a problem as Franco Manca rapidly grew from 10 to 30 sites in London, but Page was pleasantly surprised to discover this no longer seems to be an issue.
An opening in Aldwych had no discernible impact sites on Covent Garden, and St Paul's had no impact on Aldwych.
This gives Page confidence there is still space for more branches under the Neapolitan pizza brand.
"We are going to expand more outside London in the coming years, but demand in London is still growing for Franco Manca pizza," he says.
Forthcoming sites include one in Trafalgar Square, in Bankside, and "possibly another in a big city just outside London".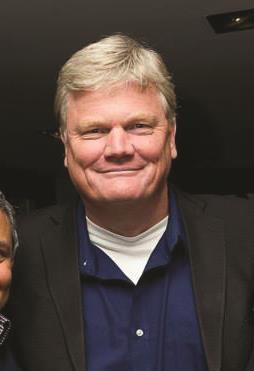 Meanwhile, Page believes with the balance of supply and demand in restaurants still not at equilibrium, rents can only go one way – down.
"Bigger landlords like LandSec and Westfield, have deeper pockets, and can give rent holidays and relief," he says.
"But the smaller landlords, with the banks breathing down their necks, aren't in such a good position. But if the retailer goes bust and there's no one willing to take the space, they've got a bit of a problem."
In his chairman's report, Page critiqued the fact too much capital invested in the sector over the past five years had "not been spent wisely".
He praises Cote Brasserie, The Ivy Collection and Five Guys as notable exceptions, for continuing to invest, and apparently trading well.
But he predicts further bloodshed in the middle-market - particularly the crowded Italian casual dining segment - where operators have ground to a halt on expansion, and are scrambling to consolidate and agree CVAs.
"Their product is still not very good, and there are lots of good independents coming up with better quality products with lower pricing," he says. "They've got a real problem - and very high rents. Lots of people are coming up in pizzas and burgers offering a better product at a better price."
With CVAs presenting an opportunity to lop the tail off an underperforming estate, Page suggests the move creates an unlevel playing field.
"If you can cut, say, 20% of the estate, the temptation to do a CVA must be intense. The trouble is it rewards failure," he adds.
"Once you've done it, you're competing with people that have been more measured about expansion.
"Jamie's proved you can stagger on for a year or two – but if you're overpriced and not delivering service quality, you've got a problem."