KFC UK&I is significantly increasing its pace of growth, with the goal of reaching the 1,500-site mark in the next 10 years, chief development officer James Whitehorn tells MCA.
The fried chicken giant marked its 1,000th UK site last year but nevertheless sees growth opportunities in the region.
"It's been a strong year for us in a turbulent sector," Whitehorn says. "We're holding up really strongly, not only from a top line sales growth perspective but also on a transaction basis.
"That's giving us the confidence to think not only about surviving, but also thriving."
The business has also seen footfall recovery in high street locations and this, along with the resilience of transaction numbers, has contributed to confidence in its future on the high street.
"Most formats are holding up strongly," Whitehorn adds. "Each is in relative growth."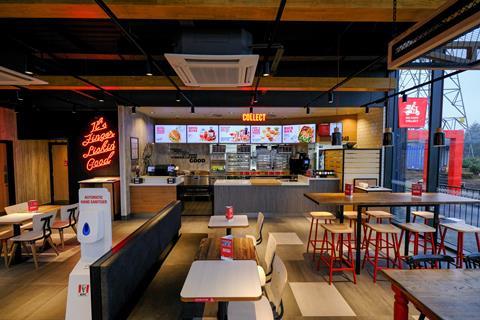 The KFC portfolio is about c50% drive-thru, with the remainder primarily split between city centre high streets and food courts. It is c90% franchised.
"It's a big generalisation to say high streets have declined. Some high streets are different to what they used to be, some are thriving in current market conditions.
"KFC does play a real role as a footfall anchor for local businesses. Our franchisees are locals; they know the high streets inside out."
As for other channels, delivery is now between 20-30% of sales on average, although this depends on the location, Whitehorn says.
"Prior to Covid, delivery was probably just touching double digits on a percentage basis. It's a huge increase from a base of almost nothing."
While the estate has a national spread, the business sees opportunity to penetrate further into regions across the country.
"There's not a singular region or occasion we're focused on," Whitehorn says. "We see opportunities for 500 sites spread from the North to the South.
"We think 25% of the UK can't easily access a KFC…we want to make KFC a fixture in every community."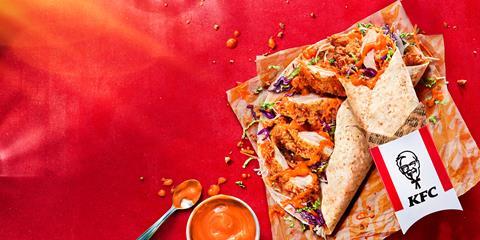 The brand can fit into "most locations" due to its format, from smaller high street sites to larger drive-thrus – both of which it still sees as prime targets for growth.
"We're exploring new formats but not looking to drastically transform what KFC looks like.
"Our drive-thru formats are on fire…drive-thrus and high streets are still the biggest opportunities for us."
In terms of day parts, the outlook involves staying consistent with a focus on lunch and dinner, which together form c70% of sales. Breakfast and late night form the remaining 30%.
"Breakfast is something we've tried to implement, but never incredibly successfully.
"Looking at different day parts, the biggest opportunity we see is where we're already strong. We want to double down on areas we have the relevant offer for."
While KFC made a move into omnichannel retail last month - with the launch of a herb and spice-flavoured popcorn with Proper Snacks - the channel will involve occasional collaborations rather than being a key focus.
"Big retailers are looking to diversify offerings all the time – KFC could have a role to play in that," Whitehorn says. "Right now we're looking to take our current format mix forward."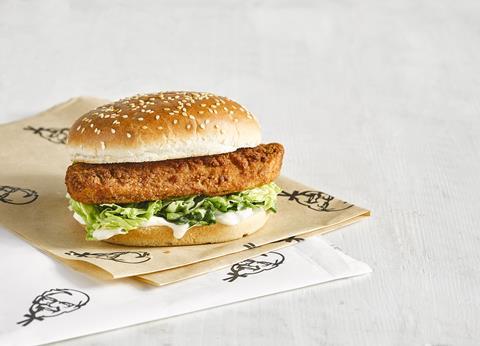 Despite the growing popularity of fried chicken and the increasing number of entrants in the category, KFC is confident it can hold its own.
"Everyone's trying to do what KFC does really well.
"For us, when a consumer comes in, they want our fried chicken. There's always opportunity for innovation around that, but we're focusing on consistency rather than trying to innovate."
Nevertheless, the business will stay on top of some trends – such as vegetarianism or flexitarianism – but consistency is key.
Part of its continued sales growth is that price rises have been "carefully considered" and selectively passed on to the consumer, according to Whitehorn.
"As a result, we haven't seen a downward shift in transactions," he says. "We still represent value for money.
"We've been resilient in being able to deliver across the system and ensure we remain competitive…as we look forward, returns today are at a healthy level."
KFC will therefore focus on its "good growth" formula, and continues to look for opportunities from a "stable place", Whitehorn adds.
"A brand that has been in the UK for more than 50 years but still has a runway for growth like we do, is to some degree unprecedented."