Itsu's chief executive Ganan Kanagathurai is relatively mild-mannered compared to the gregarious, outsized personality of the group's founder, Julian Metcalfe, which might explain why his promotion more than a year ago slipped under the radar.
Having joined the Asian food to go and grocery business around five years ago as chief financial officer, Kanagathurai stepped up as managing director before being officially made CEO, and has been leading the business, albeit under different guises, for around two and half years.
Like the majority of the hospitality sector, Itsu has been hit hard by the pandemic. With the majority of its 70 sites in central London, significantly reduced footfall from both officer workers and tourists has meant that around 18 of its locations currently remain closed. "Everything has been going in the right direction, but it has been a pretty painful process as you'd imagine," he tells MCA.
Last August saw the approval of a Company Voluntary Agreement (CVA) for Itsu, which saw two of its shops close, and rents renegotiated at 53 others. Before the pandemic hit, the estate was reported to be healthy and profitable, but the business needed to realign some of its rent levels with its sales. "If you're paying 100% of your rent and your shop is closed, it's a painful place to be," he says.
On the plus side, Itsu's landlords have been supportive, its CVA passing by more than 84%. This has given the group confidence its landlords "really buy into the recovery journey of Itsu."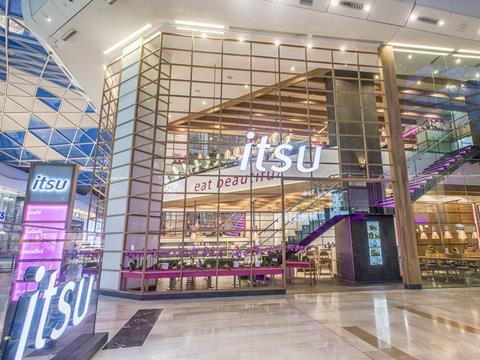 With that episode dealt with, Kanagathurai is now keen to now move forward with plans the business already had in motion. The pandemic has accelerated this strategy rather shifted it, with key areas of focus around hot food, technology and customisation – as well its first steps into franchising.
Where Itsu will be
A greater proportion of future Itsu stores are likely to open outside London, the view of stretching its footprint outside the capital only growing in appeal. While it would take "a brave person" to invest in London's zone one, Kanagathurai says the focus outside the capital has been the case for the past three to four years, the pandemic merely solidifying its property strategy. "Instead of having one eye in London and one out, we have two eyes out."
Market towns and cities, where residents are most likely to consume Asian food, and make more adventurous food choices, are being targeted. Market mapping suggests the brand has the potential to add a further 150 sites to its estate in the UK over time. To help the business go some way to achieving this, it has gone down the franchising route, and will open its first UK franchise sites later this year in partnership with Pizza Hut Restaurants.
Shops will be opening in Leicester and Reading, as well as its first in Europe, within Brussels Airport – the latter in partnership with HMS Host, with more planned next year. The 160-seat Reading restaurant will open first, in early August, in the Reading Gate retail park. Further international sites in France and Switzerland are also on the cards for 2022.
The franchise model has been a worked on for several years, with a selective process to find the right individuals and organisations who "see the world like us, have the same cultural views, and care for their people like we do".
Expansion will be a mix of franchise and company-owned and operated stores in the UK, with franchise-only sites internationally. Itsu has found a way to "carve up the country" so that it can also enjoy corporate growth regionally. "It's really important that during this franchise journey we keep growing our own business," he says.
Hot food appeals
The food to go retailer has been working on its hot proposition for several years now and has shifted its sales split from it making up around 20% of sales, to 40% over the past two to three years. "It's something we have invested even more time, energy and effort into over the pandemic. We want to get to 50/50 on cold and hot food next year."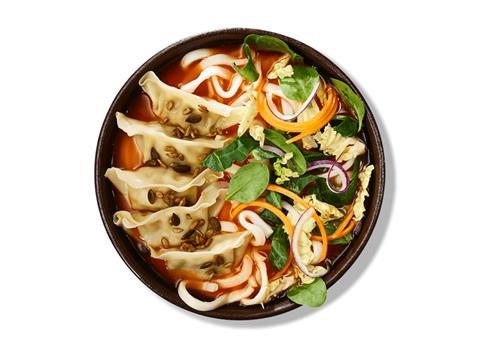 Its work in this area has included new launches, such as gyoza and bao ranges, and investment in kitchen equipment and staff training, to be able to handle greater volumes of hot food orders.
The rationale comes down to the belief that hot food evokes a more powerful emotional connection with customers. "All the best food businesses in the world are hot food-led, and there is a reason for that, because of the emotional connection," he says. Any new products would still be aligned to Itsu's main brand tenets, of offering affordable and nutritious food, with all meals coming in under £9.
Convenience and customisation
The biggest drivers in the food to go sector over the coming years will be convenience and customisation, Kanagathurai believes. While Itsu has always been a convenience business, in that is appears in every major high street in zone one, the brand is far less accessible outside the grocery aisles in other areas of the UK. A multi-channel proposition is key, offering customers the chance to access its products on and off-premise, through its grocery business, and delivery.
Part of this drive for in-store convenience includes a focus around speed of execution and service. This speed of service has to co-exist with the aim to offer more customisable options for customers – no easy task – but one which technology is helping to solve. Long gone are the days when customers are told the options and must choose from a pre-decided offer. Driven by younger consumers, there is an expectation that customers will tailor and personalise their food. "If you can't offer it, they will go and find somebody that will," he says.
While customers want to customise on many different axes, for Itsu the most important credential is healthiness. The problem is, health can mean different things to different people. Some customers will be looking for high protein, low sugar, low fat or low salt options. For others, it's about gluten-free or dairy-free.
"The future of our business is not about having loads of SKUs [stock-keeping units], it's about having a few dishes that enable people to customise on many different axes. That's what we are pioneering and it's the digital component, the technology, that's the enabler."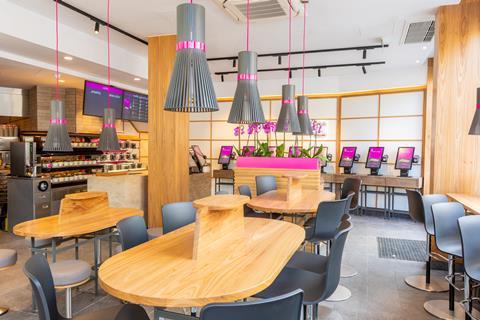 Itsu launched its new app during the pandemic, which Kanagathurai admits was not ideal timing. But its 'build your own' feature, which allows consumer to create bespoke dishes, is now active in 26 of its shops, and is already accounting for one in 20 transactions. The younger generation are again driving this trend, Itsu seeing a much higher penetration with the app in student areas such as Oxford, Cambridge, Brighton and Bristol.
Alongside the consumer facing technology, which also includes the self-pay order screens it introduced within its 'store of the future', on Great Portland Street last autumn, the business has been investing in back of house technology. Tied in with the move towards a smaller, more customisable menu, and a shift towards a greater hot food range, Itsu is increasing efficiencies in its kitchens to enable staff to focus on more labour-intensive hot food. While self-ordering screens have driven speed and efficiency in front of house, the labour saved there has merely been redeployed.
All of its new shops will be developed under the new store of the future model and it is in the process of refurbishing its existing estate to bring those sites in line with the new digitally focused model.
Growing its shelf-edge presence
The move into retail has become an increasing focus for the likes of YO! and Pret A Manager, in recent times. Itsu has also had a keen eye on the supermarket shelves and has been operating its grocery business for the past 15 years – it's something that Metcalfe dedicates a lot of time to in terms of new product development.
"It's a fantastic business that has really come of age in the past year or two," Kanagathurai says. "The pandemic has really proved to us that customers have been seeking out our Itsu branded proposition on the shelf edges of Tesco and Sainsbury's as well as Amazon and Ocado."
In its infancy, that side of the business served as a supplier to Itsu's restaurants, but it has now grown into a £25m turnover operation in its own right. Kanagathurai sees it reaching up to £40m in time. It had been growing at around +40% year-on-year, but over the past 12 months that has increased to 60-70%. It's another area that the business is keen to invest more in and has helped it to form a holistic offering to customers. Or omnichannel, as it is now known.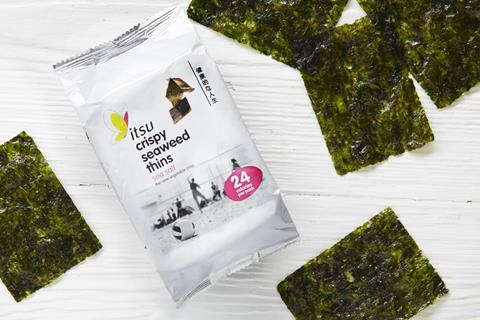 Precis
THE BIG INTERVIEW

Itsu: 'We now have both eyes outside London'
Like the majority of the hospitality sector, Itsu has been hit hard by the pandemic. With the majority of its 70 sites in central London, significantly reduced footfall from both officer workers and tourists has meant that around 18 of its locations currently remain closed. "Everything has been going in the right direction, but it has been a pretty painful process as you'd imagine," chief executive Ganan Kanagathurai tells MCA. But the business is now forging ahead with its growth plans and is looking forward to the opening of its first UK franchise sites later this year, in partnership with Pizza Hut Restaurants.