MCA rounds up food-to-go autumn menu launches from brands including Leon, Pret, Gails and Greggs, exploring trends for both indulgence and health as well as new flavours
Pret A Manger
Food to go retailer Pret leans into the comfort food trend with twists on classics, in its returning soup rotation including the new Pret Lasagne Soup, sold as a "comforting, rich chunky option".
Other menu items tap into a demand for indulgent lunchtimes, for example, Layered and Loaded Chilli Chicken Nachos with jalapenos, tomato salsa and melted cheese.
Mexican and regional Asian cuisines are still cropping up on Pret's Autum offering with Chipotle Chicken and Feta Hot Ciabatta as well as utilising Indian flavours to warm up more traditional menu items, like the Onion Bhaji Melt Toastie or Tandoor Onion Bhaji Salad Wrap.
Spices also revive the brand's hot drink options, with Chocolate Chai, Pret's traditional organic hot chocolate mixed with chai spices. As well as seasonal favourites such as the Pumpkin Spiced Latte on offer, available hot or iced.
Greggs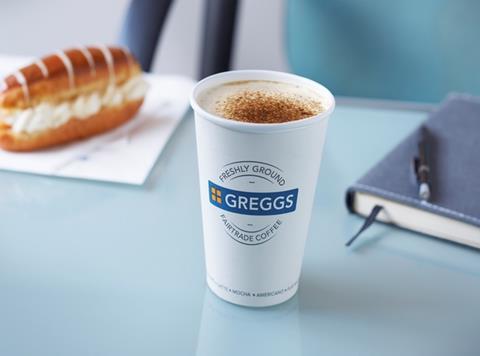 The Pumpkin Spiced Latte has retained its cult status, also appearing on Greggs' Autumn drinks menu, alongside a shake up to hot drink infusions with a new Hazelnut Mocha and Hazelnut Hot Chocolate range.
Greggs is also tapping into the popularity of South Asian cuisine, with Indian influences in its new menu including the Spicy Chicken and Veg Bhaji Baguette and Veg Bhaji Flatbread, served hot for the season.
Further opportunities for indulgence come in the shape of cheese-laden snacks and sandwiches.
Mozzarella and Cheddar Bites, covered in a crispy breaded crumb, are served with a dip of the customer's choosing. Elsewhere the Cheese and Honey Mustard Toastie is topped with creamy bechamel sauce.
Leon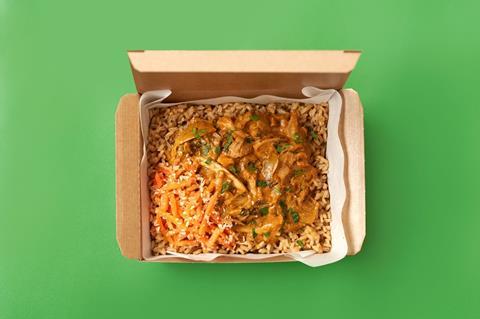 Fast casual comfort foods are exemplified in Leon bringing back its classic curry recipe, made more punchy with black cardamom and kale for a touch of green goodness in the Black Cardamom Chicken Korma.
The brand capitalises on health-led trends further with the brand-new Golden Glow Dhal, said to leave you "glowing from the inside out."
This healthy approach is traversed with a nod towards more decadent options, namely Loaded Mexican Fries with toppings including smashed avocado, black beans and lashings of Leon's chilli sauce.
Traditional desserts have upped their game with exotic ingredients like the Blueberry and Yuzu Blondie, with nuts again taking centre stage in the Nutty Lime & Ginger Fabjack, Chocolate & Almond Butter Tiffin and Choconutty Banana Bread.
Costa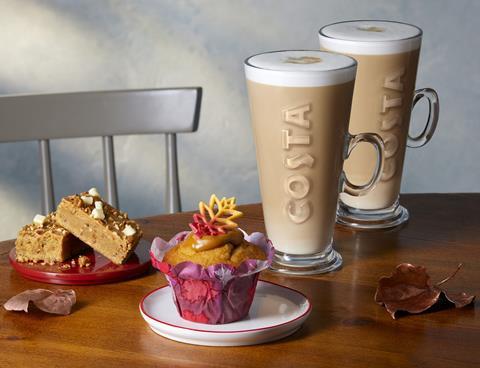 Costa have bet big on Maple and Hazelnut as the flavour combination of the season, with a Latte, Frappe and Hot Chocolate infused with the ingredients, alongside Maple Hazelnut Muffin and Blondie.
Classic pairings have also been utilised, with an Apple and Blackberry Loaf Cake, Chocolate and Salted Caramel Cake, and brand-new Iced Pumpkin Gingerbread Biscuit.
The brand says there's no such thing as too much cheese, with new Nacho Chilli Cheese and Chicken Toastie with Mexicana® cheese, spicy jalapeños, drizzled with gooey cheese sauce and served on cheese and tortilla chip topped bloomer bread.
The Hog Roast Toastie, with hickory pulled pork and spiced apple glaze and onion chutney taps into a smoky barbecue flavour boom of recent years.
Gail's

Artisan bakery group Gails takes a more subtle approach to Autumn flavours, with a focus on nuts and seeds beefed up by indulgent buttery flavours.
Its new menu features a Round Challah Loaf, sweetened and sprinkled with poppy and sesame seeds, alongside a Spiced Apple Cake drizzled with sweet sesame butter.
These flavours are echoed in the Overnight Oats with Apple & Blackcurrant, with blackcurrant chia compote, almond butter and roasted almond nibs, tapping into health-led consumer preferences whilst offering luxurious flavour.