Pret a Manger officially launches Dinners by Pret this week after a soft launch period at 30 stores. Part of a multi-channel strategy to bring Pret to customers' homes during the pandemic, the hot food offer is available via Just Eat, Deliveroo and UberEats. Pret UK food and coffee director Briony Raven shares exclusive details about the project, as well the brand's coffee subscription which she oversaw.
How did the concept come about?
Dinners isn't a completely new concept, about five years ago we did a dinner concept on the Strand. It was a completely different hot food menu and it's where a lot of our mac and cheese and baked stuff has come from. What became clear was the ambiance of a Pret shop in the evening, when people want a glass of wine or a beer with friends, didn't quite tick all the boxes. It was really difficult to enter that new daypart using our Pret shops.
We saw an opportunity with lockdown, and having a captive audience at home, to switch it on its head and ask, how can we get the same meals, but delivered to people's doors? Historically it's been really difficult to do this kind of quality hot food in a Pret shop as grab and go, because of all the hot holding, and quality ingredients are degrading over time. So this was a way of doing an on-demand model for hot food, delivered to people's doors.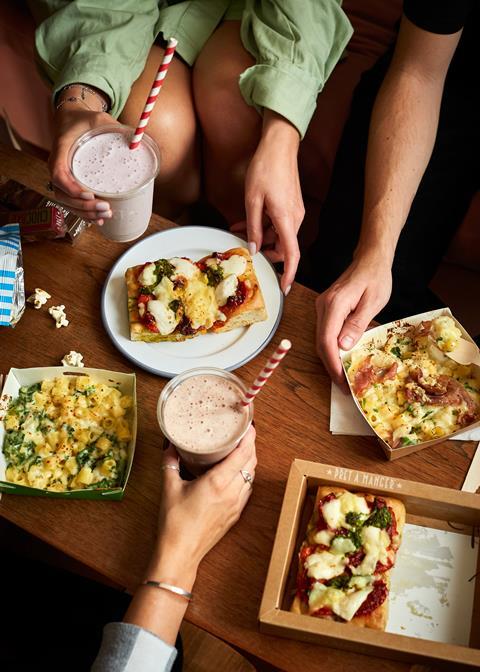 Pret CEO Pano Christou has talked about building a multi-channel business.
It was incredibly apparent when knockdown happened how dependent we were on the bricks and mortar business. The entire strategy since then has been around how we can develop more channels and how we can get Pret to different areas, depending where people are. It's an opportunity and I think we'll come out on the other end of it stronger, because we have moved at speed with so many propositions.
How did you refine the offer?
People know us for our sandwiches, salads, coffee, croissants, but no one's going to order a sandwich for dinner. So we had to make sure our food was representative of what a customer would expect, but turn it into an evening offer. We spoke to all our delivery partners, to get a theme on what wins best at dinner, and the top selling items, whether that's Mexican inspired, or pasta or pizza, and then build on what Pret food is. It's not a million miles away from what we have, but we make it a bit more special for the evening.
Our heritage is a sandwich and coffee shop, so it was turning an evening offer on without making a massive step away from what people expect to see from us in stores at lunchtime. Developing food takes time, so we harnessed the existing ingredients within our pantry and flipped them on their head to present it with as an evening offer.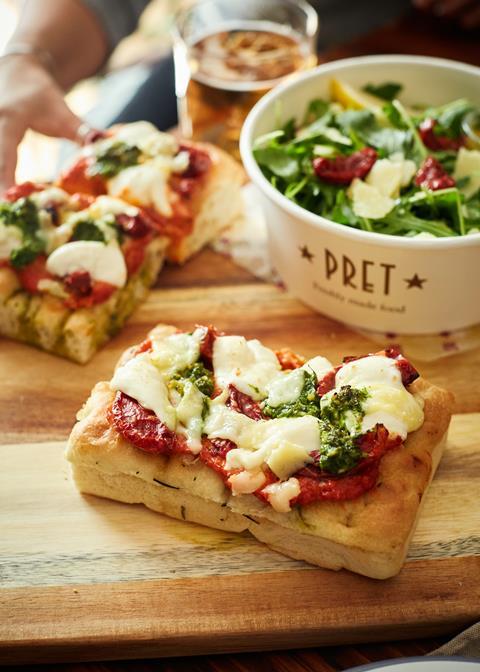 You've got Dinners at Pret live at 30 stores at the moment. How's it going?
It's a totally new operation for us, we've had to bring in new equipment and all sorts, and as a result, we always try to let the shops in bed a little bit first, before we go really big on the marketing push.
That will happen this week, so that the shops have got really comfortable with the new processes, and we're comfortable with the quality. We work tirelessly on the recipes, tasting them 101 times, and I have a few I think will be the top sellers, but it's usually completely different to what actually happens.
In terms of radius, how much of London do you cover?
We were limited in how much equipment we could actually get in time for wanting this to go live, so we had to pick quite carefully what shops we wanted to use it in. It covers London's commuter areas like Wimbledon, Putney, Battersea, Brixton, Hampstead. North, South, East and West. In time we'll look to build out in some more of our more student areas – Exeter, Oxford, those type of places.
What customer demographic are you targeting?
For people who love Pret, when we've got new food, they get really excited, and it's been really great to get that feedback. Also the coffee subscription has been a real opportunity for us to build awareness within a group of people, 20-24 year olds, that potentially had seen Pret previously as a bit expensive, a bit posh, and it gives us the opportunity to reach out to that younger demographic.
Through the Dinners menu we want to do the same, and build-in the future customer that is going to be with us in 10-15 years' time.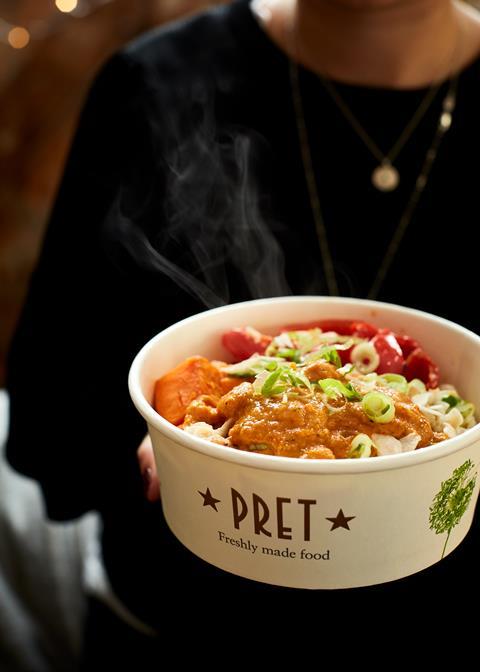 How has customer feedback been so far?
With all delivery, we have the opportunity for customers to share feedback, and most of it's been through our social channels. A lot of comments have been around the pizzas and the shakes. It's one of those things its hard to second guess, but it's really interesting to see how well it's been received. In terms of sales, pizzas and the rice bowls are coming out on top.
How are you marketing the concept?
We've still got people coming into our shops so we'll use that opportunity to talk about the offer to our customers. We'll also do a leaflet door drop around London, to make sure people are aware it's an entirely different proposition and positioning. Its really about really making sure we're signalling it's hot food, it's something different. If you know Pret, you'll think it's not recognisably Pret food. But if you don't, you'll also think it looks really delicious. We want to make sure it looks and feels different to any marketing you'd expect for breakfast or lunch from us.
Tell us about the coffee subscription
It has surpassed all our expectations, probably four-fold what we thought it would do in the first month. It's brought customers in and kept our transactions going at a time that's been challenging for the business. We were able to lose a lot less people as a result of keeping those transactions going. I think that's been a real a real positive take out from that.
We really wanted to bring a different feel to it and appeal to a younger demographic. I think we've got so many great products in our range, whether it's smoothies, frappes, or flavoured coffees, that maybe the younger demographic enjoys a bit more, but that they didn't necessarily know about. Once we announced ourselves as a place that looked attractive for younger people to go, given them a value proposition that enabled them to access the brands in an easier way, and given them some products they like, that enabled us to build success on.
Will you use the learnings from Dinners towards other areas of the business?
With everything we've done since lockdown, we've amazed ourselves with the speed we've done things. Typically with something like this, with all the blood, sweat and tears, it would have taken us 18-24 months to perfect every single product, every piece of packaging. We would have done the entire thing to the best of our ability. I think there's some acceptance that everything won't be perfect on day one, but that's okay. Because getting that speed to market is more important at the moment then perfection. We'll continue to build on everything we launch, improve and iterate and listen to customers and make it better. But the thing that we have learned through the coffee subscriptions and Dinners is that speed is good. We've got an amazing team of people that are dedicated, who've got a clear idea in mind and are able to make it happen. Those are things we will take away from this period, how we can get to market quicker.
Could Dinners work under a subscription type model?
If you'd asked me six months ago, I wouldn't have said a coffee subscription was something we would never ever think of doing. So never say never!
What other elements of the multi-channel strategy are you working on?
With delivery as a whole, at the start off the pandemic it was probably 2% of sales, now it's got to some weeks nearly 20% of sales, tracking around 9-10%. I think delivery could be a really big opportunity for us. Certainly people's habits will change, and we will reach more people through delivery that haven't transacted with us previously.
Another channel is consumer packaged goods being sold through supermarkets, and the coffee that we've launched. That's something in my career at Pret we've been speaking about for years and another great example of moving at speed. We're listed with Amazon, Ocado, and Waitrose which we're really proud of.
The coffee subscription is a channel we'll continue to drive and make sure it's a key part of our plans over the next six to 12 months. We want to make sure we're focusing on acquiring new customers, retaining the ones that we've got, and understanding the people that have churned, and what we can do to improve the proposition, to drive further retention.
Precis
INTERVIEW

Dinners by Pret, explained
Pret a Manger officially launches Dinners by Pret this week after a soft launch period at 30 stores. Part of a multi-channel strategy to bring Pret to customers' homes during the pandemic, the hot food offer is available via Just Eat, Deliveroo and UberEats. Pret UK food and coffee director Briony Raven shares exclusive details about the project, as well the brand's coffee subscprition which she oversaw. "It's brought customers in and kept our transactions going at a time that's been challenging for the business," Raven tells MCA. "We were able to lose a lot less people as a result of keeping those transactions going."