In a challenging climate for the casual-dining sector, what is the health of those operators in the middle ground? MCA's director of insight Steve Gotham analyses some key players using a range of MCA's analytic tools
It really was not that long ago when you only heard good things about being in the 'middle'. The 'mass middle market' was more than a safe place to be, it was the best as this was where the bulk of consumer demand resides. In sporting parlance, if a player 'middled it' – they got hold of it. And the point may be made that for many, 'middle class' represents a place of achievement and respectability, without any of the contrasting stigmas that accompany working or upper class.
However, in more recent years, the 'middle' has been associated with altogether less favourable associations: a 'no man's land' where a business is at risk from trying (and failing) to be all things to all men; with 'middle-aged spread' and a soft and unattractive underbelly; and of course, the 'squeezed middle'. Thinking in more abstract terms, it is almost as if a chunky diamond shape has been beaten up, hollowed out and replaced by some bottomheavy egg timer.
In some more critical quarters, there is a view that a clock is ticking within the casual-dining sector – with some particular concerns around the middle ground. Defining this territory is by no means straightforward – and is complicated by the diversity of cuisines, of formats and different pricing strategies.
One objective measure is to come at this from brand estate size. It is possible to define mid-size operators as having between 50 and 100 outlets. Greater than 100 and you are talking large, and less than 50, then still relatively small. This definition serves to generate a group of 10 casual dining brands and using MCA's assorted lines of enquiry, we can produce some comparative analysis on the health of these midsector chains and use a series of hypotheses to judge whether the middle ground is indeed, being squeezed.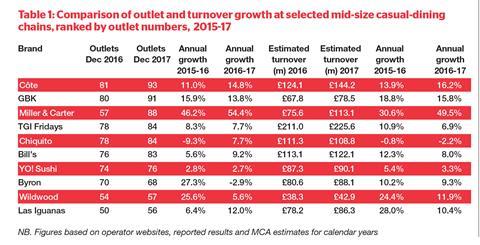 Hypothesis 1: Falling outlet and turnover growth? Answer – Partially
Looking at MCA's Operator Data Index, and reviewing growth in outlets and turnover, it is evident that in eight out of 10 chains, turnover growth has slowed during 2017 compared with 2016. The findings in terms of outlet growth are less conclusive, with the sample split 50:50 in terms of slowing vs accelerating expansion.
Taking a more positive approach, several points can be drawn out that do not necessarily support a squeezing of this particular middle ground:
■ The vast majority of the brands enjoyed sales growth over the course of 2017, with only Chiquito assessed to have lost sales;
■ Only Byron is shown to have ended 2017 with fewer outlets than it started the year;
■ Half of the featured operators are judged to have returned highly impressive double digit sales growth over each of the past two calendar years.
Before moving on, one additional point needs highlighting and this is the stellar growth enjoyed by Miller & Carter. M&B's steakhouse brand clearly benefits from the relative ease the group has in making internal brand conversions, but the point should also be recognised that the pursuit of fast rollout can often outpace the accompanying need for executional excellence – so credit to the management team here for delivering strong sales growth too.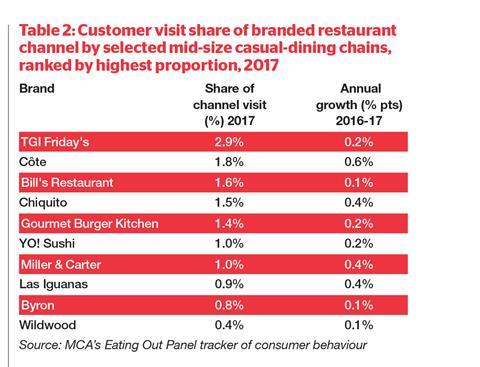 Hypothesis 2: Declining share of customer visits? Answer – No
Another way we can look at the performance of these mid-size players is to review them in terms of share of customer visits and compare performance against the wider chain-restaurant channel. While the wider branded-restaurant channel conceded some consumer visit share over 2017, none of the featured chains lost out, as Table 2 illustrates.
By contrast, declines in visit share were detected at a host of smaller chains, including the likes of Cau, Cosmo, Ed's Easy Diner, Handmade Burger Co, Loch Fyne and Strada. From this it is tempting to conclude that size does matter, but this is rather simplistic and a closer assessment of the pulling power of a brand is needed.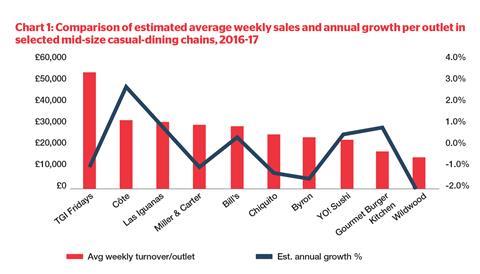 Hypothesis 3: Weakening sales growth per outlet? Answer – Yes
Despite relatively limited variance in the size of operators' physical portfolios, there are significant differences in sales performance across this mid-size group, with the highest, TGI Friday's at £226m, more than 5x the size of Wildwood at £44m.
These differences clearly reflect substantial variation in the average outlet sales generated, and chart 1 highlights this. More to the point, is the direction of travel of these average restaurant turnovers. MCA's analysis suggests that five of the 10 operators had weakening sales per outlet during 2017 compared with 2016. In an increasingly competitive market, with several players continuing to invest in sizeable opening programmes and having significant estate immaturity, this finding is not altogether surprising. Together with rising costs and modest forecast medium-term growth in consumer demand, it does however, highlight the merits of more measured expansion going forwards.
Hypothesis 4: Below par brand performance within key consumer metrics? Answer – Partially
The negative estimated growth figures at Byron and Wildwood are a cause for some concern, but will not be too unexpected given the widely reported troubles at these businesses. What is also instructive is to see how these brands perform through the lens of the consumer, and more specifically customers' perceptions of the brand, the food quality and perceived value for money.
Côte significantly out-performs the vast majority of its chain-restaurant peers with a highly impressive NPS and consumers clearly appreciate the value for money of its quality-led offer. Similar comments also apply to Miller & Carter, which is the only other brand to achieve scores that are consistently higher than the chain channel averages. By contrast, there are several potential weaknesses evident at TGI Friday's and Chiquito, where consumers' ratings for NPS, food quality and value-for- money are all below the restaurant brand channel averages, and strongly suggest that greater managerial scrutiny is required.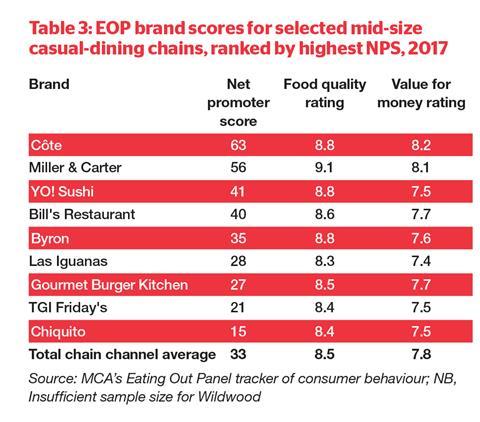 Summary: Mid-size UK casualdining chains – a squeezed or strengthening middle ground? Answer – Both!
This review started with a question and ends with, perhaps, an unhelpful answer: that it is something of a curate's egg – being good in parts and is strengthening, while in others, it is being squeezed and not without significant challenges. This review also began with a brief overview of the concept 'middle' and it is fitting to end on a similar chord with 'Middle of the Road'. This is a place that avoids extremes and plays it safe, but at the same time, takes no risks and can appear bland and unadventurous. And perhaps this is the key takeaway message – that the mid-size casual market is a great place to be when you have a clearly differentiated, consistently well-executed, coherent brand proposition. In short, and as we have said before, there simply can be no casual approach to casual dining – then you won't get stuck in the middle!
The MCA Operator Data Index provides comprehensive data on 700+ leading UK operators, including market rankings, sales and outlet numbers, monthly analysis, as well as detailed profiles of the Top 100, all in one place. This annual digital subscription service makes it easy to access detailed information on operators, whether clients, competitors or business prospects. To find out more, please contact enquiries@mca-insight.com or 02076 110404.