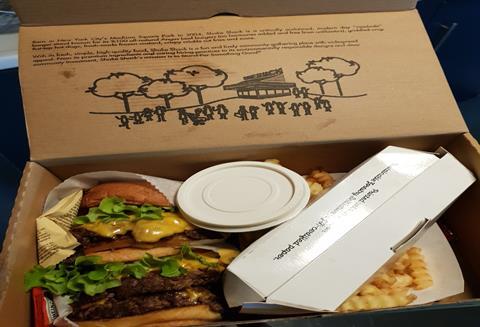 Deliveroo Editions was hailed by CEO Will Shu as the future of food delivery when the dark kitchen platform launched in 2017.
The delivery-only kitchen model was first unveiled in Camberwell with the promise of 30 more by the year end, the concept also trialled at Battersea, Dulwich and Canary Wharf.
Currently at 14 sites, Editions may not have rolled out as aggressively as originally suggested, but in the meantime Deliveroo has continued to scale up and grow its market share, find new investment from Amazon, and prepare for a £2bn IPO next year.
Operating away from high streets in residential areas, the kitchens are built, owned and operated by Deliveroo, and leased to a range of operators, from small independents to major brands.
More controversially, Deliveroo has also created its own white label brands to populate some dark kitchens, though it insists these are merely to fill cuisine gaps in particular areas, rather than to go into competition with its restaurant partners.
Hove was opened in the early wave of Editions sites in 2017 and was the first outside London. Kitchens in Leeds, Reading and Salford have since followed, while Battersea has been upgraded and is described as the next-generation model.
Perhaps typically for the disruptive tech industry, where disciples talk about moving fast and breaking things, Editions has run into a few licensing issues along the way, with local authorities unsure how to designate the delivery only-kitchens.
The model has sometimes rubbed against local residents, who complain about the influx of motorbikes to their previously quiet neighbourhoods.
For operators, the rotating line-ups offer the chance to test out new areas without the capex of a full restaurant, and Hove has seen several London names such as The Athenian come to the south coast, while Oowee used the format to make the move to London and Brighton from its hometown of Bristol.
Restaurants employ the chefs and are in charge of their menus, while Deliveroo invests in real estate and development, catering equipment, utilities, riders, site management and logistics.
Shake Shack's debut on Editions arrived in Hove in July, just as the country was emerging from lockdown.
One of several openings on the platform, it marked a new thread to the US-founded brand's strategy, which previously concentrated on highly selective flagship bricks and mortar locations, mostly in London.
Founded by legendary restaurateur Danny Meyer and his Union Square Hospitality Group, the modern-day "roadside" burger restaurant started out as a hotdog stand in Maddison Square Park in 2001.
Debuting in the UK in 2013, and listing in the US in 2015, Shake Shack has patiently built a reputation for quality, offering a familiar, more sophisticated, take on classic hamburgers, fries, hotdogs and shakes.
At the recent Peach Digital Conference, Meyer described Shake Shack as "fine casual", taking the learnings from fine dining, in terms of ingredients, culinary style and training, and applying it to a quick serve model.
Under CEO Randy Garutti, the brand has pivoted to a 100% kerbside pickup and delivery model in the US, using digital ordering as the primary driver.
Shake Shack currently stands at 11 corporate stores, three of which remain closed due to coronavirus, and a franchise site at Gatwick with TRG Concessions.
As of this year it has six delivery sites with Deliveroo Editions, in Battersea, Swiss Cottage, Bermondsey, Islington and Reading.
In Hove it joins a line-up which includes gyros specialists The Athenian, dirty burger slingers Oowee Vegan, local wing men Lost Boys Chicken and Brighton pizza favourites VIP.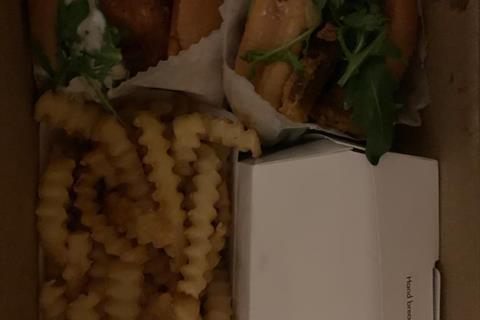 EXPERIENCE
Located towards the western, industrial edge of the city, Hove Editions is characteristically low-key, save for the steady buzz of motorbike traffic and the now familiar turquoise and purple hoarding.
Four miles by road from my home address, I was unable to get food delivered from this site when it first launched, though the catchment area has since been expanded.
When I pre-order early on a Friday evening, the delivery fee was listed as £3.99 due to the distance, plus 49p service fee, though when I check back the following week, Deliveroo is promoting a free delivery offer from this site across the brands.
I pre-order at 6pm for a 7.30pm-8pm window, and am told to expect the food at 7.45pm. Notifications explain the order is being prepared at around 7pm, with subsequent updates adjusting the expected time, one explaining a delivery driver had not yet been allocated.
When the food arrives at 8.05pm, it is tepid and missing a portion of fries.
There was no indication the driver had done another delivery en route before ours, though from previous experience, this does happen.
In a nod to its fine-dining inspiration, Shake Shack is promoting a new black truffle menu, which tastes good but is fairly subtle in flavour. Mayonnaise with specks of black truffle garnish the burgers, while a pot comes with the truffle fries.
The signature crinkle cut chips were cold and chewy, and the absence of a portion made for a slightly meagre meal for two, though this was partly made up for by the juicy chicken nuggets and devilishly sweet and delicious vanilla milk shake.
The company said it will "work to improve our process to stop orders like yours getting cold in the future".
In the interests of fairness, I ordered on a second occasion, this time on a Wednesday.
This order was much more straightforward in terms of delivery and timing, the food arriving in a warmer condition.
The burgers and fries were tasty and well-seasoned, albeit still fairly rattled and smooshed together in the box, making it difficult to agree that Meyer's "fine-casual" philosophy had translated the delivery journey.
VERDICT
While the first meal was complimentary, arranged by a PR company representing Shake Shack, if I had paid for it myself, it would not have felt like great value for money, the black truffle mayo also adding a premium price-tag to the order.
I can only speculate, but it would appear the food was cooked shortly after 7pm, and then had to wait on the pass for an available rider for some period of time, before eventually making its way across town.
Four miles is clearly a fair distance to travel for a burger. Is Deliveroo over-stretching itself by attempting to deliver hot food 20 minutes across town?
The company said all of its restaurants in Brighton and Hove have the same 3.7-mile delivery radius, with driver distance tending to a be a little longer.
Most of its sites have had this size radius now for almost a year and is working well, Deliveroo said while customers in Hove get their orders in less than 30 minutes consistently.
In busy bricks and mortar restaurants, it is hardly surprising that the real time execution of an order might need to be amended, particularly when juggling available riders.
What would be harder to sympathise with as a customer, is how these problems persist at an Editions kitchen, where a data driven company like Deliveroo either owns, or at least has sight of, each step of the process, from the order, to the kitchen, to delivery.
Deliveroo said it was working extremely well with Shake Shack, with the partnership proving popular.
It pointed to an app rating of 90% 4.5 stars with "excellent" customer feedback.
A spokeswoman told MCA: "Deliveroo is incredibly proud to partner with Shake Shack and bring their amazing food to even more customers across the UK.
"Customer satisfaction has never been higher and we are relentlessly focused on providing the very best service possible."
No doubt Shake Shack is aware its foray into Editions is a work in progress and will want to improve it in order to deliver on their elevated credentials.
The company told MCA the partnership "exceeded our expectations thus far".
A spokeswoman for Shake Shack said: "We are always exploring options for expansion and new ways of bringing Shake Shack to our fans. Especially given the current environment, it's never been more important to us to be accessible to guests. We're thankful for the opportunity to connect with new neighbourhoods and communities through the Editions Kitchens."
One order is of course not indicative of Shake Shack or Deliveroo's wider output together, and despite issues with delivery generally being far from an anomaly, this partnership between two strong and growing brands looks like a solid one.
The Editions model is well suited to lockdown, occupying cheaper out of town real estate, designed for the specific purpose of delivery, while full service restaurants are closed or heavily restricted.
Yet there remain several areas the service cannot replicate a restaurant experience, a key one being recourse to send food back to the kitchen if it is not right.
A full or partial refund may go some way to forgive a mistake, but it cannot save the dissatisfaction of an incorrect meal.
Still, despite sometimes disappointing results, many customers, myself included, keep going back, wooed by the ease, convenience and on-demand nature of the service.
With a listing around the corner, Deliveroo is well on the way to executing its strategy of scaling up and building an audience, safe in the knowledge it will have sufficient cash in the bank to worry about profitability at a later date.
Yet as the company seeks a competitive advantage in food delivery, another tech industry phrase comes to mind: 'dogfooding', the practice of how much an organisation uses its own product.
Deliveroo seems to work best in its home city of London, and other densely populated urban hubs, and no doubt its metropolitan staff use the service liberally.
But in order to achieve market dominance and overcome the likes of Just Eat, which has a much greater regional recognition, Deliveroo must also thrive outside of the London bubble.
Precis
ANALYSIS

Brandwatch: Shake Shack @ Deliveroo Editions
Deliveroo Editions was hailed by CEO Will Shu as the future of food delivery when the dark kitchen platform launched in 2017. Currently at 14 sites, Editions may not have rolled out as aggressively as originally intended, but in the meantime Deliveroo has continued to scale up and grow its market share, find new investment from Amazon, and prepare for a £2bn IPO next year. Shake Shack's debut on the Editions platform arrived in Hove in July, just as the country was emerging from lockdown. One of several openings at the delivery-only kitchens, it marks a new thread to the US-founded brand's strategy, which previously concentrated on highly selective flagship bricks and mortar locations, mostly in London