There's more to mobile ordering and payments than merely simplifying the customer journey, as restaurant businesses are discovering.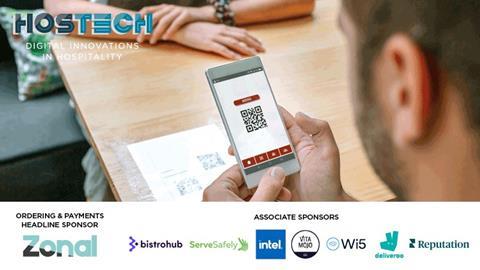 As well as benefits to customers, ordering and payment apps can provide financial benefits to operators. Vita Mojo's Nick Popovici says that customers spend typically 15% more per order when ordering through a digital interface than via a waiter or cashier.
"That is a tremendous benefit. People can grow their sales by 15% overall. Image you are Nando's [one of Vita Mojo's restaurant partners] with 450 locations throughout the UK, that is more than £100m extra straight onto the bottom line."
Zonal's Alison Vasey says its clients are reporting a similar rise in average spend. "People are more likely to have that sneaky side when they're not ordering face-to-face," she says.
Mobile ordering systems and self-service kiosks can also help restaurants reduce the number of staff they need, which can reduce staffing costs and improve margins. "We charge a fraction of the salary of one cashier [for our services] so even if you have one or two fewer people working in the business the return on investment is phenomenal," says Popovici.
YO! managing director Emma Deabill says the introduction of digital systems at the sushi chain has reduced the company's labour costs and has also led to a reduction in the amount of food that it throws away.
While before the company would make dishes in advance that would then circulate on the conveyor belt for customers to choose, using Vita Mojo it has combined its order and pay systems with its new conveyor belts, with food now only being prepared once it has been ordered and then being delivered directly to the customer.
"Food wastage has gone down because we are now only producing food that we need," she says.
Deabill admits the company was nervous at first about the impact of changing the way the sushi chain operates, but says her fears have been allayed by the early results.
"We were worried whether people buy with their eyes. Because we had the food going round on conveyor belt we felt they might order more because they can see it in front of them. But we have seen a rise in transaction value [with the new approach].
Another benefit of this approach is that it gives YO! vital data that it hitherto didn't have access to. "For the first time since YO! started we are able to have accurate sales data," says Deabill.
"In the past we didn't know what we sold because all our payment beforehand went through coloured plates – so it was down to a lot of human error for what we produced and what was wasted. We've got real-time actual sales data for the first time, which is fantastic."
Customisation
While in the early days of mobile payments customers were encouraged to download a branded app, the past year has seen the resurgence of QR codes that can be scanned by the user when in a restaurant and which give order and pay functionality tailored to each individual restaurant. This approach has proven to be particularly popular given the glut of restaurants that switched to digital menus on reopening after the first lockdown.
The latest research from Lumina, which was conducted among 1,000 restaurant goers in January this year, shows there is a reluctance among consumers to download and add apps to their phones. Its research shows that a quarter of consumers don't want to download an app for the purpose of a restaurant visit.
Tech companies including Crave, Vita Mojo and Wi5 instead create white label products that use QR codes and which are browser based, meaning that customers don't need to download different apps for different restaurants.
"There's no app to download. We see that as a massive barrier," says Pledge. "It's a big dividing line in the industry and we are fervently of the opinion that a web app or PWA (progressive web app) is the way to go because it gives people instant access without any hassle."
Prask Sutton says that Wi5 is browser based in order to provide an experience that is as frictionless as possible.
"People don't need to create an account or download an app," he agrees.
"Our strategy at Wi5 is to have as few barriers as possible to get the maximum number of people to engage with the technology. It's very hard to get people to download an app, especially for a one-off or impulse-driven visit or purchase.
"It's a big ask. Die-hard fans may have the app for their favourite places, but most people don't. Younger audiences in particular don't want to have a phone filled with all sorts of different apps."
In the past year, Zonal has also built an order and pay website, which offers comparable functionality to the order and pay app without the need to download anything.
Restaurant groups themselves have been encouraged by how UK consumers have finally taken to using QR codes as a result of the pandemic after years of reluctance.
Steve Holmes, CEO of Azzurri group, which operates the Ask Italian, Coco di Mama and Zizzi high street Italian restaurant brands, says pre pandemic he had looked at how consumers in countries such as China had accepted QR codes so readily and couldn't understand why this wasn't the case in the UK. As a result of the pandemic, he says that this has now changed.
"Now people are used to checking in with a QR code and it is much more familiar to them. Technology is going to be a big change in the next few years – we've had five years' progression in nine months."
Uptake of order and pay technology in the hospitality sector is expected to increase further as customers become more tech savvy and more willing to use it.
Vasey cites data from CGA's Business Leaders Survey conducted in June last year that found that more than half (51%) of operators are now considering investing in order & pay technology as a result of the pandemic, indicating that the technology is very much here to stay.
Recreating the customer journey digitally
While most payment solutions are pay as you go, a number of providers offer or are experimenting with systems that run along more traditional lines by running a tab that customers settle at the end.
This has the potential to make order and pay systems more suitable to higher-end restaurants and bars in which guests would expect to pay at the end.
The big advantage of this is that a single payment means lower processing fees. The challenge for operators and technology customers is working out a way to ensure people definitely do settle up.
"It's awkward," says Pledge. "One of the big advantages of mobile ordering and payments is that you don't have to worry about customers walking off without paying.
"We're mainly in pubs and bars where customers are used to paying for things before they have received them and the majority of transactions are for rounds of drinks, so our average order value is over £20."
Azzurri has developed its own order and pay app partly because it wanted an app that Holmes says best replicated the Azzurri experience. "You can pay at the end or at any point in our app whereas with a lot of apps you pay as you order," he says.
"We didn't want that; we wanted our tech journey to represent our customer journey."
Holmes isn't completely convinced that all of Azzurri's customers will want to order food on an app – "they still want the human interaction," he says.
But when it comes to paying the bill, he believes most people would opt for the digital model that doesn't require having to call and wait for a member of staff.
"With payments, sure. And sorting menus by allergens information, absolutely. There is a huge benefit to the customer now and we will wait and see how that plays out."
Whether operators go down the app or browser-based route, they need to be able to connect people to a venue with minimum fuss. Options include QR codes or a short URL, which can link to venues or specific tables, and 'bouncing in' via WiFi.
Wi5 was a pioneer of the latter approach, which remembers customers, according to Sutton. "If you've already been to a venue and logged into the WiFi you're immediately presented with the menu. Different things work for different businesses.
"Across our business operators use a range of different mechanics to get people into the order and pay flow."
Register your details on our dedicated Hostech website to receive a weekly roundup of content, including our free tech guides.
Sign-up for our two free webinars, must-attend events for those tasked with driving efficiencies and encouraging loyalty in a tough trading climate.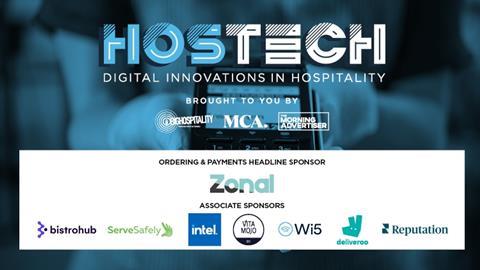 Precis
HOSTECH

Mobile order and pay: benefits beyond the obvious
In our latest feature exploring technology in hospitality, we explore why there's more to mobile ordering and payments than merely simplifying the customer journey. Restaurant businesses are discovering financial benefits to the technology too. Vita Mojo's Nick Popovici says that customers spend typically 15% more per order when ordering through a digital interface than via a waiter or cashier, while Zonal's Alison Vasey adds clients report a similar rise in average spend. YO! managing director Emma Deabill tells Hostech the introduction of digital systems at the sushi chain has reduced the company's labour costs and has also led to a reduction in the amount of food that it throws away. "We were worried about whether people buy with their eyes," she says. "Because we had the food going round on conveyor belt we felt they might order more because they can see it in front of them. But we have seen a rise in transaction value [with the new approach]."