Hard, disciplined and relentless. Not the first words you might imagine when thinking about Wagamama, but you don't deliver 8.5% upticks in a market like this just because you have a big vegan menu and smiley staff. You also need to be as tough as Japanese steel.
"There was a question mark when we were acquired over whether we would continue to deliver strong like for likes," says Wagamama CEO Emma Woods. "A year on so far, so good. We have followed the same formula, working very hard on the culture, being very disciplined about site selection and maintaining our absolute relentless focus on innovation. I think to have delivered 8.5% like for likes in this market is something we should be extraordinarily proud of."
That 'we' includes the "leadership team at TRG, because there was a risk for all of us that we would become distracted by some of the internal machinations of becoming part of a different business.
"There were challenges like bringing our reporting together, bringing our budget cycles together or bringing our audit processes together, and it's been a joint effort to make sure we did that without losing our focus on the day job. And that's now all done. When you look at the history of acquisitions you can see quite often that some of those organisational pieces do affect people's momentum, and we haven't lost that."
Momentum has been steady. Woods opened ten sites in 2019 and plans for another ten in 2020. Eight of the 2019 openings were conversions from TRG's declining leisure arm, though that doesn't mean the locations won't work for Wagamama.
"We have been very careful to choose sites which would work for Wagamama and that's been supported by the TRG board. None of us want to spend a lot of money building a restaurant that's only marginally more successful than the brand it replaced. Our first leisure site was Stevenage and it worked really well for us. We are handpicking the sites. And before TRG acquired us they had done a lot of due diligence about which sites they thought would work."
Naturally the same level of scrutiny also goes into the selection of new sites.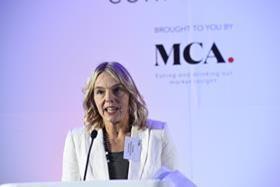 "We are a complex food production outfit, we need higher sales per week to cover the labour model we have. If you go to any of our restaurants, you'll see a long line of chefs cooking food. So Wagamama needs high population and multiple reasons to visit, it won't be in small tiny market towns, it just wouldn't work. There is a fairly clear model for what makes a good Wagamama that's tried and tested, and was tried and tested before TRG acquired us, and we've been applying through the last year."
As for whether there is an upper limit on how many sites it could open, Woods says "if you look around the UK there are more sites that will make great Wagamama sites, but it's not infinite. There are still a few years of growth. And quality is more important than quantity."
Away from internal issues and onto external ones, one of the most unpredictable right now is the ongoing spread of the deadly coronavirus. TRG has continency plans in place, but so far there has been no impact on the supply chain, despite Wagamama being a pan-Asian brand.
"I think we've been affected like everyone else, at the moment we are all holding our breath, but we don't see that we are more affected because we are pan-Asian. Most of our ingredients come from Japan rather than China anyway, so we have good supply. But clearly if there is a global pandemic that will affect all of us. I almost don't want to talk about it because it feels like tempting fate, but it's absolutely extraordinary.
"We have three franchise restaurants in Milan and their sales have been terribly affected. My international team was due to be out doing business development in Milan next week, that won't happen now. But these situations can recover quite quickly, so we are just trying to be very measured."
Another issue for any operator right now is the growth of online delivery, and while coronavirus is currently unpredictable, everyone knows delivery will keep getting bigger for years. Woods says Wagamama, which did 12% of sales through Deliveroo last year compared to 10% in 2018, says the relationship can be beneficial, though not without its challenges.
"If you can manage to leverage your fixed costs it's a fairly cost neutral situation," she says. "You offset the delivery commission with the reduction in front of house labour, so it works well.
Plus it's already embedded. "My teenage children sit at home watching Netflix hitting the Deliveroo button like they press the Amazon button. It's just a new habitual behaviour. Clearly delivery will be a growing area of the market, there will be more innovation in that area and we will need to innovate in that space too.
"We have spent time looking at the whole delivery eco-system and thinking about how we could be more efficient, for instance delivery drivers using the back door rather than the front door, or the integration of our systems with their systems. The challenge for all of us was that our restaurants were designed for people to eat in rather than having delivery drivers marching through them."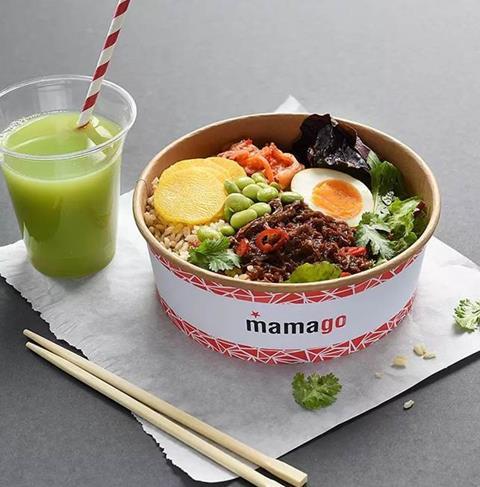 That means as it designs new restaurants it is thinking "much more carefully about what the delivery customer journey is, in particular for the drivers and for the team. How do we make it as efficient as possible? And also, to some extent, hide it from the eat in customer. You get the luxury of doing that when you're designing a new restaurant, you don't when you have an existing estate. So there will be more innovation that we can do there."
But the big experiment going on at Wagamama right now is Mamago, its London-based spin-off. Woods says it's the "biggest innovation" Wagamama has ever done, so it's taking it slow. And although it only opened at the end of November it's been "really good so far. It's completely different for us so we do see this first phase as a test bed, we have never done anything like this."
The operation is a "completely different cook-line, different products, different type of usage, so we are in an incubator stage doing lots of learning and so far, so good. We have given ourselves a six month period to really experiment with it, we don't want to rush."
Unlike the chefs behind the counter. "We are getting delicious hot fresh food out in two and a half minutes – if you go to Wagamama it's fast, but it's not two and a half minutes fast. It's too early to say but there is a huge amount of energy and excitement and it will take time to get it right."
As for a more general look at the future, Woods talks about being "quite measured about the number of sites we open, opening them well, and we are now considering how we develop our global footprint in a slightly different way. We will do it with partners in the States and with franchise partners in Europe and the Middle East. It was important before but now it has a renewed focus now, albeit with a different support structure."
Ultimately though, Wagamama knows it's doing the right things well. So it plans to "keep working really hard on the same things. Make sure our teams are happy, because happy teams drive happy guests. And delighting our guests with a drumbeat of innovation."
Happiness, delight and innovation feel much more like Wagamama words, and indeed they are. But so were the first three. The reality is that TRG and Wagamama have combined an agile consumer-centric offer and a diverse and successful people culture with a steely and effective approach to operations. And right now it's working.
Precis
BIG INTERVIEW

Wagamama CEO Emma Woods on expansion, delivery, Mamago and the coronavirus
Hard, disciplined and relentless. Not the first words you might imagine when thinking about Wagamama, but you don't deliver 8.5% upticks in a market like this just because you have a big vegan menu and smiley staff. You also need to be tough as Japanese steel. "There was a question mark when we were acquired over whether we would continue to deliver strong like for likes," says Wagamama CEO Emma Woods. "A year on so far, so good. We have followed the same formula, working very hard on the culture, being very disciplined about site selection and maintaining our absolute relentless focus on innovation