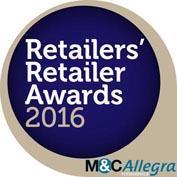 Recognising and rewarding the UK's eating & drinking-out industry's branded players
Described as the UK's eating and drinking-out sector's "Oscars" and the event that is in every leading operator's diary, this year's Retailers' Retailer of the Year Awards will be taking place on the 2nd March 2016. Due to increased demand for places, this year's event moves to The Guildhall in the City. The awards, in their 17th year, are unique in that they are the only ones voted for by senior executives from the industry itself. They are, therefore, a true reflection of what the market thinks, identifying the best companies, concepts and individuals.
The Retailers' Retailer Awards recognise the best companies, concepts and individuals in the pub, late-night bar and restaurant market. Last year's winners included Cote, Living Ventures, Luke Johnson, Leon and Tim Bacon, who collected the top award, the Retailers' Retailer 2015, for the second time in a decade.
Following in the footsteps of past speakers , including Sir Matthew Pinsent, Nick Leeson, Andrew Neil, John Lloyd and Baroness Eliza Manningham-Buller, this year's guest speaker and presenter will be Sir Ranulph Fiennes, who is described by The Guinness Book of Records as "the world's greatest living explorer".
To book please contact hannah.fluker@mcallegra-fs.com or visit www.rroty.co.uk for more details.