Despite the closure of BrewDog's bar estate and the pause button being pressed on its on-trade business for much of the past year, the winner of MCA's Evolution Award has done anything but stand still, as MCA deputy editor Georgi Gyton finds out
For a business the scale that BrewDog is now, it's ability to change things up and head full throttle into new initiatives is impressive. From its beginnings in 2007 as a two-person enterprise, brewing its own creations in an attempt to offer something different to the established beer brands, BrewDog is now just that – an established brand. But it has retained its ethos and passion for craft beer, and an ability to innovate and evolve more akin to a start-up.
President and COO David McDowall says, perhaps unsurprisingly, that there have been "more change and challenges" over the past year than at any point in BrewDog's history. "The business plan went firmly out of the window in the middle of March last year. Like most businesses our strategy became very simple and straightforward. Firstly we had to ensure we survived, and secondly, we needed to protect the livelihoods of the 2,000 people in our crew that helped us get here," he explains.
Given the business had lost around 70% of its revenue overnight, with its own bar estate and wider on-trade business on pause, and international markets starting to slow, what it did is even more admirable. It started ploughing its efforts into making a positive difference in society.
"We realised very quickly that customers and consumers didn't want to hear too much marketing and brand activity from a beer business, right in the middle of a pandemic," says McDowall. While it had the challenge of finding new channels and ways to speak to consumers, as it tried to forge a pathway to survival, the business mantra this time last year became: 'Don't do marketing, do good'.
Its actions over the past year had this belief firmly at its core; whether that was making and donating half a million of bottles of hand sanitizer to the NHS, supplying free canned water to vaccination centres, or launching the Kick Start Collective last summer which was designed to help with the restart of hospitality. And it was these developments and more which saw it win the Evolution Award at MCA's Retailers' Retailer Awards in March this year.
"The team really rallied behind the opportunity to have a positive impact, and subsequently I think that more consumers have connected in some sort of meaningful way with our brand," he adds. "At the heart of our business is a belief that business can, and should, be a force for good. That has become a very important part of our evolution as a business, and a brand, over the past year or so," says McDowall.
A sustainable approach
A huge part of this, and what the business has spent a huge amount of time, effort and investment in, over recent years, is becoming a more sustainable organisation. And last year saw it become the world's first carbon negative international beer business. McDowall says BrewDog has re-engineered itself to use its business platform for positive impact. "We think that the most sustainable business in any category in five to 10 years' time and the most well-known and successful, will be one and the same thing," he says.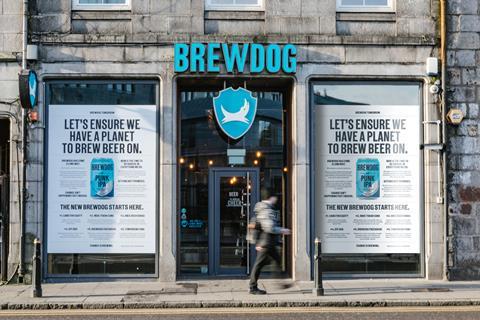 For McDowall the most notable way that BrewDog has evolved as a company is that it has got to a point where all of its work on sustainability is starting to have some really positive impacts. It has completely ditched plastic from all of its packaging and invested in an anaerobic digestion plant to take all of its wastewater and turn it into clean water, for example.
"We are still at the very start of a long journey in relation to that but it's the most significant thing we have ever done in the evolution of the business," he says – and he hopes that it will inspire other businesses to follow suit. "To be able to do that and to achieve it as a team in the midst of dealing with a one-off unprecedented event as the pandemic, is testament to the strength of the team in this business," he adds.
Thankfully, or more likely due to the kind of culture that has been fostered at the company, its team was fully behind this move and was actually pushing it to do more to help its communities. "A lot of the impetus behind these things come from the awesome team of people in the BrewDog team," he says.
It's all about community
With all this focus on community and sustainability focused initiatives, you might wonder whether BrewDog has been as focused on the operational side of its brewing and bar business. But it's been busy there too. McDowall says when the business was reopening its bar estate last summer, he spoke to his team about the fact he thought it had an opportunity to open its sites 20% better than when it closed them. "It's a once in a lifetime opportunity, and the great operators took advantage of that time," he adds.
Developments have included a re-engineering of its approach to takeaway and delivery. "Delivery and drive-thru activity at our site in Ellon would never have happened a year ago," he says. Food was only a very small part of what BrewDog bars were about eight to 10 years ago, but now it makes up around 40-45% of its sales mix. It has invested time in elevating the status of its food, which he believes has been really successful.
In order to achieve the goal of its bars offering a great quality beer experience, and memorable and meaningful beer experiences, the business has also focused on beer education within its teams… an almost obsessive focus on the quality of dispense, he says, as well as ensuring the beers available on tap are "interesting, vibrant, exciting and diverse".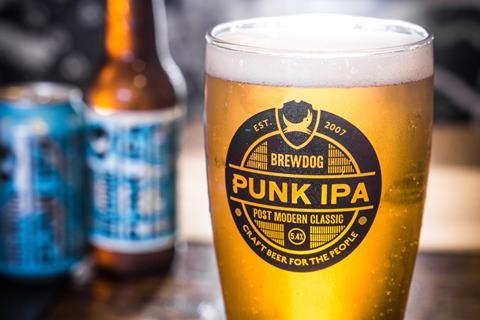 New openings within its bar estate – of which it had around 28 in the pipeline in March last year – were obviously put on hold, but that side of things did start warming back up again at the tail end of last year. It opened a 12,000 sq ft tap room and visitor centre at its brewery in north east Scotland, called Dogtap, as well as BrewDog Shanghai.
And on 12 April it opened three new sites in England – in Plymouth, Exeter and Ealing. It is also halfway through the build of its first UK hotel concept, called DogHouse – which launched in the US a few years ago. Opening in Manchester this summer, it will feature a bar terrace, hotel rooms and a rooftop terrace. Other venues on the cards include a flagship site in Wapping Power Station and a rooftop bar in Las Vegas.
"Overall, across the world we now have a pipeline in place for the next 40 BrewDog locations," says McDowall. "It feels crazy that just over a year on from the start of the pandemic, that's the kind of conversation that we are having, but we forge ahead with cautious optimism."
He talks of the BrewDog team being its secret weapon, and about the fact that during the course of the past year its employees have been "so galvanised behind the cause". "That doesn't happen overnight," he says. The spirit and culture that it has fostered over the past decade is one of the things he is most proud of in the business. "If that hadn't been so strong, then lord knows if we would have been as successful as we have, or even made it through such a crisis."
Engagement is up
Despite the stop-start nature of operations during 2020, McDowall says the business actually managed to grow its group turnover by around 15% last year. "There has been an exceptional amount of determination and ingenuity by our team," he says. And while some channels have seen little business over the past 12-18 months, it is looking ahead with optimism, "and in some ways a stronger team and business".
At one point it had around 1,200-1,300 people on furlough, with its UK bars team of close to 1,000 employees down to two or three. "We worked really hard to try and keep those people connected. I think the industry in general did a really good job of that," he says. BrewDog sent monthly beer care packages out to its teams, did bi-weekly state of the nation and business updates and launched the BrewDog Open Arms – a virtual pub concept which replaced staff drinks every week.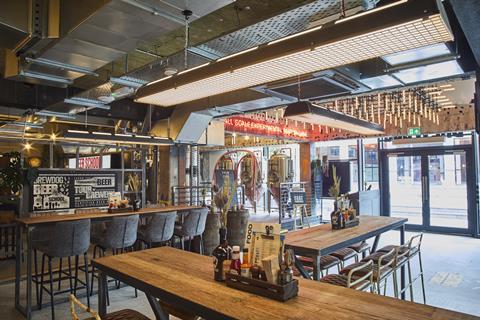 He adds that what sometimes gets forgotten is that those staff on furlough were also doing an important thing to help ensure those hospitality businesses had a future. "We kept reminding the team that whether they were with us day in day out, or not, they were playing a crucial role in our survival," he says.
With the length of the recent lockdown, McDowall fully anticipated it would have had a dampening effect on team spirit and engagement, but an employee survey carried out mid-April found that scores were actually the best it had ever had. This is by no means the only instance of this happening in the sector over the past year, but testament to the business none the less.
For BrewDog its culture also extends out to the community it has built up through its various crowdfunding drives. Whether it does campaigns isn't necessarily decided by the business, but by consumer demand, believes McDowall. Its latest, Equity for Punks Tomorrow, has been designed around the principal that every penny it raises will contribute to the significant capital investments it is making in sustainability and having a positive impact, he says. And it's been the most successful raise that is has even done, adding tens of thousands of new investors to its community, he explains.
"I think that sometimes great innovations come from necessity. At the start of Equity for Punks it was about trying to find a way to raise some capital for a small but burgeoning beer business in 2009, when, post-banking crisis, none of the institutional banks were really that keen to give some cash to a couple of guys from the north east of Scotland making hoppy beer," he explains. "But we quickly realised that it was much more than a fundraising activity – actually it was a community building exercise. Now we have almost 200,000 people in this incredible, awesome, engaged community that help us propel this business forward day in day out."
Logistical challenges
BrewDog reopened just over 30 of its locations on 12 April, with all of its locations in Scotland reopening on 26 April. McDowall said that while it had only been a couple of weeks of trading, it had been a really positive start and its site had traded really well. "All of our US locations are back open now and we are getting back to relatively normal levels of sales," he added.
However, the logistics of dealings with different rules and regulations, not only within the UK but in its international locations, has been "really tough", he said. "Everything about it has been really difficult, and it's made even more difficult by the fact that some of the regulations don't seem to be routed in any kind of operational reality."
McDowall explained that being an international operator had given him a different perspective on the approach of the British government to dealing with Covid and the closure of hospitality compared to other nations. "Unfortunately it's my firm view that although there's been some great intervention in the UK – obviously the job retention scheme was very important to keep people in work – the way hospitality as a sector has been treated and support given is one of the poorest examples that we have seen in Europe," he says.
The next six months for the business are about getting its bar estate back open fully and its teams back to work. Alongside that it has got a pretty healthy pipeline of new locations, and it is looking to open between 10 and 12 of those before the end of this year. "For BrewDog in general we are really excited to continue forging ahead with our mission to make others as passionate about great beer as we are," he says. And beer is by no means its only passion.
Precis
THE BIG INTERVIEW

BrewDog: 'Don't do marketing, do good'
Despite the closure of BrewDog's bar estate and the pause button being pressed on its on-trade business for much of the past year, the winner of the Evolution Award at MCA's Retailers' Retailer has done anything but stand still. From its beginnings in 2007, attempting to offer something different to the established beer brands, BrewDog is now just that – an established brand. Yet along the way it has managed to retain its ethos and passion for craft beer, and an ability to innovate and evolve more akin to a start-up, president and COO David McDowall says.