Bill Collison, the founder of casual dining chain Bill's talks to MCA' sister title Food Spark about how the business has been trying to revitalise the consumer experience, including mixing up the menu.
Bill's has been going through a bit of an identity crisis. Amid reports last year that it was struggling to cope in the challenging eating-out market, the casual dining chain has been trialling a number of initiatives to revitalise visits, including mixing up the menu with new recipes.
At the beginning of the year, it launched an ambitious Veganuary offering – a move that appears to have paid off, with the brand recently announcing a 10% increase in sales compared to last year.
For founder Bill Collison, the growing desire for vegetables presents an opportunity to take the restaurant back to its roots.
"When we think about where Bill's has come from, I was a grower, I come from a family of growers, we lived on what we grew in the orchard and the vegetable garden. That's the way I want Bill's to be now," he says. "I'm a bit veg-centric, that's the way we live our life at home, that's my heritage, and I think we have forgotten about that and gone a bit 'something for everybody.' Well, veg is king now – for dinner, lunch and breakfast."
Several of the most successful January and February dishes will be making their way onto the March menu change, he adds, while others will pop up as specials or sets throughout the year.
The vegetable approach will also have an impact on the rebooted dinner menu, too, which will comprise around 50% meat-free options, alongside more indulgent dishes like duck pie. After a test run of the new evening offering in Covent Garden, Bill's saw revenue shoot up 26% compared to the rest of the estate – no surprise the chain is now taking it nationwide.
In tandem with the food update is the ongoing site renovation. Collison has jazzed up several locations in the Bill's portfolio, tweaking the seating, lighting and fabrics, as he tells Food Spark.
We've just converted 13 restaurants that I'm really proud of and I think they look lovely. And I'm not saying the old ones don't, we've just given them a little lift.
I think Bill's has always felt like it was an industrial kitchen, you go in and there are these big long tables. I'm just trying to make it fell a bit more comfy.
I was quite amazed by the feedback I got from the vegan'duck' salad [made with textured soy and wheat protein] and the Moving Mountains burger, how popular they've been with vegans. I actually thought more traditional vegetarian dishes would be in front of them, like the stews and the casseroles… but the Veganuary best sellers were actually meat substitutes, which surprised me.
I think it's just different times of day as well. If you're going out for lunch somewhere, you eat something more vegetable-based than something meat substitute-based. And when you go for dinner, you want a more voluptuous meal with a meat substitute.
My favourite new dish on the menu is definitely the nut Wellington [made with carrot, mushroom and cashew nuts] – and there is more of that to come! I love the textures of it; it's got so many different layers going on. Obviously, it's vegan. It's everything I would want to go out and have as my dinner dish. Next, maybe we'll do a beetroot and goat's cheese en croute.
Creating vegan dishes makes a difference internally to our business. It inspires the team, there's more to talk about, there's more to think about.
We've got a very good team of people who look after where the produce comes from, looking at sustainability, which is not easy at the moment.
I've got a really good partner, Chris Benians, he creates the dishes… He's always asking, 'What did we used to do? What can we do that you did when you had one restaurant? How can we make that veg more exciting?'
I think old is new. Finding the old ways they used to do things and bringing them into now. Like fermentation, preserves, different ways of doing yoghurt, brewing things – it's quite exciting, going back in time to find ways they used to grow and prepare.
The most important change to me– and something that is inspiring me – is following those seasons, making sure what you see in the field will be in Bill's restaurant, and just going back to where we were before, letting that rule what we put on the menu. The classics are always going to be there, but mixed up around that, holding it, supporting it, its framework, is fresh produce. We're not totally there everywhere yet; we're trying to get there.
We have to make sure we are using fresh produce in a way that no one else does. Using it in a way that we own that area – we should do because that's what I grew up doing, Bill's heritage. Use whatever cabbage is there in that time, that they are harvesting in this country in abundance, we should have on [the menu].
I always remember when I had one restaurant, suddenly a farmer might turn up with a pallet full of Victoria plums – like, 60 boxes of Victoria plums. So those plums would be stewed to put on porridge, maybe pickled to go with some herrings at lunchtime on some toast, and at dinnertime it would go in a plum crumble. It would also go on the juice bar to be juiced into a plum and apricot smoothie. It would be a whole day of all plum and that's what I want to get back to.
We're going to do a lot more juicing in Bill's. Though we want to focus more on dinner, I think we also need to focus on that. Whatever is in season can be juiced, whether it be as a shot or a long drink or in a cocktail.
I thinks health is more important for consumers now. People are conscious of where things come from, and I think they are conscious of making sure they eat enough fresh produce.
My favourite place is when I'm at a market or an orchard or a fruit farm.
My family were growers, and we spent summer harvesting fruit, winter pruning and planting and cultivating the land. We lived off what was in the orchard or greenhouse… Parts of me hated it then, because that's what you do when you're young, you hate the things you're told to do. Now I long for it.
I was just a grower, then I became a wholesaler and reseller of fresh produce. When I met my wife for the first time, she said, well what are you doing with what's left? And she made me make it into something. So that was a big turning point in my life.
The next turning point was when we were successful and I met my partner. He said, let's make lots of [Bill's]. In amongst doing that, we diluted it a little, we got too big too soon and forgot about what was really important.
I think the last eight months to a year, another big turning point has happened in my life where I've actually felt like what I had years ago is the future.
Bill's, from day one, always tinkered with Asian products, simply because the people we had working with us, that's where they lived their lives, that's where they spent their travelling time, and they brought things back.
I always thinks we've done a good job of owning breakfast. But dinner has been something that's we've not really put in high focus.
You have to make sure you have a dinner menu that people want to use for lots of different occasions.
There's seven nights of different specials and they're so, so popular. That just shows you people want to try something new, do something different.
We've got a burger special on every night now, which changes weekly. Lots of that's often vegetarian. This week it's a chicken Caesar salad burger, taking a classic and doing it in a slightly different way. The burger special has proven very popular… You can't get away from the burgers – people love a burger!
In shopping malls now, I can see empty restaurant units, but you go to places like the Time Out Market in Portugal and Box Park in Croydon, with these new start-ups trying different things from all around the world. It's the new way. I love that change, though it has made it harder for restaurants on the high street and casual dining. So you have to try harder, you have to give more, and that can only be better for the guests.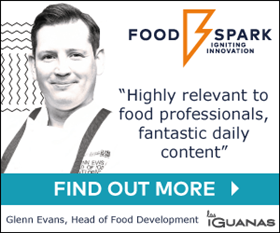 Article originally published on foodspark.com, a digital subscription service designed to inspire and inform innovation across the food industry.
For anyone needing to stay ahead of the culinary curve, Food Spark will offer immediate access to the emerging trends, ingredients, personalities and headwinds defining the future of food. Explore more content by visiting Food Spark or by requesting a demo: joinus@foodspark.com or 01293 610371.