MCA's director of insight Steve Gotham takes a look at Frankie & Benny's, which, a year ago, looked in deep trouble. A review has led to an upturn in fortunes but at what cost when prices have been reduced?
Frankie Goes To Hollywood were, of course, a successful pop band in the 1980s, with hits including Two Tribes, The Power of Love, and yes, the rather controversial, Relax. Similarly, and lest we forget, Frankie & Benny's struck a few chords with consumers in the early 2010s and was a very successful champion of casual dining. Fast forward a few years, and for various reasons, it all began to unravel. Indeed, a year ago, I wrote an piece entitled, 'How do you solve a problem like Frankie?'. Since then, Frankie & Benny's has effectively been signed up by a new record label, with a new direction on how best to take the business forward, and it is timely to review the initial results and reaction to new CEO Andy McCue's strategic overhaul.
Key elements within the revitalisation of Frankie & Benny's include restoring the brand's value credentials and deepening the distinctiveness of the offer to families. Evidence of how the business is looking to sharpen its price positioning stands out in how Frankie & Benny's – unlike key rivals – is not passing on price rises in its latest spring menus compared with a year ago. This is evident in the following snapshot basket analysis from MCA's Menu Tracker, highlighting how the absence of price rises has significantly altered the price competitiveness landscape, elevating Frankie & Benny's from among the dearest to the cheapest operator.
Excluding any promotional deals, the cost of the seven-item basket has increased the most, in value and percentage terms, at Prezzo, up by more than £3 and 7% to £47.83. PizzaExpress, was, and remains, the operator with the dearest basket, at £51.15. By contrast, and for the time being at least, the price restraint of Frankie & Benny's is paying off in terms of an improvement in its relative price competitiveness. A key question, however, is the extent this is being noticed by consumers? To answer this question, and to also assess whether it is improving its family-friendly credentials, we need to look at MCA's Eating Out Panel (EOP).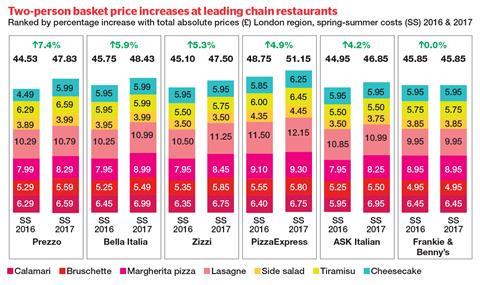 Positivity in the pleasure dome
The EOP enables us to track feedback on eating-out experiences. Looking specifically at Frankie & Benny's and comparing its performance against the top 10 casual-dining brands at the key dinner day part, then several encouraging findings are apparent.
Across the 14 different key performance indicators we look at, an improved rating applies to visits scores on all measures in Q1 2017 compared with this period a year ago. Without doubt, this is an impressive achievement – and is certainly not matched by the top 10 leading operators as a whole. More-over, in terms of perceived family friendliness, Frankie & Benny's scores particularly strongly and has extended its advantage over key competitors. More importantly perhaps, it has made significant improvements to its consumer ratings for value for money and for low prices. These improvements are such that it now enjoys superior ratings to its peer group on these critical measures.
We also looked at customer ratings for Net Promoter Scores (NPS) and their Revisit Intentions (RI). In keeping with the favourable moves on the KPIs, similarly encouraging signs emerge here too. In terms of NPS, Frankie & Benny's has seen its score rise from 15 to 32, effectively restoring parity with its peer group, where the average has moved from 34 to 31 from Q1 2016 to Q1 2017. Over this same period, RI ratings at Frankie & Benny's have also improved, up from 8.3 to 8.5, with this rise again contrasting with a fall, this time from 8.6 to 8.5, among the competitor set of leading brands.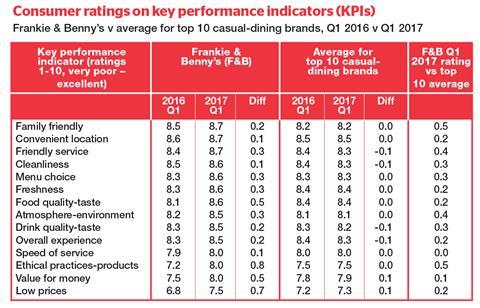 Path to profit growth on track?
While it still might be relatively early days, there is much evidence to suggest McCue's medicine is working. Key initial business recovery strategies involve investing in price and in marketing. Frankie & Benny's competitive position is improving and being noticed. And with the stream of online promotional incentives on offer, it would be a major surprise if visit frequencies were not rising and lapsed consumers returning.
None of this, of course, will be occurring without an impact on profits. The problem for management is that this impact is only meant for the 'short term'. Unfortunately, with the outlook for business costs and for the consumer economy looking increasingly less favourable, the path to profit growth is set to become rockier and the passage more arduous than expected. Message to McCue & company: take some reassurance, but don't relax.
■ Steve Gotham is the director of insight at MCA.