The Inception Group has built an eclectic estate of quirky bars and restaurants across London, successfully fusing theatre and food & beverage. Co-founder Charlie Gilkes talks to MCA's sister title, Food Spark, about how Uber has opened up the range of viable sites in the capital, his thoughts on regional expansion and his fears that hospitality will fall foul of artificial intelligence.
It's the morning before press night and Charlie Gilkes, The Inception Group founder and London society figurehead, excitedly reveals the innards of his much-hyped new London venue to FoodSpark.
Mr Fogg's Society of Exploration will be the tenth venue from the Inception Group collection.
The first, Bart's, opened in 2009 and outran the economic crash. Since then there has been a spate of venue openings across town, from west to east and Gilkes aligns the group's success in a difficult market with the bold themes of the venues and their in-depth storytelling.
In this interview Gilkes tells FoodSpark about the method behind creating distinct venues which sit apart from their competitors, where he gathers new inspiration and how success is defined by never staying still.
I've always loved my food. My favourite places to eat as kid were roadside places in France where you're not given a menu but are brought courses by a husband and wife team. I've always loved simple, local places. At Inception Group we keep our food simple too. Bunga Bunga and BungaTINI are all about pizza. We make our own dough with more of a romana base. A big thing for us is our afternoon teas at Mr Fogg's but we are also scaling up our bar snack menus, as previously they have been dictated by kitchen size.
A lot of my early exposure to food was through travelling. We [Charlie and his business partner Duncan Stirling] got into hospitality through the side of promoting. When I left school a way to pay for travel was running club nights. We knew how to fill a place, but in all honesty we didn't really know how to run a place.
Travelling is still a big influence. For instance, the tiffin tins the bar snacks we serve at the new Mrs Fogg's in the City are inspired by the tens of thousands of people who deliver tiffin tins with the day's lunch in Mumbai.
Our first venue, Barts, taught us how to run a business, not just fill a venue. We opened Barts in 2009 as a little resident's bar tucked away behind an apartment building. We thought, how can we turn this disadvantage into an advantage? Twitter was taking off at the time, so we created this underground buzz. We didn't have any money so the whole initial budget was £30,000, funded by Duncan and I, and a big overdraft.
In those days, we didn't have money to spend on glassware so we went to bootsales and bought old tea mugs and teapots. I'm almost embarrassed now because everywhere does it, but at the time they weren't. Being ahead of that trend almost happened by accident because it was all we could afford. We also had a friend do a mural on the wall and commissioned other artists to do various artworks. I look now at what we're spending on these venues and I wish we could pull things in like we did then.
We first opened just after the big crash of 2008. It wasn't a great time to open a new business. Everyone had spoken about how expensive big fit outs where; they became very unfashionable.
We believe a unique idea is a combination of existing ideas. For instance, we didn't create pizza, we didn't create karaoke or live entertainment. But, the way we combine them creates a unique concept.
We don't spend a lot of time thinking about competition. If a great venue opens next to you, it's a good thing. But before we opened Barts, we looked at every single venue that you could walk to within twenty minutes and there were about 20. I printed out photos of them and stuck them on one big board and said, 'which venue is this?' and no one guessed they were all different venues as they all looked the same.
We were completely determined that everything we did was completely at odds with anything else. All our competitors were all buying the same furniture and candles. There's a real trend to see a bar you like and imitate it.
We knew what we did would be a little bit Marmite. But there were enough people who we felt would love it. So that was our view, to do things a little bit differently. It was sensitive to the time, but also it was a necessity. With Barts we tried to create a destination. We didn't have any money to spend on it, so it was necessity in a way, but it was the right concept at the right time.
It's always a challenge finding sites. It's getting a little easier for us now as landlords get what we do. We lost lots of early sites to big European brands who want flagships here in London.
Recruitment is a constant challenge. Finding people and retaining people. Now post Brexit we're seeing this as a massive issue. We're not getting a level of interest in job adverts, which is our biggest challenge. Increasing rates, rents and staff costs and inflation in goods means and licensing pressures mean it is a constant challenge running venues. But we have learnt a lot and continue to learn.
Nowadays, it feels like conducting a fantastic orchestra. Our operation feels seamless, but we'll keep learning as the industry is getting more and more competitive.
We've always said work culture is key. We had four people who left us last year but three of them came back. We have a development programme so most of our general managers now start as bartenders or waiters and waitresses. We find homegrown talent is the very best, so they climb all the way up. We inspire staff by having monthly company breakfasts, and we have a massive company conference where everyone comes and we do a big party in the evening - we're big on culture. It sounds cheesy, but when people join we say: 'Welcome to the family.'
Everyone spends so much time at work, it's got to be a nice place to be. We're very proud of our company culture. We're also working with colleges and schools and being more imaginative to how we attract people in and retain them. I think our managers would say they're given a fair amount of autonomy and brand guidelines.
Some of the best ideas come from our interns. They feel like they have a voice and they're not scared to suggest things. We talk to our staff a lot and they're getting better at engaging with people on the ground. If our customers say 'have you thought about doing that' then we want to hear, we want to do it.
We believe in the old saying 'recruit for attitude, train for skill'. Newcomers learn the Inception way of doing things. If I think about bad experiences, the ones that stand out aren't because of bad food or bad drink - it's down to someone being rude.
We don't always get it right but we're always polite and accommodating and nice. Service is a transaction: how A gets to B. You could affectively have perfect service, but hospitality is how you're made to feel.
Hellos and goodbyes are really important. Our staff imagine guests are entering a big party in a flat. How would guests feel when if they arrived or left a party without a big hello or goodbye?
Hospitality will fall foul of being replaced by artificial intelligence if we aren't careful. We're all about personality. Our waiters don't come to work as waiters, they come to work as themselves.
I never quite believe something will work until it does. We've had a couple of failures, which are good as they take away your complacency. My advice is that our first four venues didn't have any footfall but they were strong concepts. If you have a strong enough concept people will find you.
The likes of Uber makes it easy to open venues off the beaten track. Restaurants are that much more accessible. The digital world means you less and less find things walking down the street, you find things on Google Maps. Have confidence in what you do.
Mr Fogg's Society of Exploration is probably the right postcode, wrong street. Yes we're closer to the drag here, but it is still a basement. However Broadway Circle and St Martin's Lane, for instance [where there are other Inception Group venues], have huge footfall.
I'd always recommend people to try their concepts as street food first. Get your brand, get your 10k followers on Instagram. Then you've already got your following.
Pop ups teach you a lot about new openings. In the City, it's all about speed. We ran a pop-up in the City and we learned that people don't want to wait ten minutes while we stir an old fashioned. It was very useful to learn that.
We tailor our venues to the audiences. Around Covent Garden there is a high level of tourists, whereas we're more concept-led in Fitzrovia where there are more offices. In Mayfair we aren't as in your face with the [travel and adventure] concept.
We often make our own interiors. At Bunga Bunga we have a whole big hanging chandelier made out of Vesper helmets, and here [at the Society of Exploration] we have a lamp made out of an old helmet and a gun. Some of these barometers on the wall [he points to a nearby wall, cluttered with barometers] at the height of the antiques boom that would have been £1,000 - now they're £100. Brown Victorian furniture isn't fashionable, so no one's buying it other than us. People don't want it. We have a whole workshop in Battersea which is really good fun. I must be one of the biggest buyers of random antiques on eBay!
People want to go to a specialist, not a generalist now. People aren't going to come and have a sit down lunch at Mr Fogg's, but they will come in the evening for a cocktail and share small plates.
Quite often now people go out for food and choose lots of small plates instead of dinner. We're not offering dinner but we're offering interesting small plates which means people don't have to go to a restaurant, they can spend all night here. This new Mr Fogg's will have a more substantial food offering. Really good charcuterie, really good cheese boards, toasties, halloumi fritters, sweetcorn fritters. We're not trying to get a Michelin star but they're good bar snacks, simply done. Phil Howard [of celebrated restaurant Elystan Street] saying 'this is exactly what I want!' about the cheese toastie!
I'd love to open outside of London, but I'd want to spend a substantial amount of time getting to know the markets in say Manchester or Oxford.
Experience is what justifies the margin between what you pay in a supermarket to what you pay in a venue. That experience is what we're selling. We're not selling goods we're selling experiences. I think that's key. At Maggie's you're not paying for the bottle of Champagne, you're paying for the ET Robot to bring it to you.
Disco, which closed down, was like an art house film which made no money. It had a solid following of people who absolutely loved it. But we only traded 11.00pm - 3.00am Thursday to Saturday so we were trading 12 hours a week. We still get emails now from people saying 'RIP Disco' - but it just didn't make financial sense.
I think people need to be braver when opening new venues in London. I'm not sure whether small regional towns would want a Cahoots, but there are a lot of buzz words in the industry which are very generic now. Luxurious and sumptuous are just words in a press release.
The biggest risk for us is being a fad. We don't want to be an Ice Bar. So you've got to back venues up with attention to detail so you are fully immersed. If we feel embarrassed, the customer will pick that up. And backing up that with good hospitality. One of the nicest reviews I read of Mr Fogg's was that 'Everytime we visit, we see something different'.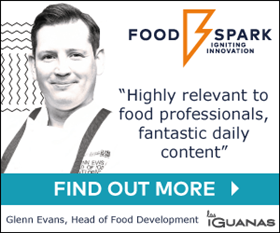 Article originally published on foodspark.com, a digital subscription service designed to inspire and inform innovation across the food industry.
For anyone needing to stay ahead of the culinary curve, Food Spark will offer immediate access to the emerging trends, ingredients, personalities and headwinds defining the future of food. Explore more content by visiting Food Spark or by requesting a demo: joinus@foodspark.com or 01293 610371.
Precis
Inception Group: Selling experiences
The Inception Group has built an eclectic estate of quirky bars and restaurants across London, successfully fusing theatre and food & beverage. Co-founder Charlie Gilkes talks to MCA's sister title, FoodSpark, about how Uber has opened up the range of viable sites in the capital, his thoughts on regional expansion and his fears that hospitality will fall foul of artificial intelligence.