Stonegate's chairman and founder Ian Payne, Fuller's chief executive Simon Emeny and Shepherd Neame's chief executive Jonathan Neame are among the highlights on the programme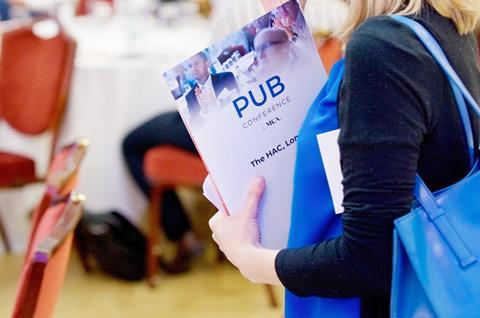 MCA is delighted to reveal the full agenda for its 2022 Pub Conference, featuring Stonegate founder and chairman Ian Payne, Shepherd Neame's chief executive Jonathan Neame and Fuller's chief executive Simon Emeny, among other big names.
The event, which takes place on 6 July at the HAC in London, will also feature a host of Q&As with sector leaders, presentations and panel session, along with the chance to network with your peers.
In a keynote Q&A, Ian Payne will share anecdotes from his nearly 12 years at Stonegate and discuss the progress of the company's managed pub conversions the growth of its Craft Union business, among other topics.
Simon Enemy will be presenting on how Fuller's has stayed true to its values while evolving during the pandemic. Jonathan Neame will share his views on why he believes pubs will remain central to British life, despite the current cost pressures and how Shepherd Neame is well placed to recover from the pandemic.
There will also be a Q&A with Chris Jowsey, chief executive, Admiral Taverns, who will speaking almost one year on from its acquisition of Hawthorn on what challenges and successes of the integration process and it's plans for the business and the wider estate.
And Jonathan Lawson, chief executive, Liberation Group will explain how the Channel Island and South West pub group and brewer has invested in response to accelerating customer trends and behaviours.
Peter Hansen of Sapient Corporate Finance will take delegates through the landscape of M&A in the pub sector and what impact the current economic environment will have, while Katie Prowse, senior insight manager at Lumina Intelligence will map out the current state of the pub market and assess its recovery so far and how the cost of living crisis has impacted consumer behaviour.
There will be panel sessions on investment in the pub sector, featuring Mark Derry, executive chairman, Brasserie Bar Co, Jason Katz, partner, Kings Park Capital, and Peter Borg-Neal, executive chairman, Oakman Group.
The challenge of recruitment and retention and the creative solutions that operators are employing will be discussed in a panel featuring Tamsyn Allington, people and communications director, St Austell Brewery, Henry Fairbanks, chief operating officer, Chestnut Group and Greg Hull, global head of hospitality and leisure, Attensi.
The programme also feature a panel of tech, trends and the future of the pub, featuring Richard Whitehouse, director of digital product and transformation, Mitchells & Butlers, Jonathan Jones, MD, CGA, Russell Danks, marketing and strategy director, Punch Pubs & Co and Gabriella Overeem, head of enterprise sales and account management, UberEats.
An innovation panel – in association with the Morning Advertiser's Top 50 Gastropubs and Top 50 Cocktail Bars, featuring Monica Berg, co-owner, Tayēr + Elementary, Charlotte Vincent, head chef, Five Bells Inn and Ruth Hansom, head chef, The Princess of Shoreditch.
For full information on the programme and speakers and to book tickets please visit pubconference.co.uk