The latest Market Growth Monitor from CGA and AlixPartners shows managed restaurant numbers are in decline for the first time in 14 years. With the tide turning after an unprecedented five year 27.3% growth period, MCA news editor Finn Scott-Delany picks apart the nuances of the study.
A 0.1% downward shift in the number of managed restaurants might not sound like much – but it represents the first negative movement since 2005.
It is a perhaps unsurprising finding, given the scale of the challenges that have faced the casual dining sector, and the closures and CVAs that have inevitably followed.
But with previous data indicating independent restaurants were bearing the bulk of the closures, it represents a "significant landmark", the report concludes and supports the view that casual dining has finally peaked.
"The perceived over-capacity which has been blamed for a number of high-profile casual dining brand closures may be beginning to ease – if slowly," the report finds.
To put it into a more medium term context, the turning of the tides comes at the tail-end of 15 years of year on year growth for the managed restaurant sector, which are categorised as part of a larger chain or group.
In the five years to December 2018 there were the equivalent of 1,241 net new openings, or more than 20 every month.
Following the well-documented barrage of cost pressures on people, property and food, the report's authors offer some sage advice, part optimistic, part cautionary warning against complacency.
"The surge in managed restaurants in recent years has been remarkable, and for focused, differentiated and good value brands, there is still plenty of headroom to open new sites—especially as property becomes available at more reasonable cost.
"But for weaker or complacent casual dining names, further contraction in numbers seems certain."
Crunched by TV region, the analysis shows all areas of the UK have seen a boom in casual dining, and that most are now seeing a decline.
Tyne Tees is up 47.2% over five years, but down 3.2% in 12 months; while Meridian saw less dramatic shifts of 19.3% over five years, and a 1.3% year on year decline.
Around two thirds of all managed restaurants are on high streets, with 30.2% more sites over the five year period – outstripping growth in suburban and rural areas.
However with the high streets numbers falling by 1.1% in the 12 months to December, against modest increases in suburban and rural locations, it suggests casual dining brands are being forced to retreat.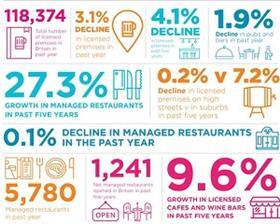 With the managed restaurant space offering a mixed picture, other categories showed grounds for optimism, with cafes and wine bars the clear winners in bucking the trend.
They have experienced only fractional decline in the last 12 months – a net loss of just 20 sites - and in the five years to December they have increased in number by 9.6%.
The Market Growth Monitor finds the rise of the casual but premium wine bars one driver of this –as well as hybrid concepts like Grind that morph from daytime coffee shop to cocktail bar by night.
The long-term decline of British pub and bar numbers are well known, and those closures continue – albeit with signs of a slowdown in the trend.
Over the five years to December 2018, closures averaged 3.3 a day—but in the last 12 months these dropped to 2.7.
In wet-led venues, closures have narrowed substantially from 3.6 a day in the last five years, to 2.2 in the last 12 months the pace
Some of this success may have come at the expense of food-led pubs, with the numbers increasing by 2.5% in five years, but dropping by 1% in the last 12 months.
Examined by city, In London, licensed venues saw increases in the medium term (8.6%) as well as short term (0.8%).
Manchester saw a 24.8% five year rise, though the number of licensed premises could be reaching saturation after hitting a standstill.
Liverpool's managed restaurant numbers continue to grow - up 11.4% in 12 months, albeit from a lower baseline - but the growth in all licenses venues is now flat.
Graeme Smith, managing director of AlixPartners, said the report showed a mixed picture, and was sign of a new status quo.
"Over the past year or so, sector headlines have been dominated by extremes ranging from CVA restructurings to Pret and Wagamama's record breaking M&A valuations. This year we expect to see a continued divergence in performance between relevant well-invested groups and those unable to shake off the excesses from the casual dining space race of recent years. This will invariably lead to more site closures."
Smith said there were grounds for optimism for the best operators: "Now that time has been called on the casual dining space race and retailers are reducing their store numbers, the next 12 to 24 months offer an opportunity for well-funded restaurant groups to expand into prime sites at much reduced costs.
"This can only be good for returns on capital which had come under pressure during the restaurant expansion boom."
Meanwhile, he said AlixPartners was seeing continued interest in deals from private equity, other restaurant groups and international buyers: "There is more careful focus on what sets a brand apart from its peers and a clamour to acquire the best-in-class brand in each vertical and cuisine.
"A replicable offer that resonates with customers is of critical importance for investors, and as operators such as Honest Burgers, Arc Inspirations, Tortilla and Pho show, if you can catch the right consumer wave the returns are impressive."