MCA's sister title, Food Spark, speaks to Dishoom's executive chef, Naved Nasir, about some of the secrets to success, how menu development goes down in Dishoom and the Indian dessert that was a complete fail.
Naved Nasir is on a mission: to turn people into brain eaters. He is developing a dish with lamb brains in hopes of making it Dishoom's next crowd-pleaser.
Dishoom pays homage to the Irani cafes that were once part of the fabric of Bombay. This history is something that Nasir is so passionate about that he refuses to change traditional recipes for a trend or particular taste. Instead, he prefers to find a dish that will suit the English palate or to give a traditional English dish the Indian twist.
When Nasir decided to become a chef, his father – who was a doctor – initially refused to speak to him. His mother belonged to a royal family, and on trips to his grandfather's mansion during his childhood, his interest in cooking was piqued, as he sat in the kitchen and asked the chefs questions.
Nasir has been with Dishoom from the start. It launched its flagship restaurant in Covent Garden in 2010 and has gone on to open branches in Shoreditch, King's Cross, Carnaby, Kensington and Edinburgh.
Yet eight years on, there are still lines to get into Dishoom, which Nasir admits presents its challenges. Here, he shares with Food Spark some of the secrets to success, how menu development goes down in Dishoom and the Indian dessert that was a complete fail.
In King's Cross, we have a special and we use the lamb brain. Everyone was a bit reluctant to use it initially, you need to be brave enough to try it, and people who love it they really enjoy it. But it's a big barrier for people who don't like offal or brains in general to eat.
I am developing a dish using the lamb brain and doing it in a way that becomes a crowd-pleaser, rather than a niche thing for a few people, so that's something I am really excited about. We will probably test it in one of the cafes to see how people respond to it, but the idea is to break that barrier so that non-brain eaters turn into brain eaters. It sounds a bit funny though!
We are finding it extremely hard to replace dishes these days. So many of our dishes are very popular and have a fad following, so you need to be really brave sometimes. The new lamb brain dish, it will replace a really, really popular dish – it is the highest selling dish on the menu. Now that's a big risk, but the reason we are trying to do this is the popular dish on the menu, it doesn't fit. It has been with us since day one, and now it really doesn't belong to us as it's too far away from the Dishoom philosophy.
One rule we have is not to change an authentic recipe and instead come up with ideas that are inspired – rather than copy – an idea.
Every three months we look at the menu and we pick up dishes that are not performing or which are weaker, and the idea is that we should not have a dish on the menu which people don't like – that is always the end game that we always work towards. We look at the performances of dishes and see what could change.
It sounds so simple to have a dahl being your favourite dish and most important dish, but it is at Dishoom – that is one dish I'm very, very proud of. It's a lentil dish that takes 24 hours from start to finish… That is one dish that has never come off the menu and hasn't changed a bit and everyone in the kitchen is super conscious when they are prepping it, making it, dispensing it and delivering it.
The sali boti, which is a typical Parsi special, [is another favourite], which is on the Carnaby menu. It's basically a lamb stew made up of onion and tomatoes, but it also has vinegar and jaggery, so it's kind of a sweet and tangy balance of a dish… You mop it up with a tin bread called roomali, which literally means handkerchief… They say the test of a good roomali is if you can read a newspaper through it. It's a really high skill dish that takes people years to learn to make.
We tried a very typical Bombay drink/dessert called falooda, which is basically condensed milk with sweet basil seeds, rice noodles and rose syrup. It's very famous back home in Bombay, people love it and it's nostalgic. We thought people would love it but we learned very, very quickly that it's something people just didn't like or they didn't have the taste for it.
I think in a dessert or drink you look for more mainstream ingredients, and this was a bit more off track. First, it was in between a drink and dessert, so people got confused or we confused them – let me take responsibility for that – although it was very authentic. The second thing is the ingredients, which now when I look back I can see why people didn't like having a dessert with sweet rose syrup with noodles – it doesn't sound Indian and you wouldn't expect that in a restaurant.
I landed here in 2010 and there was a sweet spot between the high-end, fine-dining Indian food and the curry house. And I quickly realised that there was no one doing the food from back home, so there was a significant gap in the market which we perfectly fitted into.
One thing I remember that we signed up to in the early days was, if we need to cater to a certain palate, let's find dishes from the repertoire which are of that nature, rather than changing the dishes or modifying them to suit a group of people's taste.
We took two directions. We did authentic Indian food and did not change it. We put our foot down and said, 'You know what, this is the way we make it back home.'
On the other side, we did really inspired dishes. For example, we did the bacon naan roll, where we took inspiration from the bacon sandwich, which is a humble thing that everyone does on their way to work, and we said, 'How would someone do that in Bombay if we tell them that everyone eats this thing in London?' That's how we were thinking of doing new dishes or creative dishes.
Our menu is a bit weird now. I was reviewing it the other day, and we have dishes on the menu that did not change even 1% from day one. We intentionally made sure they did not change the dahl, but we have also changed the menu quite drastically, so there are desserts or breakfasts we have changed quite significantly many times.
On the flip side we are always doing work in terms of coming up with new dishes. For example, the memsahib's mess we have on the dessert menu is basically our version of the Eton mess.
We do our own version of the full English, which is called the full Bombay, and it's a really interesting take. We replace the fried eggs with the Indian scrambled egg called akuri, but we don't do a nice posh bread, we do a humble bun from Bombay. So these kinds of things are always happening at Dishoom, where we take a local dish and try and make it into a Bombay moment or style.
We are making sure people get quality food at a reasonable price– they are not getting a curry house deal. I have nothing against curry houses by the way; I have huge regard for curry institutions. But the food they are doing is Anglicised Indian food or Bangladesh-inspired Indian food, so there is a gap in the market for true, traditional dishes from India.
[The lines] are challenging, it's a really big problem for us, because when people are waiting outside for a couple hours it's really hard for our teams to make sure they are kept happy, as it sets really high expectations and they are already a bit grumpier before they have sat down to eat. So we need to work extra hard to please these people – we are not very proud of the queue by the way.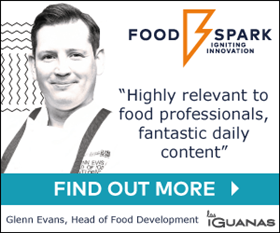 Article originally published on foodspark.com, a digital subscription service designed to inspire and inform innovation across the food industry.
For anyone needing to stay ahead of the culinary curve, Food Spark will offer immediate access to the emerging trends, ingredients, personalities and headwinds defining the future of food. Explore more content by visiting Food Spark or by requesting a demo: joinus@foodspark.com or 01293 610371.