As one half of food innovation company Bingham & Jones, the chef speak to MCA's sister title Food Spark about the prominent trends he thinks are fads and why breakfast food-to-go is a category lacking innovation in retail.
David Jones isn't afraid to share some controversial views that go against the grain of much of the industry thinking at the moment. Things like gut health and flexitarianism aren't here to stay, according to the former Michelin-starred chef, and he's also not a fan of ketogenics – how would the concept work long term in foodservice?
One half of the food innovation company Bingham & Jones, he has spent a large part of his career working in high-end restaurants. Attracted in his youth by the glamorous image of a chef – all fast cars and swooning women – that has transformed over the years into a genuine passion for food.
When he moved into development at Greencore and met his now business partner Jonny Bingham, he thought he was "pompous" because of his habit of wearing cravats. However, the duo discovered they got along well and decided they would make a powerful force in the food industry if they teamed up.
He shares with Food Spark his thoughts on areas crying out for innovation like breakfast convenience, how clean label is actually a dirty word and the mistakes that make a product bomb.
The change and transition of going into development from being a chef in a kitchen is huge. Some people don't have that ability to look at things from a commercial mindset whereas some do. But I think having that depth of training, repertoire and knowledge is useful, especially in food development, as you can pull on that all the time. You understand the combinations and the techniques.
Mainly people come to us as they want some support on NPD and product innovation. We have started to identify areas and contact people where we think we might be able to add value since we became more structured, but generally the business model is external NPD.
We've just developed some high-protein bars with Naturya, the superfood ingredient company, which are quite revolutionary in their composition and use of plant-based protein. They are delicious and eat like petits fours, but they are really healthy high-protein bars.
I once did a chef endorsement range by a top chef and it was a great product – it served two – and went into the retailer. It was a beautiful tasty product but it absolutely bombed. It was quite expensive, it was a top-tier premium product, it had the chef all over the pack, it was an amazing story behind it, but there was no marketing – people didn't even know it was coming into the store. That's happened quite a lot over the years. You develop the product, but if the retailers don't market it then it doesn't stick as people aren't aware it is there. You have limited time for it to be successful before it gets pulled.
Breakfast food-to-go is a category that is lacking in innovation in retail. There is nothing in there. I think on the high street they have breakfast sorted. For McDonald's 25% of their turnover is the breakfast market and Pret are doing well.
If you think of the retailers in breakfast, a huge amount of people go to in the morning to buy what they need for the day – milk for the office, a ready meal for lunch or whatever – but they don't tap into breakfast. There seems to be a huge gap and no one's ever really had the balls to do it.
There have been lots of attempts and lots of panels on breakfast. I did a project with breakfast pots, so people could buy a breakfast pot and stick it in the microwave at the office or home and they got a beautiful little scrambled egg, bacon, sausage pot or something like that. But I feel like breakfast convenience is an area that's never been properly tapped into.
There is an overly obsessive approach to the development being quid driven. So if Sainsbury's are at 22% chicken then Tesco are going to be 22 or 23%. There is a quid focus rather than a quality focus.
This might be controversial, but there is an obsession for everything to be clean label. Because something has an E number doesn't mean it's a bad ingredient, and some of these E numbers are incredibly functional ingredients that can make a product absolutely brilliant.
If you go to a top restaurant, which we all like to do, you are going to be leaving with quite a few E numbers in your system after that, yet we are not allowed to use it in convenience, where the perception is – and it's absolutely wrong – that convenience is full of bad things and it's not good for you. But it's a lot more controlled then what goes on in the high street.
I think it's getting to a stage where it's becoming more and more difficult to innovate as you can't reinvent the wheel.
Food prices are a big thing that are going to limit innovation. I think what's going to happen is the retailers really do need to show a bit more compassion and support for the supply chain because it's going to have to come through on their RSP, not always the manufacturers and suppliers taking the hit. I think if price increases are not looked at then there's the potential that Brexit could make that scenario even worse.
Sustainability, environmental impact and plant-based are the big trends for me. Alternative plant-based proteins that can emulate meat is a big area. At the moment it's mainly soy protein mainly is replacing the [meat] proteins. And seitan, which is the stretched gluten. And tempeh. I think that is where there is going to be a lot of growth and innovation in the future.
The plant-based movement is now all about finding alternative textures within plant-based food. If you talk to anyone who has become a vegan or vegetarian after eating meat – and there are a lot going through that transition – it's a lot like you stop being a smoker but you're still craving nicotine, because a lot are craving texture. They crave the texture they get from meat, and I think that's something that we as innovators need to be working on.
Packaging formats are going through an evolution now that plastic is hot on the agenda. Sustainability is becoming a huge prominent thing with all demographics.
Ketogenic, I don't get it – it's just an advanced Atkins diet. I know there is a lot of people trying to break that as a QSR concept in London at the moment and I just don't see it sticking.
It's controversial, but I don't see this gut health thing working either. I think that's just a fad. I don't think people understand it. When there are genuine medical scenarios when people have to eat certain things because of gut health then that is fine, I get that. I just don't think it's something that people see as a prominent part of being healthy.
Another one, flexitarian, it's a fantastic word that people love to drop in, but is it really sticking? Do people really understand what it means? People are going vegan and vegetarian and people are eating less meat, but the strapline for flexitarianism is having less meat with additional vegetables. Are people really eating like that? They are eating either one way or the other. So I feel like that's a fad.
The biggest mistake I have seen so many times is where people impart their own views on to the development, rather than looking at the views of the consumer and really understanding the consumer for that particular retailer or high street chain or QSR. It's really being savvy about who you are developing for, not the fact that this particular smoked garlic is really hot in this particular restaurant in Soho at the moment.
A successful product launch needs a realistic timeframe, attention to detail and a consistent supply chain from start to finish. So sort out the supply chain early, make sure you know the standard and spec, and develop within that so there is a consistency throughout.
I think Korean and Japanese is very interesting, but the massive one for us is… Israeli food and that type of Middle Eastern cuisine is going to get stronger. The food culture in Tel Aviv is up there with some of the best in the world.
We have always been a big fan of freeze-dried miso as a salt replacer, which has a beautiful umami depth and is a multi-functional ingredient.
We are working with shio koji. That is a massive ingredient in terms of ability to season and tenderise. We did a panel with shio koji the other day, where we just got some salmon and put it with the shio koji for 30 seconds and cooked it in the oven. The salmon had just been seasoned with salt and pepper. We put it on the sticks for people to taste and people couldn't believe how the texture was different, but also the depth of flavour that was prominent. It astounds me how effective it is as an ingredient and how much seasoning and umami depth it can create.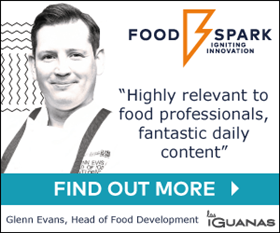 Article originally published on foodspark.com, a digital subscription service designed to inspire and inform innovation across the food industry.
For anyone needing to stay ahead of the culinary curve, Food Spark will offer immediate access to the emerging trends, ingredients, personalities and headwinds defining the future of food. Explore more content by visiting Food Spark or by requesting a demo: joinus@foodspark.com or 01293 610371.
Precis
David Jones: 'Food innovation is becoming more difficult - you can't reinvent the wheel'
The co-founder of food innovation company Bingham & Jones speaks to MCA's sister title Food Spark about the prominent trends he thinks are fads and why breakfast food-to-go is a category lacking innovation.