The Restaurant Group chief executive Andy McCue talks to MCA about the first part of a "transformational year" for the group and what the rest of the year is likely to hold. He discusses his approach to discounting; new brand Firejacks; heading into new geographies with Brunning & Price and the group's investment in both digital and delivery.
In the presentation accompanying its H1 results, TRG showed a graph (see graph below) illustrating the rocketing like-for-like covers in its leisure business over the past year – and particularly in the past six months – compared to the sluggish rate of like-for-like sales.
McCue told MCA: "We are looking for momentum improvement in the business and we think we will always see that in volume before we do in sales. If anything, in the short-term like-for-like sales will come under further pressure because of our price investments. The message we are trying to get across is that what we are seeing is what we expected to see."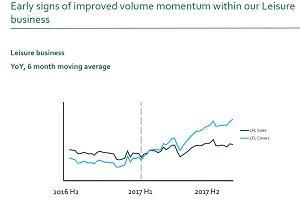 Discounts have played a key part in the campaign to woo lapsed customers across its leisure brands and particularly in Frankie & Benny.
McCue said: "I don't think discounts are a binary choice. I felt the business needed to be more competitive. I didn't think we were discounting as much as other when I joined the business and we have addressed that. We can get more sophisticated in how we discount and to who – all of that goes on in the background."
He said all of the research conducted so far showed that the family-value market was the most appropriate for its core brand of Frankie & Benny's and that it could still display differentiation in that space.
Earlier this week, leading analyst Douglas Jack, of Peel Hunt, pointed out that half of TRG's estate is next to cinemas, however current trends favoured cinemas with integrated F&B offers rather than co-located restaurants.
McCue insisted: "For the most part the investment cinemas are making are complementary with our business but everything is on a site-by-site basis."
MCA revealed last month that TRG was launching new concept, Firejacks, with a focus on steak and burgers at the former Coast to Coast unit in Northampton's Sixfields.
McCue said it was too early to judge the success of the new concept, which has been open just over two weeks.
He said: "We said we felt Coast to Coast lacked distinctiveness and that we needed to explore a new space, anchored steaks and burgers. It's in pilot phase so we are testing a number of things."
He stressed that there were no plans to scrap either the Garfunkel's, Filling Station or Joe's Kitchen, which are all showing "solid trading" but that no new sites were planned for these brands.
Two pubs were opened in the Brunning & Price estate during H1 and the company has promised "increased resources focussing on growing the estate".
He told MCA: "We think Brunning & Price could penetrate a wide geographic footprint. A key inhibitor was the amount of resources focussed on it. We have made that investment. It takes time for a pipeline of this nature to develop as these are quite distinctive properties - we are not just picking stuff up off the high street. We're happy with progress so far and looking forward to seeing what the future holds."
He said the group had no interest in developing any wet-led concepts at the moment.
On the concessions business, he said: "We're focussed on growth and that's somewhat out of our control because it's dependent on partners having contracts. I'm very happy with how we deliver in that business – particularly at high volume and in quite a complex environment so we like our chances of winning new contracts in the future."
TRG has continued its tentative steps into the world of delivery over the past six months, with Frankie & Benny's now on Deliveroo, alongside Coast to Coast and Chiquito delivering through UberEats.
McCue said: "We have some delivery trials on at the moment and as with everything in the business, we will trial and get comfortable before we roll out thereafter. We think it's a space we should be looking at but we want to be sure and part of the trial is figuring out how it affects our core restaurant offer."
TRG used data from MCA's Menu Tracker to show how it is restoring its value credentials by highlighting the difference relative to its casual dining competitors across key lines between spring/summer menus 2016 and 2017. It showed a cheeseburger had gone from being 8% more expensive to 15% cheaper; a Caesar salad from 10% more expensive to 15% cheaper and a Pizza Margherita from 10% dearer to 6% cheaper.
During H1 2017, the group spent just under £20m on capital expenditure and development, compared to £28.5m last year. This broke down as £9.7m on development expenditure – opened sites (H116: £6.3m); £1.5m on development expenditure – H2 openings spend to date (H116: £6.5m); £4.4m on refurbishment and maintenance expenditure (£15.7m) and £4.3m investment in technology (no spend last year). A total of 12 new sites were opened in H117, compared to seven last year.
In terms of closures for the second half, the group said they would be "potentially minimal" with nothing planned apart from a couple of restaurants reaching the end of their lease life
TRG is planning further investment in technology including a "customer facing digital upgrade" in 2018 and trials of mobile order & pay and click & collect.
McCue said: "We're hardly at the forefront with these features but it's an area we are catching up on. We also think there's an opportunity to upgrade the digital experience for our customers and we're bringing some digital experts into the business to help us do that. Our ambitions are high there."
McCue has repeatedly referred to 2017 as a "transitional year" for TRG but analysts have suggested that 2018 may also fit that description.
McCue said: "I'm getting to get through 2017 first and then decide what my descriptor for 2018 is."