UKHospitality has called on Boris Johnson to pursue an agenda of "positive reform" to boost UK business once he is officially installed as prime minister later today.
"The new prime minister has recently spoken about wishing to unite the country," said UKHospitality CEO Kate Nicholls. "If he is serious, he now has an opportunity to act positively, to provide our high streets, businesses and communities with a boost.
"We want to see a positive agenda of change aimed at delivering growth all around the UK. During the leadership campaign, we wrote to both candidates outlining exactly what they need to do to support hospitality businesses and high streets in every region of the country.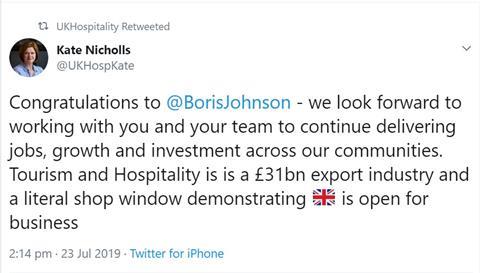 "We have long been calling for action to tackle costs that restrict investment, with business rates still the chief culprit. A wholesale review of the system, reducing costs, will give businesses the stability and flexibility they need to invest in their venues and team members and help reinvigorate high streets. Addressing the imbalance between the digital and the bricks and mortar economy should also be high on his to-do list.
"We need a sensible Brexit outcome that eliminates the uncertainty that held business back but delivers a stable future to allow them to plan for the future, including tariff-free trade on food and drink with the EU.
"This is a future that also needs to acknowledge the economic needs of the country. Our businesses need to be able to continue to recruit and the best way to do that is with a post-Brexit immigration policy that supports recruitment, alongside support for the Tourism Sector Deal that will upskill our domestic population.
"We and employers in the sector are keen to engage with the new prime minister and set out a programme for growth across hospitality that works for business and his new Government."
Meanwhile, FDF CEO Ian Wright urged the new PM to avoid a no deal Brexit, saying the food and drink sector is "central to our critical national infrastructure. The industry employs more than 450,000 people across the nation. UK food and drink is globally renowned for its quality, provenance and taste.
"The industry's recently published 'Plan for Success' demonstrates how we can make the UK's £4bn food chain the most dynamic and competitive in the world. It shows how - working in partnership with Government - we can boost exports, develop talent and encourage innovation.
"A no-deal Brexit would destroy that opportunity and much more. It will inflict serious and - in some cases mortal - damage on UK food and drink. Prices will rise, there will be significant shortages of some products, and disruption for shoppers and consumers will be far reaching.
"We urge the new Prime Minister and Government to work with us to deliver a withdrawal agreement that guarantees the closest possible trade and regulatory relationship with our nearest neighbours, so UK food and drink can flourish."
And sustainability champions the SRA said it would "urge the new Prime Minister to ensure that Brexit does not paralyse his government in the same way it has the last. We have a one-time opportunity to make the UK leaders in sustainable food and we'd call on Boris Johnson to use his will to find a way to support everyone, from farm and sea to fork, to create a system that makes the production of delicious food, affordable for everyone, including, most importantly, the planet."
Precis
Industry reacts to the new PM
UKHospitality has called on Boris Johnson to pursue an agenda of "positive reform" to boost UK business once he is officially installed as prime minister later today. "The new prime minister has recently spoken about wishing to unite the country," said UKHospitality CEO Kate Nicholls. "If he is serious, he now has an opportunity to act positively, to provide our high streets, businesses and communities with a boost. We want to see a positive agenda of change."