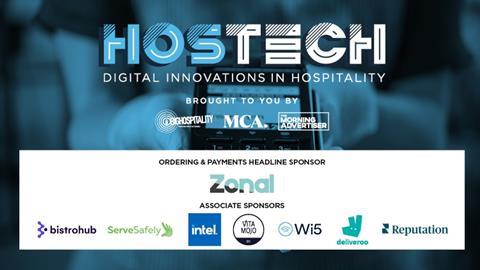 Hostech returns this month as a month-long virtual event and editorial series, bringing you the latest developments in digital technology in the hospitality industry.
A collaboration between MCA and Big Hospitality, the multi-media series runs throughout February and includes deep dive guides examining order and payment; back of house technology; delivery and click & collect; and customer marketing.
The series kicks off today with an exploration into how the pandemic and operating restrictions have led to an acceleration in adoption of order and pay technology, and the best examples of these.
Later in the month we welcome Pret a Manger chief information officer Sarah Venning who will give an exclusive interview about how the brand is looking to overcome the challenges of covid with a digital-first strategy.
Hostech 2021, which includes webinars, podcasts, case studies, interviews and guides, is underpinned by exclusive insight from Lumina Intelligence into operator tech choices.
Week one is sponsored by Zonal, alongside associate sponsors Bistrohub, ServeSafely, Intel, Vita Mojo, Wi5, Deliveroo and Reputation.
Register your details on our dedicated Hostech website to receive a weekly roundup of content, including our free tech guides.
Sign-up for our two free webinars, must-attend events for those tasked with driving efficiencies and encouraging loyalty in a tough trading climate.
Precis
HOSTECH

Tech conference returns as multi-media series
Hosetch returns as a month-long virtual event and editorial series, bringing you the latest developments in digital technology in the hospitality industry. A collaboration between MCA and Big Hospitality, the multi-media programme runs throughout February and includes deep-dive guides examining order and payment; back of house technology; delivery and click & collect; and customer marketing. Kicking off today with an exploration of order and pay apps, we look at how the pandemic has accelerated adoption of the technology. Later in the month we welcome Pret chief information officer Sarah Venning for an exclusive interview about the brand's digital strategy. Including webinars, podcasts, case studies, interviews and guides, Hostech 2021 is underpinned by insight from Lumina Intelligence into operator tech choices. To register your interest, click here