Launching MCA Masterclass Series The MCA Digital Growth in Hospitality Report, in association with Oracle Hospitality

The first of an exciting new series of bespoke MCA Masterclass reports has been launched, in partnership with Oracle Hospitality – the MCA Digital Growth in Hospitality Report.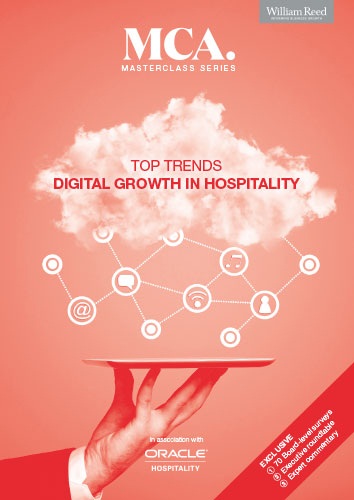 This substantial report drills deep into the technological issues facing the food service and hospitality industry. It is essential reading for all board level executives seeking fresh thinking about how technology can be leveraged to support growth within their business.
Detailed exploration
This report delivers powerful insight, resulting from a robust, three-sided approach:
Extraction of key digital findings from MCA´s Top of Mind Report, which is based on 70 probing interviews with board-level executives across the sector.


Thought leadership on digital growth, challenges and opportunities from senior IT professionals who attended an exclusive MCA Executive Roundtable.


Expert commentary and opinion from industry experts on the latest trends within key areas: Customer engagement, big data, disruptors, staffing and investment, improved internal collaboration, legacy, experimental & future technologies.
Who should read this?
This report is highly relevant for decision makers in the food service and hospitality industry, including operators, suppliers and their agencies: CEOs, CFOs, CTOs, CIOs, CDOs, CMOs, FDs, IT Managers, Marketing Directors, Digital and Social Media Managers, PR and Content Marketing Managers.
Our partner
Oracle Hospitality offers customers unparalleled expertise, scale, and innovation focused exclusively on the hospitality industry. The dedicated business unit supports the use of new technology to streamline operations, enhance customer loyalty, and increase profitability.
Get your FREE copy now
Please complete and submit the form opposite to receive your complimentary copy of the MCA Digital Growth in Hospitality Report. Please note that, by requesting a copy, you consent to your details being passed to our partner Oracle Corporation UK Limited.