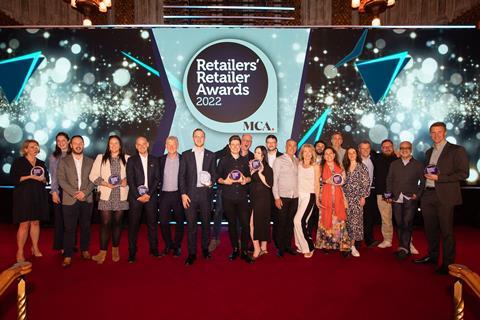 Nando's, Dishoom and Leon were among the winners at MCA's Retailers' Retailer Awards 2022 with Prezzo chair Karen Jones taking home the top accolade of Retailers' Retailer of the Year.
MCA was delighted to welcome back the senior leaders of the eating and drinking out sector to The Guildhall in London last night (23 March), for a particularly special event given the events of the past two years.
While the sector has been hit by Covid-related restrictions and now faces increasing cost pressures, the reshaping of the industry has continued with dynamic brands, with a resilient offering, able to exploit the post-pandemic landscape.
The evening kicked off with a VIP drinks reception, followed by a sit-down dinner and speech by host DJ and presenter Mark Radcliffe, followed by the awards, and celebrations into the night.
The ultimate award of the night – the Retailers' Retailer of the Year, sponsored by Uber Eats – was awarded to Karen Jones, chair of Prezzo, Hawksmoor and Mowgli. The winner is decided by the Retailers' Academy, made up of senior UK operators and MCA subscribers, as to who has been the most outstanding leader during the year.
While her main job sees her running Prezzo, it's her extracurricular activities which made Jones a favourite for Retailers Retailer of the Year 2022. Alongside her duties as chair across multiple businesses, the Cafe Rouge founder and former Spirit Group CEO is also an independent advisor to the Crown Estate, sits on Imbiba's advisory board and chairs Frontier Pubs, a JV with Stonegate.
Behind the scenes, she also co-chairs the Hospitality Sector Council, a collaboration with the government to find solutions to pressing issues such as labour shortages and supply chain challenges.
The Lifetime Achievement Award, sponsored by Asahi, was awarded to outgoing Greggs chief executive Roger Whiteside. During nearly ten years leading Greggs, Whiteside is credited with transforming the bakery business from a Northeast icon into a truly national business. Announcing his retirement earlier this year, he was well known in the sector before Greggs, having previously led Punch Taverns.
A firm favourite of the industry, Dishoom was once again crowned winner of the Best Company award, sponsored by Diversey Zenith Hygiene. The business has continued to impress with its constant improvement and a philosophy of doing the right thing. Not content with running eight restaurants, the team have also tried their hand at delivery, cook and home and recipe books with characteristic confidence.
Best Concept, sponsored by Aspall, was awarded to competitive socialising concept Flight Club. The business, operated by Red Engine, has reinvented darts for the modern age and has bounced back strongly after lockdown as consumers look for fun experiences.
While the winner of Emerging Concept, sponsored by Lumina Intelligence, was all-day neighbourhood restaurant group Megan's. Founded by Becky McKevitt, Megan's is known for its magical interiors and 'filthily delicious food', with the group currently operating 15 sites and continuing to grow.
Eataly Liverpool Street took home the award for Best New Opening, sponsored by Chapman Ventilation. Originally founded in Turin in 2007, Eataly has grown to more than 40 locations around the world, including New York, Milan and Dubai. It launched in London to much fanfare in May 2021, with the Liverpool Street location proving an instant hit.
The Evolution Award, sponsored by Vita Mojo, was won by Leon. One of several city operators that were impacted by a drop in footfall, Leon took the challenges in its stride, successfully restructuring the business. It went on to secure a new owner in forecourt giant EG Group, allowing it to fast-track its expansion into travel hubs, which has seen it launch its first drive-thru site, with more to come.
A new award for this year, International Newcomer, was awarded to Popeyes. As one of several fast-food brands to make a mark on Britain, Popeyes stood out for its viral marketing, ambitious opening target and high calibre management team.
Gail's Bakery's acquisition was recognised at Deal of the Year, sponsored by AlixPartners. Gail's saw strong sales in the past two years as people worked from home. Its premium positioning was tempting enough for Bain Capital Credit, McWin Food Ecosytem Fund (AmRest founder Henry McGovern and Steve Winegar's fund) and Capdesia to take a bite of the bread-maker, in a deal valuing it at more than £200m.
While TriSpan was named as Investor of the Year. Having added Pho to its portfolio last year, TriSpan has an eye on the future with the acquisition of the respected, trend-setting brand. Joining other investments Thunderbird Fried Chicken and Rosa's Thai, Pho's healthy Vietnamese cuisine has been tipped for major expansion under its new private equity backer.
Best Use of Tech, sponsored by Stint, was awarded to McDonald's. The global fast-food brand has continued to be a trailblazer for technology innovation in the hospitality industry. Having popularised self-ordering kiosks, the fast-food giant is now investing in artificial intelligence which it is using to automate drive-thru lanes and for voice ordering recognition
The inaugural Sustainability Award, sponsored by Pernod Ricard, was won by Nando's. Being a more sustainable business has been high on Nando's agenda for the past decade, but the past two years have seen it double-down on this commitment. With a target to reach net zero carbon per meal by 2030, the business is looking to add more plant-based dishes and reduce emissions with more sustainability produced ingredients.
The award was judged with the expert advice of Simon Heppner of Net Zero Now, Mark Chapman of Zero Carbon Forum, and Juliane Caillouette-Noble of the Sustainable Restaurants Association.
Back for a second year running, The Hero Award, sponsored by Red Bull was awarded to Mike Buckley, head of safety, audit and stock, Revolution Bars Group. For the past two years he has been at the coalface of understanding the complex Covid rules, restrictions and risk assessments, surpassing all expectations of colleagues.
UKHospitality CEO Kate Nicholls and MCA contributing editor Peter Martin assisted the MCA team in judging the award.
Well done to all our winners and finalists.
Full list of the winners:
Emerging Concept: Megan's
Best Concept: Flight Club
Best New Opening: Eataly Liverpool St
The Evolution Award: Leon
International Newcomer: Popeyes
Best Company: Dishoom
Deal of the Year: Gail's
Investor of the Year: TriSpan
Best use of Tech: McDonald's
The Sustainability Award: Nando's
The Hero Award: Mike Buckley, Revolution Bars Group
The Lifetime Achievement Award: Roger Whiteside
Retailers' Retailer of the Year: Karen Jones