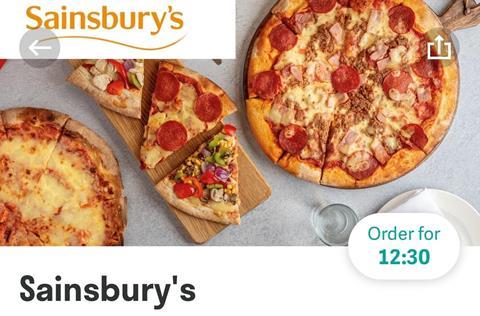 Deliveroo has started delivering hot pizza baked in Sainsbury's supermarkets – the first time one of the big four supermarkets has teamed up with Deliveroo.
Limited to a five-store trial, from Sainsbury's stores in Cambridge, Selly Oak, West Hove, Pimlico and Hornsey, customers can order from a range of 14" pizzas all priced at £6, as well as salads, dips, crisps, chocolate and soft drinks. There is no minimum order but there is a Deliveroo delivery charge of £3.39.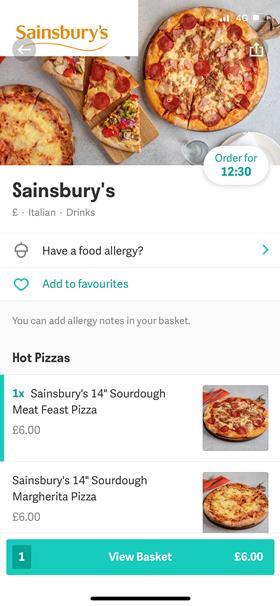 Sainsbury's has its own online delivery operation, which has a minimum order value of £25. Orders under £100 are charged between 50p and £9 for delivery. It doesn't deliver hot food.
Sainsbury's is expected to add more products during the trial, which is expected to run for two months. Although Sainsbury's is the first supermarket to team up with Deliveroo, other outlets like Nisa, BP and independent supermarkets offer a wide range of grocery, tobacco and alcohol through the service.
Sainsbury's also plans to keep its pizza counters open later in the day to handle a predicted rise in late night food from the participating stores and deploy extra staff.
Justin Landsberger, Deliveroo's commercial director said Deliveroo was "excited to launch Sainsbury's on Deliveroo and bring even more choice to our customers around the UK. At Deliveroo we pride ourselves on providing customers with an excellent selection of food options, catering for every occasion and this new partnership will allow us to do that."
Clodagh Moriarty, Sainsbury's chief digital officer, said the trial would bring Sainsbury's "great value hot food direct to customers' homes. We're committed to making it as quick and easy as possible for our customers to shop with us and we'll be listening to their feedback throughout the trial to understand how we can best serve their hot food delivery needs.
"We're excited to see what our customers think before deciding if, how and where we go next with the offer."
Earlier this month Asda teamed up with Just Eat to offer 30-minute deliveries.