The Modern Pantry's chef Anna Hansen chats to MCA's sister title Food Spark about how to remain relevant despite the tough conditions, the challenge of finding staff and the fact City workers' aren't bothered about perusing a menu.
This year chef Anna Hansen, celebrates 10 years of her Clerkenwell restaurant The ModernPantry. Her love of food can be traced back to her childhood in New Zealand, where Hansen would spend many hours exploring fresh ingredients with her Danish grandfather and culinary creativity in the kitchen with her Danish grandmother.
While she studied business management after school, a trip to London changed her life. She ended up in a job as a porter at the French Dining House, before rising through the ranks to chef and eventually taking full control of the kitchen. She then went on to work with Kiwi chef and fusion expert Peter Gordon where she says her imagination could run wild.
Here Hansen tells Food Spark why she believes her restaurant has stayed firmly in the frame this last decade and about balancing cooking with running her restaurant business. She also muses about her undying love for liquorice and her pet hate when it comes to eating out.
My grandparents inspired my love for food. They lived just down the road from us in New Zealand and had a massive vegetable patch. I used to dig up potatoes with my grandfather and eat these beautiful little sweet potatoes with butter of course: the Danish gene must always smother everything in dairy. Alongside this, I had aunties coming from Denmark with bags of liquorice and smelly cheeses. We could also go shooting and they had chickens, which we had to pluck and we'd gather eggs. My childhood was an amazing introduction into the world of food.
At school I made coconut slices with lurid pink food colouring. Education has changed so much. These days, my daughter isn't even allowed to take anything sweet into school with her if they have a packed lunch. No sugar, no sweets, no chocolate.
Now I have a small garden in Streatham, and we [Hansen and her family] grow vegetables whenever we can. We haven't got any chickens to kill but my daughter is quite okay with the idea of eating dead creatures, which is quite interesting. I think that comes from candid conversation – not trying to make anything more than it is.
A turning point for my love for food happened when I was 16. I worked for a woman in a delicatessen and at that point, I thought I'd really like to become a chef. Then my mother said I was too young, that it would be no life, that I'd never see my friends and that it was crap hours. She was right!
So I went away from cooking and studied business management. But I came back to cooking when I arrived in London aged 22, and began to work for Margot and Fergus Henderson as a kitchen porter. I had to make the bread and gut the fish and I thought: 'I really like this'.
My degree in business helped me understand how to cost dishes. I'm not a whizz at it, but I understand business plans and I'm reasonably comfortable looking at numbers and projecting figures. It's helped people have faith in me. I can show that I have an understanding of business, as well as cooking.
It was a good thing I came into cooking at 22. I might have got lost a bit if I'd started younger. It was a different generation, a real transitional phase for the London food scene. I don't feel I could have followed the same path if I was coming into it now.
Obviously I had a certain level of ability and enthusiasm which propelled me forward. Other people were confident in me, which gave me confidence. When I worked with Peter Gordon at The Providores, he unquestionably thought I had something to offer even though I didn't have the experience, which helped me to develop quickly. I was really lucky and was incredibly nurtured: Peter and Fergus were my two main mentors.
There were a lot of women working in those kitchens. I think it would have easily been 50/50 back then [in the early 1990s].
Generally speaking, kitchens are an intimidating environment for most people. It's a tough job. Some people are expecting people to do five doubles a week: not many people can do that, male or female. I think that the work environment needs to be more fair for everybody, because everybody deserves to have a life outside of work.
Our biggest challenge is finding staff. It's a trying time in the restaurant industry to be honest. But somehow you have to keep fresh and remind people you're here. There's no doubt that Modern Pantry has a strong following – but why would people want to come here when it's ten years old and not very on trend? We're still relevant, but what do we do to stay here? Somehow we're holding our own.
We're constantly reminding people we are around. We involve ourselves in the community. Collaborations are a great way to be visible such as the chef partners who came in to celebrate our tenth anniversary.
The Modern Pantry name came about because I was going to write a book called The Modern Pantry. Then a friend said to me: 'Who the hell is going to buy this book? You need bricks and mortar'. So this restaurant was born. The restaurant is all about what's in the modern day pantry. Ingredients which make you think: 'What the hell is that?'
The restaurant still feels fresh to me, ten years on. The art on the walls are the biggest changes in ten years. We're not a fancy pants restaurant, we're not too worried about technique. But our ingredients change regularly, alongside the art.
My weeks are eclectic. This morning I was on the radio, I spend a lot of time talking to the bank and my investors, and I do charity dinners and fishing trips. I'm still heavily involved in the kitchen but now my role is more about driving business. If I'm in the kitchen 24/7 then I can't be doing anything else.
My work in the kitchen depends on what's going on with staff. But I have an amazing head chef, Rob, who's worked with me for the last 10 years. He's basically my boss: he takes care of the day-to-day.
I've learned that if you want to be creative, you need space. You need your brain and your time. It doesn't come otherwise. That said, I'm still involved in weekly tastings and I'll come up with dishes and concepts which Rob will go and do.
We allow all our chefs to contribute to the menus. It's one of the reasons people enjoy working here, because that isn't really the case in other restaurants. We also operate a 48-hour week for the chefs. They do a double and then four days which works. If you do the night shift it's actually good because our kitchen shuts quite early. The flip side is if you're not here regularly enough it's hard to own your own section. Chefs are quite territorial about the work they do.
We thought we'd be able to be us over at Modern Pantry Finsbury Square, which has now closed. It was relatively busy but it wasn't getting busier. We had to word our menus differently because people don't want to read menus in the City – they just want simple menus which feature meat and fish.
We learned that the City crowd don't want to waste 15 minutes deciding what to eat. They come in for meetings and I got that and we did change our menus, but what also happened was that one of my managers at the flagship in Clerkenwell decided to steal money from us. Then we had a 50% rent increase, so it was like the perfect storm.
London landlords are so greedy and it's really short-sighted. Our landlord put up our rent by 40% and then demanded a back payment after two years. And business rates have gone up massively. I'm working my butt off and you're just breaking even so you sometimes think: 'What's the point?' Places aren't busy enough and the rent is way too high. Something's not quite right.
People think restaurants get great deals. We don't. My veggie guy can't necessarily offer me a cheaper deal than he does the supermarkets.
I wouldn't want to open a new restaurant now. We need to wait for the dust to settle. But if I did open again, I'd get out of central London. Soho is just back-to-back with restaurants.
You don't get to dictate what you put on your menu. You can't put sea bass on the menu if it isn't available. Why should we have access to every single fish in the world every day? In theory we should only use stuff that is seasonal. I feel like restaurants should feel obliged to use what is available, rather than something because we feel like eating it on that day.
Sometimes I'm like: 'Can I have an entire meal on a plate?' One of my biggest gripes when I go out for dinner is having to order separate dishes. I want a complete freaking meal. You end up paying £50 for a main course when ordering sides – but it's a great business model.
To cost out a dish, we multiply by four. That covers your staff, the cost of the building, insurance, payroll, pensions, holiday, electricity and gas. There's a profit margin, which you never make: it's supposed to be 25% but you never make that. In terms of what guests pay for, it's the linen, the nice glass, someone running around after you. The food only makes up a quarter of the experience you're paying for.
In terms of sustainability, I think everybody should have rainwater tanks with filters. And support your local producers. Steer clear of supermarkets too. You can get a box of tomatoes for like five quid from your grocers.
You can't always have a full menu which suits everybody. Sometimes expectations are unrealistic. If you're not a vegan restaurant, you're not a vegan restaurant. It's a very specific way of eating but of course we do support it. We will always have vegan and vegetarian dishes.
The good thing about fusion is that it goes on forever. There are so many different ingredients which is why I love it. It's limitless and allows for creativity.
One really interesting thing I did recently was slow cooked octopus with chilli and garlic in its own juices, cooked really slowly so it becomes very intense and delicious. Then a macadamia and liquorice pesto is served with it and smoked ricotta. That balance of the creamy smoky ricotta and liquorice is amazing together which you wouldn't really think.
I love liquorice, so I will continue to develop food with it. Maybe my next book should be on liquorice. It's very versatile.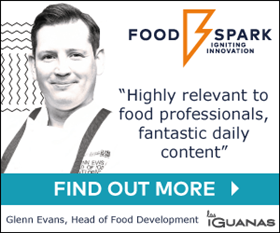 Article originally published on foodspark.com, a digital subscription service designed to inspire and inform innovation across the food industry.
For anyone needing to stay ahead of the culinary curve, Food Spark will offer immediate access to the emerging trends, ingredients, personalities and headwinds defining the future of food. Explore more content by visiting Food Spark or by requesting a demo: joinus@foodspark.com or 01293 610371.