Consumer spending in pubs, restaurants and hotels increased by 7.6% year-on-year in December, according to the latest Visa UK Consumer Spending Index.

The £10.1bn UK coffee shop market grew by 7.9% in turnover in 2018, representing 20 consecutive years of sales and outlet growth, according to Allegra.

Sector like-for-like sales (lfls) grew 4.1% for the six-week Christmas and New Year period, according to the latest Coffer Peach Business Tracker.

Consumers plan to curb their spending on going to the pub, eating out, and ordering takeaway in 2019, according to research by RSM.
Foodservice price inflation exceeded 6% in November, driven by steep rises in dairy, fish, oils and fats, the latest figures show.

The number of promotional offers run by the Top 25 Branded Restaurants increased by 4% December, compared with the previous year, according to analysis by MCA. But, while promotional offers on food increased, drink-based deals fell.

The number of workers joining the hospitality sector from the European Union increased in November, as the draw of seasonal jobs remained strong, new data from Fourth has revealed.
Paul Newman, RSM's head of leisure and hospitality predicts some of the major trends we are likely to see in the sector in 2019.

More than a quarter of consumers (27%) say ordering home delivery makes them less likely to eat out in a restaurant – rising to 32% for 18-34 year olds, the latest MCA research reveals.

Good news stories have often been hard to come by in the sector of late but according to MCA's head of consumer insight, Gareth Nash, there are plenty of reasons to be cheerful when you look closely at the figures behind the recent performance of the eating-out sector

In the latest of a series of articles on brand propositions within the key segments of the eating and drinking-out industry, Ian Dunstall looks at the key players in this largely lunch-led market sector.

In a challenging climate for the casual-dining sector, what is the health of those operators in the middle ground? MCA's director of insight Steve Gotham analyses some key players using a range of MCA's analytic tools

Pizza and pasta offers have been vital to the expansion of the casual-dining scene over the past few years. As a result, this segment is hugely competitive and standing out has become increasingly important. MCA's Steve Gotham looks at data from the Eating Out Panel to assess how key players are performing
In increasingly uncertain times, a declining share of UK consumers are eating out of home, as they display greater prudence with their discretionary spend. Out of home lunch frequency in November was the 2nd lowest on record, after a 3% year-on-year fall, while growth at other meal-times was stagnant. With significant increases in the average spend per occasion at each day-part, menu price rises appear to be having an adverse impact on footfall. A fall in the popularity of the highest ...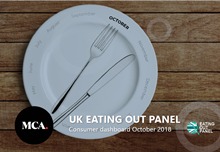 Eating out consumers continue to show restraint in their spending, faced with the ongoing uncertainties around Brexit and pressures on household finances. Lunch frequency decreased by 4% year-on-year, the fourth biggest monthly drop of 2018. Contract catering channels were amongst the worst hit, as workers and students appear to be packing more lunches to reduce unnecessary costs. Breakfast appears unaffected by consumer cutbacks, with a 4% rise in frequency taking levels well ahead ...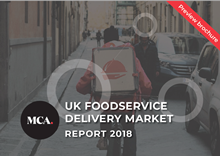 Insight into the UK takeaway delivery market, the competitive landscape, consumer audiences and future outlook