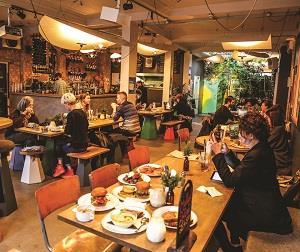 Britain's managed pubs, bars and restaurants saw like-for-like sales decline 0.9% in September
The number of female chefs in the UK has risen by a third since 2016, the biggest increase in the last five years
New research has revealed that 44% of British people are drinking less this year when going out then they did last year.
Consumers are set to spend £562m on drinks out-of-home this Christmas with 211 million on-trade visits expected, new research has shown.

All-day dining has been identified as a key growth area for the eating out sector – though many consumers are still unfamiliar with the phrase, near research reveals.
MCA's Menu Tracker has given Steve Gotham the opportunity to look at the latest menu releases by top leading pub chains Hungry Horse and JD Wetherspoon

New research shows that 94% of UK consumers are willing to join a loyalty scheme but also highlights the challenge that they have never been harder to please. James Wallin examines what the data has to say about the secret of winning consumer loyalty to your programme.

MCA director of insight, Steve Gotham, looks at which operators topped the league tables for friendly and speedy service during 2016 and what lessons we can learn from their success.
According to the latest analysis by Fourth, real hourly pay in hospitality has raced ahead of the National Living Wage to hit £7.71. 

The latest data from MCA's comprehensive Eating Out Panel has revealed a strong showing for pub companies, outperforming their restaurant counterparts in terms of net promoter scores throughout the day. MCA's director of insight, Steve Gotham, looks at some of the reasons the Great British pub is still resonating so strongly with consumers.
MCA News & Opinion subscribers also receive the Eating Out Panel monthly Consumer Dashboard - the UK's most accurate and insightful continuous dataset on eating out trends. The analysis provides monthly tracking of consumer behaviour and perceptions.
---
The latest data from MCA's Eating Out Panel shows that August brought further declines in annual visit frequency, but less severe than in July and actually with a modest uplift compared with this previous month. 
The latest data from MCA's Eating Out Panel shows that there has been a further setback for the UK Eating Out market in July, as total occasion frequency dropped to the lowest level for two years after significant decreases at every day-part.
The lastest data from MCA's Eating Out Panel shows significant frequency decreases in June are a continuation of concerning trends recorded throughout 2017 so far, with the exception only of May.