Turnover decline in the restaurant sector is set to slump to its lowest point since the recession, according to the latest data from MCA.

A survey of sector leaders has revealed 71% feel Brexit has already had a negative effect on their business – rising to 80% in London.

Food to go's relevance to petrol forecourt convenience stores is on the wane in favour of top-up and treat missions, research from MCA's sister company Him reveals.

Consumer spending in Hotels, Restaurants & Bars increased by 4.7% in August 2018, according to the latest spending index from Visa UK – the biggest category increase last month.

Restaurant groups returned to like-for-like sales (lfls) growth in August with London again outperforming the regions, according to the latest Coffer Peach Business Tracker.

Average spend on a night out has fallen year-on-year but revellers are going out more often and willing to travel further, according to the latest Deltic Night Index.

The majority of restaurants are falling behind consumer expectations when it comes to ethical standards, according to the author of a new guide by Ethical Consumer.

The annual number of restaurant failures in Scotland rose from 19 in 2007 to 73 in 2017, according to analysis of Insolvency Service data by business advisers French Duncan.

Bristol has seen faster growth in managed pub and restaurant sales than any other major British city

In a challenging climate for the casual-dining sector, what is the health of those operators in the middle ground? MCA's director of insight Steve Gotham analyses some key players using a range of MCA's analytic tools

Pizza and pasta offers have been vital to the expansion of the casual-dining scene over the past few years. As a result, this segment is hugely competitive and standing out has become increasingly important. MCA's Steve Gotham looks at data from the Eating Out Panel to assess how key players are performing

The AlixPartners Growth Company Index 2018, announced earlier this month, highlights the fastest growing operators in the sector but there are still a number of the brightest talents in the industry who did not make the list. Here we profile a few to watch for next year's index.

Which operators are making the greatest strides in evolving their product offer, who stands out for their approach to pricing? Steve Gotham looks at what data from MCA's Menu Tracker can tell us on the crucial subjects of price and product innovation.
Eating out occasions at lunch decreased in August, continuing a downward trend of Summer 2018, according to the latest data from MCA's Eating Out Panel.  Breakfast and dinner visits saw an increase in frequency, while also growing the average spend per head per visit.  The highest ticket item, dinner, achieved the highest average spend on record in August 2018, just a penny short of the £20 mark.  Coffee shops/cafés grew their share of breakfast occasions, reaching the highest share ...
There was a mixed market performance in July 2018, suggestive of more mindful eating out behaviours. Pubs struggled most at lunch, with the World Cup and heatwave more beneficial to wet-led visits. The shining light was breakfast, with frequency growing at its fastest rate for two years. Fast food, sandwich shops and supermarkets to-go/c-stores also profited from growing needs for food to go, as the Summer heat drove an abundance of outdoor occasions.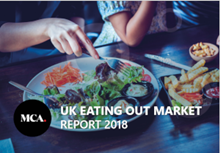 The eating out sector is set to increase by £5bn in the next three years, with 1.5% growth rate in 2018. MCA's Eating Out Market Report 2018 features 150+ pages of data and analysis on the UK eating out market, changes to the competitive landscape, the evolution of consumer trends and forecasts.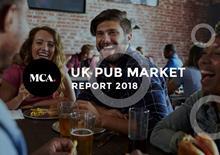 The UK pub market is set to grow by 1.6% in 2018, ahead of the Eating Out market at 1.5%. MCA's UK Pub Market Report 2018 shows that wet-led resurgence is helping reverse pub fortunes and halt pub closures – but is not the panacea for the future success of the pub sector. This 200-page report provides insights and data on the UK pub market, its competitive landscape, product and price movements, consumer behaviour and factors for future growth.