Collective like-for-like (lfl) sales growth across the pub and restaurant sector was relatively flat during October, up 0.2%, according to the latest Coffer Peach Business Tracker.
Nutrition, healthy eating and sustainability are the driving forces in an increasingly diverse food service management sector, according to a new report.

The number of out-of-home bakery occasions has increased by 1%, to 1.393bn during Q3 2018, on the comparable period in 2017, according to the latest MCA data.

JD Wetherspoon continues to be the dominant pub brand in terms of share of visits but Farmhouse Inns tops the rankings for average customer scores, data from MCA has shown.

The number of non-UK-born workers in the UK decreased by 58,000 between April to June last year and the same period this year, according to HR body CIPD.

A report commissioned by Deliveroo based on thousands of interviews with its riders has claimed that participants see no merit in Government intervention in the gig economy.

Consumer spending growth in restaurants, bar and hotels shrunk to +1.0% year-on-year in October 2018, compared with +7.6% annual growth seen last month, according to the latest report from Visa UK.

The demand for night time activities in London is set to increase over the next 20 years, however drinking alcohol is likely to be a less frequent pastime, according to a new report from GLA Economics.
As Harden's publishes its 28th annual restaurant guide, founder Peter Harden talks to MCA about his interpretation of the findings, which reveal closures at the highest level since in the guide's history.

In a challenging climate for the casual-dining sector, what is the health of those operators in the middle ground? MCA's director of insight Steve Gotham analyses some key players using a range of MCA's analytic tools

Pizza and pasta offers have been vital to the expansion of the casual-dining scene over the past few years. As a result, this segment is hugely competitive and standing out has become increasingly important. MCA's Steve Gotham looks at data from the Eating Out Panel to assess how key players are performing

The AlixPartners Growth Company Index 2018, announced earlier this month, highlights the fastest growing operators in the sector but there are still a number of the brightest talents in the industry who did not make the list. Here we profile a few to watch for next year's index.

Which operators are making the greatest strides in evolving their product offer, who stands out for their approach to pricing? Steve Gotham looks at what data from MCA's Menu Tracker can tell us on the crucial subjects of price and product innovation.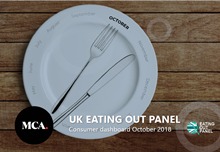 Eating out consumers continue to show restraint in their spending, faced with the ongoing uncertainties around Brexit and pressures on household finances. Lunch frequency decreased by 4% year-on-year, the fourth biggest monthly drop of 2018. Contract catering channels were amongst the worst hit, as workers and students appear to be packing more lunches to reduce unnecessary costs. Breakfast appears unaffected by consumer cutbacks, with a 4% rise in frequency taking levels well ahead ...
Eating out participation fell to 92.3% in September 2018 and average occasions per head per month declined at lunch and dinner. Lunch frequency has fallen to the lowest level on record but breakfast achieved the highest share of meal visits on record. The coffee shop/café channel has performed impressively relative to last year, now the third most popular channel at lunch, overtaking sandwich retailers, and remains the most popular for breakfast.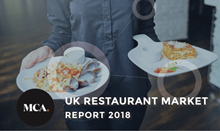 The UK Restaurant Market Report 2018 from MCA offers a complete overview of the restaurant industry, with insight into the latest developments in branded, independent and fine dining restaurants, as well as comparatives in pubs and fast food.