Simon Mullins, co-founder of the London-based Salt Yard Group, has stepped down as its managing director

Pub operator and brewer Brakspear has made two key appointments to its managed house team - a retail marketing manager and an executive chef.
Gerard Winder, business development manager in Brakspear's tenanted & leased estate, is to join Hook Norton Brewery as its operations manager next year.

Keith Edelman, the chairman of Revolution Bars Groups and former Arsenal managing director has been named as a non-executive director of Appetise.

Be At One has launched a staff incentive scheme with rum brand Sailor Jerry to win Harley Davidson Street 750 motorbike.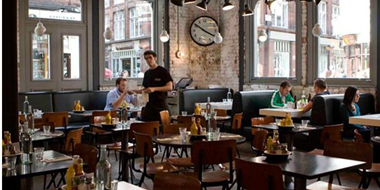 After a few months of searching, Hutton Collins, the backer of better burger chain Byron, has decided to stick with what it knows, in appointing Simon Cope as its new chief executive. It will now be down to Cope to plot a steady course to take the brand back to where it was – one of the sector's key growth brands
At leading executive recruitment agency, the Savannah Group's latest quarterly Hospitality, Travel & Leisure Boardroom Lunch, partner Tim Clouting discussed with sector chairman and chief executives how to use timing and luck to your advantage, how do you become better at it and how do you bring them more firmly under your control

A plethora of changes at the top across some of the UK's leading and up-and-coming eating and drinking-out groups has thrown up questions on the role of succession planning in the sector and whether private-equity groups are increasingly questioning existing growth strategies and those they have backed to implement them in the face of a challenging trading environment. Mark Wingett gets the thoughts of leading recruitment executives.

With Simon Cope installed as Byron's new managing director, does the appointment and continued search for a chief executive throw up more questions than it answers?
The past few months have seen a number of high-profile departures at head offices across the eating-out sector. Dominic Walsh examines the legacy of two of the most prominent and surprising decisions to move on to pastures new
"M&C Report has it's finger on the pulse of the leisure and hospitality industry and provides an invaluable source of market insight to its readers"

Andy Harrison, Whitbread