Proposals to change the indexation for business rates calculations could save pubs and restaurants £40m in the first three years of the change, according to rates experts.
Scottish Labour has backed plans by an MSP to bring in a pubs code north of the border.
Business rates bills for the UK's 17 Michelin-starred pub restaurants are set to rise £1m following the revaluation, new research has shown.
Matthew Taylor, who will today unveil his long-awaited review into the gig economy has insisted that his recommendations will not add to the burdens on businesses.
The Association of Licensed Multiple Retailers (ALMR) has warned that any move by the Low Pay Commission (LPC) to 'drastically increase wage rates' could put pub sector jobs at risk.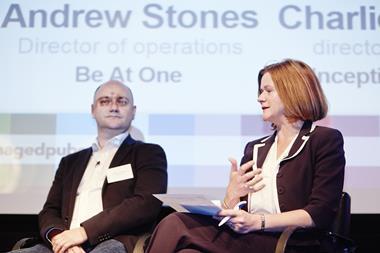 Kate Nicholls, chief executive of the Association of Licensed Multiple Retailers, dissects the details of this week's Budget announcements and its impact on the sector.
Significant changes to the way the planning system treats pubs, as part of the Neighbourhood Planning Bill, come into force later this month. Here, British Beer & Pub Association chief executive Brigid Simmonds explains how operators will be affected.
Chris Snowdon, of the Institute of Economic Affairs, was one of the guest speakers at MCA's FD Leaders Club yesterday. He discussed the ongoing campaign by the anti-alcohol lobby to pressurise the Government into further regulation despite overwhelming evidence that consumption has been falling for years.
Chris Snowdon, lifestyle economist at the Institute of Economic Affairs, revisits one of this year's headline grabbing health scares – the concerns over acrylamide.
Licensing law firm Poppleston Allen investigates the situation in Southampton – one year on from the introduction of Late Night Levy. Using data from Freedom of Information Requests, the group looks at the costs, impact and effectiveness of the measure.
"M&C Report has it's finger on the pulse of the leisure and hospitality industry and provides an invaluable source of market insight to its readers"

Andy Harrison, Whitbread