The Association of Licensed Multiple Retailers has warned that not enough is being done by councils to ensure promised rates relief is being distributed to businesses.
The UK is facing the greatest threat to the integrity of its food supply since World War II 

David Forde, chairman of the British Beer & Pub Association, has said action is sorely needed to avoid an unsustainable tax burden on the sector.
The leader of the Liberal Democrats has said the Government has left "thousands of pubs in the lurch".
The Food Standards Agency has said it found "no evidence" of safety breaches after investigating allegations about Boparan Holdings parent company, 2 Sisters Group.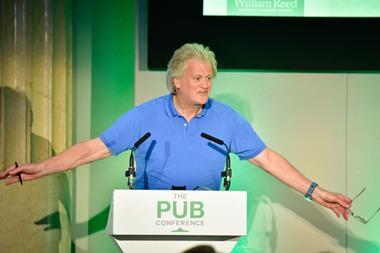 JD Wetherspoon chairman Tim Martin writes in defence of Boris Johnson and says those attacking him for perceived falsehoods in his campaign to quit the EU have often been guilty of peddling fake news themselves.
With the clock ticking on Britain's exit from the EU, concerns are mounting over the impact on the nation's hospitality sector. Rose Carey, partner at Charles Russell Speechlys, reports

Kate Nicholls, chief executive of the Association of Licensed Multiple Retailers, dissects the details of this week's Budget announcements and its impact on the sector.
After years of fierce arguments, some surprising twists and a few false starts, the pubs code came into force on 21 July 2016. A year on and tenanted and leased pub companies have told MCA of their frustration at the impact it has had on their relationship with tenants but have pledged their continued support for the model. James Wallin reports
Significant changes to the way the planning system treats pubs, as part of the Neighbourhood Planning Bill, come into force later this month. Here, British Beer & Pub Association chief executive Brigid Simmonds explains how operators will be affected.
"M&C Report has it's finger on the pulse of the leisure and hospitality industry and provides an invaluable source of market insight to its readers"

Andy Harrison, Whitbread