UK consumer confidence has staged a slight recovery from its lowest level since just after the Brexit vote
Businesses are feeling less confident about the economy and their own trading prospects than they have at any point during the last year, according to new research by Lloyds Bank
Worries about the economic outlook and a squeeze on household budgets has dented consumer confidence
UK consumer confidence has dropped for the third quarter in a row with a three percentage point fall in the three months to June
British families suffered steepest drop in disposable income for almost four years last month
Consumer spending growth slowed to 2.8% in May – despite Brits continuing to spend on the 'experience economy' – as overall confidence in household spending power cooled in response to inflation.
Consumers spent 5.5% more year-on-year in April as a late Easter and inflation drove noticeable uplifts
Rising inflation and wage stagnation caused a slowdown in UK household spending growth to 0.5% year-on-year in April
Consumers spent 4% more year-on-year in February with entertainment spend up 10.8%.
UK GDP increased by an estimated 0.6% in Q4 2016, driven by a strong performance in the service sector, with hotels and restaurants singled out for performing particularly well, according to the latest data released by the ONS.
The Galvin at Windows GM, star of the small screen, industry champion and prolific fundraiser has a new book, Secret Service, out next month. With so many plates spinning, how does the country's most recognisable front-of-house man manage to prevent it all from crashing down, asks Sophie Witts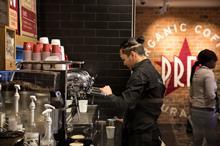 Queues at airport restaurants and food outlets are a common sight, especially at peak travel times, as transport hubs around the world deal with surging numbers of travelers. In response, a new batch of pick-up and delivery services has arrived on the scene to offer time-poor passengers an alternative to holding out for on-board plane food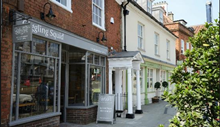 The Business Growth Fund (BGF) has come a long way, far further than many imagined possible. Founded to support small and mid-sized emerging businesses during a difficult economic climate in 2011, it is now arguably the UK's most active provider of growth capital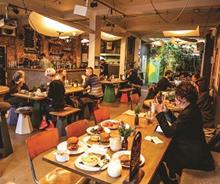 It's heads down, gritted-teeth tough out there at the moment for the majority of the UK's eating and drinking-out market, and there aren't many signs that things are going to pick up soon. Also what next for Byron?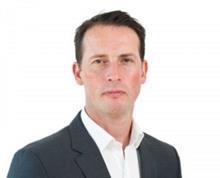 In his first year as chief executive of The Restaurant Group, Andy McCue, has made good progress, but are his hands ultimately tied by the weakness of the group's core brands? Dominic Walsh discusses this dilemma as well as examining the successful takeover of Admiral Taverns and a Deliveroo deal that never was