Operator analysis
---
Identify opportunities through analysis of outlet growth and eating and drinking out segments. Monthly operator analysis reports are available as part of an annual subscription to MCA's Operator Data Index - not subscribed yet?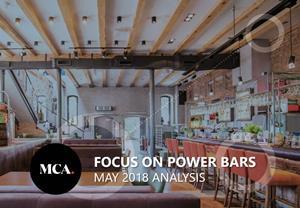 Power Bars are all-day, high capacity, urban social hubs, found in city centres and busy worker districts. The report provides details on The Alchemist, Archie's Bar & Kitchen, Balls Brothers, Banyan Bar & Kitchen, The Botanist, Copper Café, Drake & Morgan, Greenwood, The Lighterman and No. 29 Power Station West.

Forecast to grow by 5.6% to a total of 5,017 sites, the UK branded coffee market is being driven by the sustained expansion of the three key players, Costa, Starbucks and Caffè Nero, and by newer market entrants continuing significant growth including Coffee Republic and Esquires.  

The branded Middle Eastern market is expected to reach £143 million in 2018.

Outlet growth ongoing but slowing in face of challenging market pressures

Leading brands boosting sales through promotions, with upselling key

Contemporary operators igniting growth in branded Indian market

UK Branded bakery market to reach £1.4 billion in 2017, driven by enduring demand and artisanal entrants  

Contemporary fast food continues to outperform, on the back of more demand for healthier convenience, higher food quality and food trend agenda setting

Japanese brands tick consumer trend boxes as the market grows strongly to reach £797 million in 2017  

Branded restaurants lead capitalisation of social media as pubs fall behind 

Branded restaurants leading the growing casualisation of the wider Eating Out market. 
Branded South East Asian market to exceed value of £260 million in 2017, driven by Thai cuisine