Operator analysis
---
Identify opportunities through analysis of outlet growth and eating and drinking out segments. Monthly operator analysis reports are available as part of an annual subscription to MCA's Operator Data Index - not subscribed yet?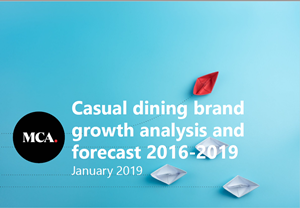 Both traditional and contemporary fast food segments growing amidst branded restaurant and pub/bar restaurant decline. Growth from the leading casual dining brands is being led by fast food, with both brands in traditional and contemporary fast food set to see segment growth in 2019. Fast food operators often benefit from using franchise models and smaller format stores, equating to more risk-adverse site additions. Fast food also benefits from being a lower ticket eating out occasion, ...

Modest increase in promotional activity this Christmas as restaurant chains fight for footfall.

The analysis piece takes an in-depth look into food & beverage sales at the UK's Top 10 garden centre chains, growth in outlets and turnover, and how food and beverage offers can drive footfall, dwell time and consumer loyalty.

Healthier eating is a mega trend that has been disrupting the UK Eating Out market. The analysis highlights key statistics on UK healthier eating chains and developments within the channel, alongside providing an insight into how other channels are adapting to consumer demand for healthier options, and innovative developments in the healthier eating space around convenience and technology.

The Premium Casual Dining market has grown ahead of the total Branded Restaurant market in recent years, supported by growing consumer demands for more aspiration and higher quality in food and drink, stylish and modern settings, and unique and creative storylines in menus and surroundings.

The UK street food market has consistently grown faster than the total fast food market, starting from a much smaller base. It is estimated to reach a total value of £1.2bn in 2018. The analysis highlights key statistics on the UK street food market, successful street food companies (e.g. Street Feast, GRUB, Market Operations, KERB, …) and the influences on the wider eating out sector.

Power Bars are all-day, high capacity, urban social hubs, found in city centres and busy worker districts. The report provides details on The Alchemist, Archie's Bar & Kitchen, Balls Brothers, Banyan Bar & Kitchen, The Botanist, Copper Café, Drake & Morgan, Greenwood, The Lighterman and No. 29 Power Station West.

Forecast to grow by 5.6% to a total of 5,017 sites, the UK branded coffee market is being driven by the sustained expansion of the three key players, Costa, Starbucks and Caffè Nero, and by newer market entrants continuing significant growth including Coffee Republic and Esquires.  

The branded Middle Eastern market is expected to reach £143 million in 2018.

Outlet growth ongoing but slowing in face of challenging market pressures

Leading brands boosting sales through promotions, with upselling key

Contemporary operators igniting growth in branded Indian market