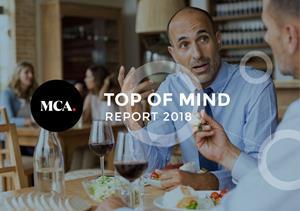 Business leaders in the UK eating & drinking out industry share their views on the current and future state of the sector

Insight into the UK food-to-go market, the competitive landscape, consumer needs and future outlook

Insight into the UK takeaway delivery market, the competitive landscape, consumer audiences and future outlook

Insight into UK contract catering companies, the competitive landscape of the UK contract catering market, consumer behaviour and the future of this £4.7bn industry.

Turbulent times in the UK restaurant industry require skilful navigation…

MCA's trusted eating-and-drinking-out insight is essential for foodservice businesses looking to fully understand, and respond proactively to, the latest market developments.

The UK Pub Market Report 2017 from MCA explores the competitive landscape and predictions for the pub market. It provides you with 260 pages packed with critical insight and valuable analysis.
The Menu & Food Trends Report 2017 is essential reading for those who want to truly understand the market landscape and explore menu composition…

Released on 9th February 2017, the MCA "UK food-to-go" market report delivers authoritative analysis, through a combination of quantitative and qualitative research of the key issues facing the food-to-go market today.

Providing business leaders with valuable insight into key market developments and the most critical business issues currently facing the UK food and beverage sector.