Unlike the rest of us, Just Eat has had a pretty good year.
From that fateful day in March, as the nation was informed that they "must stay home" in a then unprecedented (three-week) lockdown, eating in became the new eating out.
Though delivery uptake wasn't as strong as expected in those first few weeks, it soon started to improve, with consumers using food delivery services on average 2.5 times a week by mid-April, according to data from Lumina Intelligence.
By the time weeks of lockdown had turned into months, and dine-in operators began the slow road to recovery in July, the three main delivery aggregators had all seen record sales.
Uber Eats UK GM Toussaint Wattinne reported double-digit delivery growth for operators on its platform in June, and Deliveroo CEO Will Shu announced just this week that the business had grown its UK and Ireland market by 100% during the pandemic.
But with recent Lumina Intelligence data revealing that around 14% of consumers order from Just Eat each week – compared to around 8% from Uber Eats and 5% from Deliveroo – the crisis has been particularly advantageous for the company, serving to consolidate its top position in the market.
The brand saw a 33% jump in orders as a result of the first lockdown – with breakfast and lunch orders rising by 50% and 80% respectively – and the upward trend has since continued.
In October, Just Eat reported UK orders had grown by 27% (to £123.2m) in the year to date, up 43% year-on-year in its third quarter alone, which translated to £46.4m in sales.
The link between dine-in closure and delivery uptick is indisputable, and it's unlikely the company's figures, as well as those of its competitors, would have been so exceptional if it hadn't been for the millions of households up and down the country that were, frankly, starved for other means of enjoyment.
However, whilst the crisis may have escalated Just Eat's rapid growth, it was by no means the catalyst.
In June 2019, the company reported a sales uplift of 30% in the previous six-month period, with orders increasing by 21% and the platform gaining an additional two million customers, covering 50% of UK homes.
Previously associated with independents and smaller chains, Just Eat has started to push its portfolio of branded operators in recent years. By the end of 2019, it had listed 25 of the top 100 casual dining operators – including KFC, Burger King and Wagamama – on its platform, as well as a series of other household names including Subway and Papa John's.
But despite the surface positives, pre-tax profits for H1 2019 were down 98% as a result of heavy investments, prompting an event to rival the pandemic in terms of its effect on the business: its merger with Takeaway.com.
Following a bitter bidding war with Prosus and an extensive CMA investigation, the £6bn deal was finally approved at the beginning of this year, and the newly-formed company wasted no time in moving forward.
In April, Just Eat Takeaway.com raised €700m through an accelerated bookbuild, with proceeds intended to partially pay down revolving credit facilities and to provide the business with "financial flexibility to act on strategic opportunities which may arise."
It wasn't too long before such an opportunity did – in June, the company further consolidated its position in the global market by buying US aggregator Grubhub for $7.3bn (£5.74bn).
Reflecting on the company's growth shortly after the Grubhub acquisition, the Times and MCA columnist Dominic Walsh commented that its current global CEO Jitse Groen had taken former Just Eat CEO David Buttress' mantra of "number one or nowhere" to new heights.
"Jitse Groen, the boss of Just Eat Takeaway.com (or whatever it changes its name to after the Grubhub deal) is now pursuing global domination," he said.
And it seems he might be right.
In August, Just Eat Takeaway.com reached €1 billion in revenue for the first half of 2020, compared with €715 million in the first half of 2019, and saw an adjusted EBITDA uplift of 133% to €177 million (€76 million in 2019).
Unsurprisingly as a result of expenses connected to its two momentous takeover bids, losses for the period had also grown (to €158 million, compared to a loss of €27 million in the first half of 2019).
With operators eager to enter the delivery space and showing a faltering aggregator loyalty since the start of the pandemic, the likes of Gregg's, McDonald's, Pret and Greene King have all joined Just Eat's rapidly growing platform, and Groen has since announced plans to invest "tens of millions of pounds" and hire "thousands of people" in the UK market.
Putting his words into action, the group announced just this week it is to launch a new agency worker model for couriers, which will see its current pay-per job model replaced with hourly pay, putting workers under full-time, part-time or zero-hours contracts and entitling them to minimum or living wage, pension contributions, holiday pay, sick pay and maternity or paternity pay.
By next year, all its 1,500 staff will be able to benefit from the new system, and the company has said the move could create more than 1,000 new jobs by March.
Going into 2021 with bigger brands, enhanced outreach and improved employee conditions, it looks like Just Eat is in for another momentous year.
One brand that long pre-dates the pandemic-fuelled shift to Just Eat is Burger King.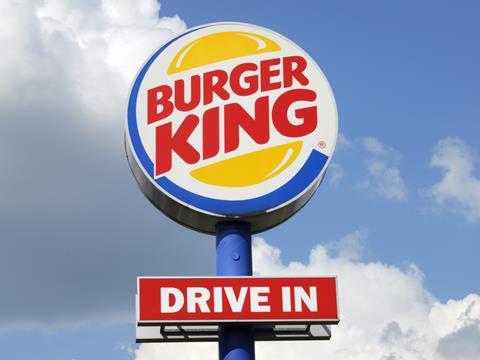 Having first trialled its own delivery operations from just eight locations in 2015, Burger King launched on Just Eat two years later, pledging to extend delivery to 100 locations by the end of 2017.
A £50m takeover by Bridgepoint, complete revamp of its senior team – enter former Pizza Hut UK and Gourmet Burger Kitchen head Alasdair Murdoch as CEO – and a new store design and kiosk roll-out later, delivery has remained a valuable part of the brand's operation in recent years.
When Bridgepoint took over the company in November 2017 – creating the master franchisee Burger King UK – it inherited an array of neglected franchisee relationships, over ten POS providers, 20 versions within those systems and thousands of different product number identifiers across the software.
Speaking in 2018, when the company extended its delivery partnerships to include Deliveroo, Murdoch outlined the difficulties the business had in rolling out the service.
"It is an obvious opportunity, but at the moment our tech isn't ready for the complete integration needed, so that needs to be step one," he said. "We need to develop an integrated plan, focusing first on what we need to do – for example getting our teams to embrace using delivery."
I imagine he wasn't quite aware of just how willing to embrace it they would need to be.
When the pandemic hit and the business had to close its 515 sites, like almost every other brand in the QSR space, Burger King turned to delivery and drive thru as its only remaining means to drive revenue.
Over the course of lockdown, the brand reopened sites for delivery in waves, starting with just four on 16 April.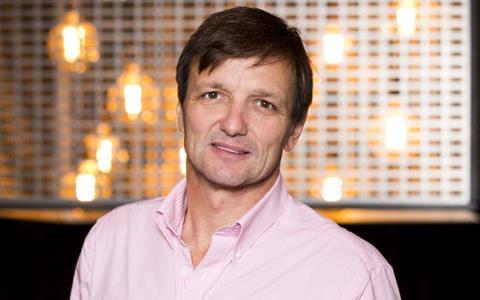 In May, Murdoch announced it would open a further 35 restaurants for delivery and drive-thru, as it looked to "get on the front foot, and get ourselves into an economically better position, not for today but for tomorrow."
Today – or Murdoch's tomorrow – the brand, like so many others, is in the process of building back after a constant stream of setbacks and challenges.
As a result of the ongoing rent stalemate, Murdoch warned in July that the business could be forced to shut up to 10% of its restaurants, at a loss of 1,600 jobs, because of the crisis, a prediction that became all-too real as it announced it was working with AlixPartners in September to look at a possible company voluntary arrangement (CVA) or pre-pack administration for its 33-strong Kout Food Group, less than 12 months after acquiring it.
According to Lumina Intelligence's October Operator Index, the outlet decline for branded restaurants has already hit 7.5% this year, and the insight tracker predicts seven of the top ten casual dining brands – Burger King included – are set to experience closures going forward.
Faced with this uncertain future for its restaurant estate, it has never been more important for the brand to enhance its delivery operations – which are now available via Just Eat, Deliveroo and Uber Eats.
"Above all, you need to take action," Murdoch told attendees at MCA's Restaurant Conference in 2019. "No one likes a ditherer."
As Burger King navigates the next few months steered by this decisive leadership, it will be interesting to see what action it decides to take.
Experience
I feel as though I should start by saying that I am, and have always been, team Burger King. Because of a loyalty that I can only assume stems from my parent's unparalleled behaviour bribery skills as I was growing up – "if you're good in the supermarket we'll go to the drive-thru for lunch" – to this day I'd still opt for a Whopper over a Big Mac.
Since the days of cramming down a mini meal in the back of my mum's Ford Focus, the brand has been fairly consistent in living up to my nostalgia-charged expectations. Other than on the one occasion when I turned up too early and was served hash browns instead of fries, It's never disappointed. So, I don't take much joy in writing what follows.
Located just over two miles from my home address, Burger King Hove is about ten minutes by car. The branch operates for drive-thru, takeaway, dine-in and delivery, and positioned within walking distance of three secondary schools, in the middle of a residential area, it sees a steady stream of foot traffic.
Having ordered my meal at 5.45pm on a Wednesday evening, I was given a predicted delivery time of 6.10pm, which seemed reasonable, and I sat tight looking forward to my mid-week treat meal.
When the food still hadn't arrived at 6.20pm, my excitement started to wane. Even more so at 6.30pm, when I was informed my driver had been reassigned.
In the 45 minutes between ordering and the driver collecting my food, the arrival time shifted continuously – to 6.26pm, then 6.30pm, and finally 6.38pm.
By just after half past I was able to start tracking my food on its delivery journey, which is, in my opinion, the greatest benefit to ordering food via an app, and a feature I was unaware Just Eat offered.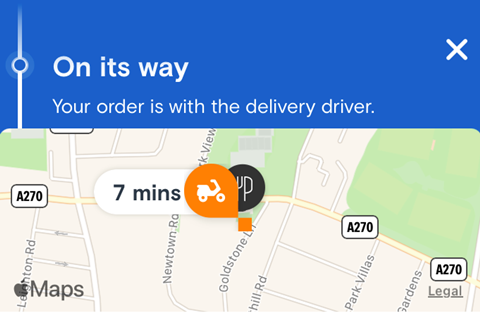 I had paid £1.49 for delivery, considerably less than the fee for Deliveroo (£3.49) and Uber Eats (£2.29), but given its late arrival – at 6.42pm – and state – the food lukewarm and the drink room temperature – this saving didn't really feel like a win.
That being said, the burger was tasty – hot or cold the classic flame-grilled flavour lives on – and spending just £9.88 (£8.39 for the Whopper meal and Diet Coke, plus £1.49 delivery) to avoid cooking on a Wednesday night was arguably worth it.
The 20% discount I received from Just Eat after reporting the delayed delivery also helped placate my disappointment, and should provide operators some reassurance in the aggregator's commitment to keeping consumers on-side.
After reaching out to Burger King following my experience, a spokesperson said it is "committed to delivering the best customer experience and high-quality meals," and that if items are delivered late or cold, "we advise customers to submit a complaint direct to the delivery partner from which they ordered their meals."
Good advice it seems, as following a short correspondence with one of Just Eat's customer services team, I was granted a full refund for my order a few days later.
"We want our customers to have a positive experience when ordering their food online and were sorry to hear that in this case, this customer's experience did not reflect the high standard we would hope to deliver," said a spokesperson for the delivery company.
"We have since spoken to the customer to issue a full refund."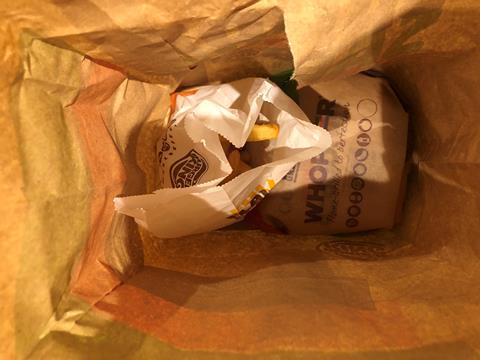 Of course, I understand the attraction of delivery, and given the current climate its role as an additional revenue stream has been vital for countless brands.
Whichever aggregator a brand chooses to partner with, demand is almost guaranteed, and consumer need for the convenience of delivery isn't a trend that's likely to disappear anytime soon.
Shifting delivery times are by no means exclusive to Just Eat, and unless someone is able to invent a means of keeping fries hot and crispy on the move, the travel issue is likely to plague essentially every QSR brand in the delivery space for years to come.
It's hard to say whether things would have been any different – faster, warmer - had I ordered via Deliveroo or Uber Eats, but if nothing else my experience raises one important question: how can operators and aggregators alike ensure convenience doesn't come at the cost of quality?
On this occasion, the balance wasn't quite right. And next time I get a Whopper craving, I think I'll do the driving.
Fact Box
Location: Burger King, Old Shoreham Rd, Goldstone Retail Park
Date: 2 December 2020
Order time: 5:45pm
Arrival time: 6:42pm
Order: Whopper meal, Diet Coke
Order total: £9.88 (inc. £1.49 delivery)
Everything present and correct: Yes
Precis
ANALYSIS

Brandwatch: Burger King @ Just Eat
Unlike the rest of us, Just Eat has had a pretty good year. From that fateful day in March, as the nation was informed that they "must stay home" in a then unprecedented (three-week) lockdown, eating in became the new eating out. Just Eat saw a 33% jump in orders as a result of the first lockdown – with breakfast and lunch orders rising by 50% and 80% respectively – and the upward trend has since continued. However, whilst the crisis may have escalated the company's rapid growth, it was by no means the catalyst.