The Restaurant Conference 2017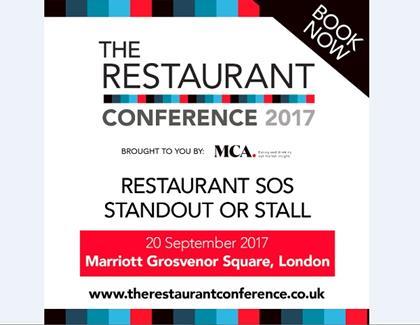 Where: Marriott Grosvenor Square, London
When: September 20, 2017
The UK's restaurant sector is facing an unprecedented period of change that will reshape the industry. For many, it's a make or break time, with operators large and small facing rising costs and intensifying competition. Additional pressure includes the growth in importance of technology and an increasing fight to recruit and engage a new generation of employees.
This year's conference will draw on expertise and insight from both inside and outside the industry to provide solutions to these issues and a road map for the future of the market. The day also sees the launch of the MCA UK Restaurant Market Report, which is the annual authoritative and definitive report on the state of the market and its future growth.
Speakers include:
Jeremy King, co-founder, Corbin & King - The renowned restaurateur behind some of London's most iconic businesses, will talk about working practices and his thoughts on where the sector is heading.
Dave Coplin, CEO, The Envisioners & non- executive director, Mitchells & Butlers will talk about where the restaurant sector is going wrong with technology.
Paul Swinney, Principal Economist, Centre for Cities will examine the evolution of the UK's city centres and the impact on the F&B sector.
For further information or to book a place go to: www.restaurantconference.co.uk
Or contact Yasmin at Yasmin.soopramanien@mca-insight.com or 01293 610358