Mark Irvine-Fortescue, analyst at Panmure Gordon, looks at this morning's Q3 trading update from Greene King

Whitbread has confirmed price rises in its Costa estate.
Leading analyst Mark Irvine-Fortescue at Panmure Gordon has said additional pressure is being placed on the 'transformation programme' at TRG
Analyst Mark Irvine-Fortescue at Panmure expects estate rationalisation to feature highly for TRG over the coming year
Leading analyst Simon French at Cenkos remains confident that TRG has the skillset to make the necessary remedial action to stabilise profitability
Nomura's Mark Kalinowski has predicted that Starbucks will overtake McDonald's as the sector's most valuable company globally.

Leading analyst Simon French says Stonegate could play a key role in the consolidation of the UK's pub sector
Simon French at Cenkos has said that initial feedback from pub and restaurant operators suggests a robust Xmas trading period
Leading analyst Mark Brumby at Langton Capital looks at how "cheap cash & crowd-funding have 'supply-pushed' capacity"
Jack Brumby, of Langton Capital, gives his view on why the market has consistently mispriced Punch. He explains that the UK's second biggest pub operator has made great strides operationally, strategically and financially, which have yet to be fully recognised.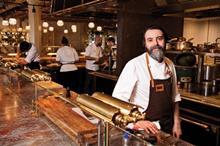 Crowdfunding has become a popular way for cash-strapped chefs to launch their own restaurants. But is it the source of easy money many people think it is?